When I reviewed Annick Goutal colognes recently, I mentioned that the trio would be great for those who are new to this fresh citrusy genre. The Hermès cologne collection would be my other recommendation. You can have a cologne flight starting from the champagne dryness of Eau d'Orange Verte and continuing with the white wine effervescence of Eau de Pamplemousse Rose. If you're ready to try something more challenging, Eau de Gentiane Blanche offers a cocktail of green peppers and milky sap oozing from dandelions.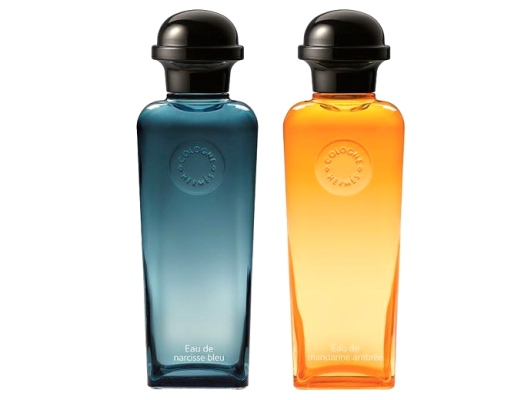 With Eau de Narcisse Bleu and Eau de Mandarine Ambrée having recently joined the collection, you have even more interesting choices. The fragrances round out Hermès's cologne offerings with the elegant interpretation of spring flowers and sweet citrus. Both fragrances are polished and refined in a way that is typical of most fragrances by Jean-Claude Ellena, and either would be equally suited to both men and women.
As Hermès's in-house perfumer, Ellena has a rare luxury in today's fragrance industry of working as perfumers did in the days past–selecting high-grade raw materials, devising scents based on his ideas rather than an impersonal client brief and working closely with the fashion house and its designers. As a result, his fragrances have an immediately obvious fingerprint. To detractors, his etudes are too evanescent and are now increasingly familiar, but to the fans of Hermès (and Ellena's) style, it's the attention to detail and quality that are so refreshing in today's world of mass produced luxury.
Eau de Narcisse Bleu is the most recognizable theme from Ellena which we've smelled before in Hermessence Paprika Brasil, Eau de Gentiane Blanche, and Bulgari Eau Parfumée au Thé Vert. But in this case, I don't mind encountering the familiar faces (or notes, if you will), because I can't get enough of anything green. "We want… a shrubbery!" I quote the Head Knight from Monty Python.
And Eau de Narcisse Bleu delivers plenty of foliage. It has a bright top note of green leaves, lemon slices and violet petals, smelling like a freshly tossed salad. Then the iris and orange blossom become more pronounced softening the dark green to chartreuse. As the soft woods and musks fill out the drydown, Eau de Narcisse Bleu turns more wistful. My idiosyncratic preferences  for greens aside, I enjoy this cologne for its graceful character. It smells like spring itself–the cool sweetness of daffodils, the musky richness of rain-soaked earth, the tangy bitterness of young leaves, but it's tender and mild.  I see myself wearing it all year round, as a perfume equivalent of a crisp white shirt. It's a perfect daytime fragrance that won't offend anyone, while keeping you entertained.
I had a more difficult time with Eau de Mandarine Ambrée, although admittedly it's an intriguing composition. At first, it's a juicy mandarin orange, combining the sweetness of its flesh and the bitterness of its rind. There is also a sharp tropical fruit note–guava or passion fruit–that gives Eau de Mandarine Ambrée an unexpectedly exotic twist. The sweet amber and vanilla peak through the fruity layers, and as the perfume dries down, it makes me think of a cross between the bitter grapefruit of Guerlain Aqua Allegoria Pamplelune and the powdery vanilla of Shalimar. What I found less appealing was the bitter, almost sulphuric sharpness that reminds me of grapefruit flavored candy.  So, please try it on skin first and give it a thorough test.
Those of us exasperated with the brief longevity of Hermessence fragrances but like the sheer scents, will enjoy the moderate tenacity of both Eau de Narcisse Bleu and Eau de Mandarine Ambrée. (I would recommend at least 3-4 generous sprays.) Their sillage, on the other hand, is excellent.
Hermès Eau de Narcisse Bleu and Eau de Mandarine Ambrée Eau de Toilette are available in 100ml ($125) and 200 ml ($165) spray bottles. Sold at Hermès boutiques, counters, and online at hermes.com.
Sample: my own acquisition