A Russian friend told me that when she first moved to Sicily twenty years ago she couldn't get used to the overabundance of oranges. Back in Moscow you had to queue for hours to get a box of precious Jaffa oranges but the sidewalks in the villages around Palermo were covered with fallen fruit. Or in what seemed to be a case of utter decadence, people would use oranges to polish copper. "Imagine cleaning your dirty pots with oranges!"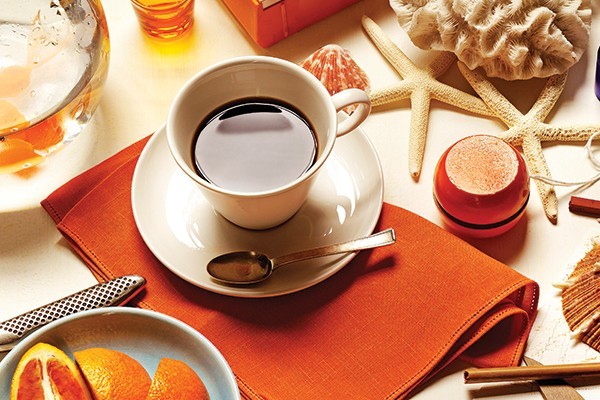 I think of this story whenever I cook with oranges or try an orange based fragrance. I imagine myself eyeing in dismay the piles of orange opulence–wasted, unwanted!–and stopping to stuff yet another orange into my purse. Even though oranges for me are not a rare luxury, I find their vibrant color and exuberant taste irresistible. My kitchen is never without at least one orange, and there is often a small bottle of Atelier Cologne Orange Sanguine (Blood Orange) in my purse.
Out of Atelier Cologne's large collection, Orange Sanguine remains my favorite. A juicy orange that doesn't fizzle out within minutes is hard to do in the first place, but it's even more challenging to create a realistic orange that can keep your interest. The fragrance created by perfumer Ralf Schwieger is bold and exciting, and it takes the classical citrus cologne idea up a few notches.
Orange Sanguine smells so intensely of orange that I'm surely getting my daily dose of Vitamin C when I wear it. Imagine taking a bite out of an orange and chewing through the tangy flesh and bitter peel. The juicy top notes linger well enough to satisfy the strongest orange craving. After running from sour to sweet to bitter, the orange settles into a green heart of jasmine and geranium that makes me think of metallic roses. The mellow sweetness of the base composed of milky sandalwood and amber is another surprising twist. The orange is there too, but it now smells like the white part of the rind and woody stem.
Orange Sanguine has great tenacity for a citrus cologne (at least, 3-4 hours), but I love the dazzling intro so much that I carry around a decant to top off the perfume as it begins to fade to its warm amber drydown. It gives me an immediate boost, but it's also complex enough to be interesting. Like Guerlain Aqua Allegoria Pamplelune, Serge Lutens Mandarine Mandarin, and The Different Company Divine Bergamote, it takes a familiar citrus fruit to another level.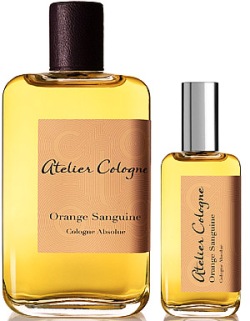 Atelier Cologne Orange Sanguine includes notes of blood orange, bitter orange, jasmine, geranium, amber woods, tonka beans, and sandalwood. Available at Sephora, Neiman Marcus, Bergdorf Goodman, Luckyscent, ateliercologne.com. 1oz/$60, 3.3oz/$95, 6.7oz/$155