Who says that tulips have no scent? After spending several hours sticking my nose inside more than three dozen varieties, I discovered that not only are tulips perfumed, their fragrances vary dramatically. Some smell of potato peels and pear brandy, others of cloves soaked in honey and crushed green buds. Lemon, moss, wet earth, rose, carrots, and apricots are some other scents I wrote down in my notebook. A dusky purple hybrid called Cuban Night reminded me of waxed wooden floors. Some varieties may smell lighter than others, but all of them have a distinctive perfume.
Every spring the flower fields in the Netherlands burst into bloom, transforming the surrounding countryside into a surreal painting of vivid red, yellow, and blue.  At the height of tulip mania in the 17th century, a single bulb could cost as much as a house, but even after the economic bubble burst, the flower remained a distinctive national symbol. Today, the flowering fields draw lots of visitors, and one of the most popular destinations is the Keukenhof, considered to be the world's largest flower garden.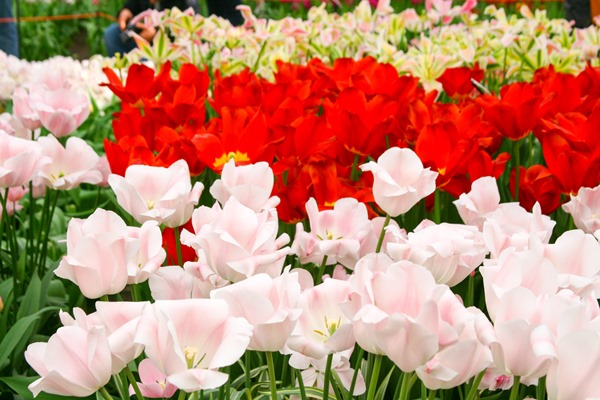 Located near Lisse, the Keukenhof is easy to visit from Amsterdam (there is a convenient bus route) and an easy driving distance from Brussels. Of course, I say this as an American who is used to a two hour work commute and still amazed that in that time you can cross three European countries. Given this relative proximity, a visit to the tulip fields has been on my agenda since spring made its tentative appearance.
Although I suspected that a visit would be worth a drive, I wasn't prepared for such a dazzling sensory experience. More than 7 million bulbs (4.5 million of which are tulips) are planted on the Keukenhof grounds each year, and as you walk through the elegant park and then in the farmer's fields nearby, you realize why a delicate tulip blossom could have started such a craze.  The Netherlands has 2,500 officially registered varieties of tulips, and the colors, shapes and textures are extraordinarily varied, ranging from delicate White Dream (it smells surprisingly lemony) to sultry Merlot (spicy and earthy).
While tulips are as Dutch as wooden clogs and windmills, the Keukenhof is also awash in hyacinths, daffodils and other flowers. I loved the hyacinth beds for their bright colors and heady perfume of spicy roses and green almonds. "If of thy mortal goods thou art bereft,/ And from thy slender store two loaves alone to thee are left,/ Sell one, and with the dole/ Buy hyacinths to feed thy soul," I quoted the Persian poet Saadi to my husband but he didn't listen and gently guided me towards a truck selling warm stroopwafels, treacle waffles filled with cinnamon perfumed caramel.
The fields just outside the park are devoted to flowers grown for the bulbs, rather than the blossoms, and you can walk through them after visiting the main garden. The fields spread as far as the eye can see, and if you weren't already overwhelmed by the flowers in the Keukenhof, then here you're sure to feel intoxicated. I certainly did, and instead of being able to say anything coherent, I could only gasp.
The flower season lasts for only a few weeks and then the buds on the flowers in the fields are snipped off to encourage the bulbs to grow. But for now, it's a chance to step into an Impressionist painting.
Practical Information:
The flower blooming season starts at the end of March and continues to the end of May, but it depends on the weather. Since there are many different kinds of plants blooming at different times, you can be sure to enjoy some beautiful colors and scents. This year the gardens are open from March 21 to May 20 2013. Whenever you go, make sure to arrive early, since the gardens can get crowded, especially on the weekend.
You can easily spend a whole day at the Keukenhof, and there are several cafés on the premises. You can also pack  a picnic, as I've seen many people do.
If you're staying in Amsterdam, you can book a visit to the Keukenhof via their website (click here for more information.) Or check the GoAmsterdam website  for other transportation options.
Keukenhof (office)
Stationsweg 166a
2161 AM LISSE
The Netherlands
Telephone: +31 (0) 252 465 555
www.keukenhof.nl
Photography by Bois de Jasmin