Andy looks for the scent of tea in a bottle.
If I were to write the story of Atelier Cologne Oolang Infini, it would begin on a cool autumn afternoon. I dab the perfume on my wrist, and set off on a quiet wooded trail to catch some relaxation under a cathedral of falling leaves. I let the scent settle in, and immediately I envision misty blue mornings and steam rising out of warm teacups.
Fast forward several months, and I'm still thinking about Oolang Infini, a fragrance from the Atelier Cologne collection, in spite of the fact that my sample has since been reduced to mere drops. As a tea lover-turned perfume fan, I've just started my search for perfumes that evoke tea, but I'm glad to discover Oolang Infini. I've neglected the ideas of oolong suggested in the name; for me, Oolang Infini conjures a perfect cup of Earl Grey—a beverage that brings citrus and black tea into perfect harmony.
A few months ago, when I reviewed a boxed set of teas from Le Palais des Thés, I sampled their Blue of London, a unique Earl Grey tea that brings complex and exquisite Yunnan black tea together with a particularly delicate Calabrian bergamot essence. The result is a lighter, fresher, but far more complex tasting Earl Grey, and it's exactly what I think of when I wear Oolang Infini. The tea and perfume don't really smell the same, but their balance of a subtle and nuanced citrus over a dry woodsy base is similar.
Oolang Infini is light and gauzy, staying close to the skin, and it rises forth gently, like the steam from a cup of tea. It smells dry and crisp, like woods delicately dried over a fire, but the citrus and orange blossom give it sparkle. Oolang Infini is both easy to wear and unisex, and equally suited for any season. It smells just as wearable now, in late spring, as it did in autumn.
For such a delicate fragrance, Oolang Infini has great lasting power, continuing from morning to early afternoon on my skin. In a few words, this fragrance is refreshing, comforting, and sophisticated, evoking everything I feel when drinking a perfect cup of Earl Grey, and then some.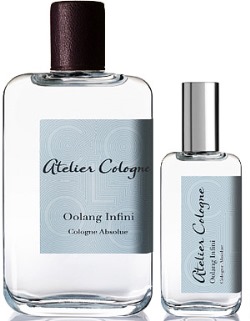 Atelier Cologne Oolang Infini lists notes of Sicilian bergamot, Tunisian neroli, freesia, oolong tea, jasmine petals, blond leather, Balkan tobacco flower, Indian guaiac wood, and musk. Available at Sephora, Neiman Marcus, Bergdorf Goodman, Luckyscent, ateliercologne.com. 1oz/$60, 3.3oz/$95, 6.7oz/$155