Opium. Even if you haven't worn Opium yourself, just the name of this perfume by Yves Saint Laurent is enough to conjure its controversial and dramatic personality. Opium came out in 1977 and it marked a whole era with its spicy, fiery carnation scent. In the 1980s, when neither perfume nor hair could be too big, it held its own alongside Christian Dior Poison, Giorgio Beverly Hills and other heavy hitters.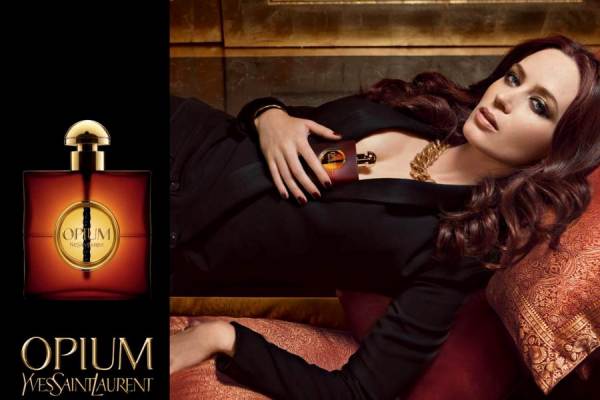 My relationship with Opium and other big 1980s perfumes is ambivalent. I recognize their genius; I admire their boldness and verve. But whenever I wear Opium in all of its "pre-reformulation" spicy glory, it feels like I'm playing dress up. I can't make it my own. But Yves Saint Laurent left us with no choice. In 2009, the house discontinued Opium and reintroduced a new version. The original formula of Opium contained so many ingredients considered allergenic that trying to save it was a losing battle.
I can't imagine being in the shoes of perfumer Antoine Maisondieu, who was faced with the formidable task of reviving Opium. With half of its formula missing from the modern perfumer's palette, recreating the spicy bite and smoldering sensation of the classical oriental is almost impossible. Maisondieu approached Opium not via the spice route but the incense road. He recomposed the fragrance based on the sticky, smoky interplay of opoponax, myrrh and sweet resins.
What you have is a voluptuous scent contrasting the richness of resins and woods with creamy jasmine. The subtle crunch of peppercorns is enough to give texture to the soft veil of Opium. Except for a flirtation with orange and pale carnation, the perfume hits one dark note after another–incense, amber, patchouli. Nevertheless, there is an opalescent, radiant sensation to Opium, and it doesn't feel heavy and oppressive.
It also doesn't smell particularly modern either, with neither cotton candy nor caramel offsetting the dryness of woods and balsams. Instead, the delicate sweetness in Opium comes from the opoponax and benzoin, two materials with a unique velvety sensation. As Opium settles into its incredibly longlasting drydown, it wears like soft velvet and smells like well-aged dry sherry and clove studded oranges. I wear it on summer evenings, enjoying its embrace against my sunwarmed skin, but my favorite occasion for Opium is a winter dinner for two in front of a fireplace. It's the ultimate seductress.
I'm not going to compare and contrast the new Opium with its 1977 namesake. They're so vastly different that such a discussion would be pointless. I think that the Yves Saint Laurent team made a mistake giving the new perfume the name of its magnificent predecessor because it only invites unfair comparisons. Seek it out if you love the darkness of amber, the pleasant roughness of woods, and fragrances that feel like experiences, not just nice scents. The new Opium deserves being loved on its own merits, rather than as a replacement for something that can't be replaced.
Opium is available as the Eau de Parfum and Eau de Toilette. The EDP is heavier on powdery incense, amber and myrrh, while the EDT has a fresh citrusy top laced with sweet orange and pepper. They are not too different, but I prefer the EDT for the stronger contrast between the sparkling citrusy top and velvety, enveloping drydown. The EDP, on the other hand, places all of its accents on the powdery, warm finish.
Yves Saint Laurent Opium includes notes of bergamot, mandarin, carnation, jasmine, patchouli, amber, and vanilla. Available at all major retails and perfumeries.