My husband first encountered a persimmon during his first visit to my family home. My stepfather handed it to him and simply said, "Just eat it like an apple."  For some strange reason, my stepfather prefers persimmons unripe and hard. But my husband wasn't convinced, as the hard flesh was unyielding and his mouth felt coated with sticky cotton.  It took him a few hours to get rid of the bitter, tannic sensation. The same willingness to please his new in-laws also left my husband unable to refuse yet another shot of vodka, but the consequences of that lasted into the next day. Imagine his surprise when he finally tried a ripe persimmon and discovered that it was a juicy fruit with a delicate perfume.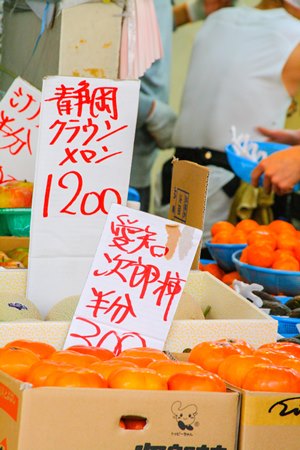 There are thousands varieties of persimmons, but Fuyu and Hachiya are the most common ones. Fuyu (top left photo) looks like a squat orange tomato, and it can be eaten when it's hard. It's sweet and crunchy, with a distinctive flavor of dates and plums. The Hachiya variety (in the photos below) is pointy and elongated, and it's the kind that tormented my poor husband. As he will tell you, when hard and unripe it tastes even worse than a green banana–bitter and chalky. But give it a few days to soften and it turns sweet and luscious.
Persimmons are starting to show up at the markets right now, and I can't resist piling my basket with different varieties. Fuyu is delicious eaten on its own or sliced into salads for a hint of sweetness and crunch. Brightly colored Hachiya persimmons decorate my living room coffee table until they ripen enough to be eaten with a spoon. They're jammy and sweet, a perfect snack or accompaniment to Greek yogurt.
If I have a ripe persimmon and a loaf of bread at home, I make my favorite breakfast treat–persimmon toast. I first tried it in Japan during a visit in late fall when persimmons graced all the market stalls. My friend toasted thick slices of perfectly square bread and slathered them with ripe persimmon pulp. It couldn't be simpler, and yet the perfection of this breakfast served with a cup of green tea turned out to be one of my Japanese highlights.
Since then I have tried all sorts of variations on persimmon toast–with maple syrup and walnuts, with goat cheese and honey, and even with prosciutto, but this is really a case where it's not worth gilding the lily. Bread, butter and persimmon are an ideal combination. You only need add a steaming beverage to start your day on the right note.
Ripe Hachiya persimmons should be refrigerated or frozen. You can also speed up the ripening processing by freezing the half-ripened persimmons overnight. Defrost completely and enjoy their jammy, sticky sweetness. It's one of the universe's blessings during the cold, rainy days of autumn.
Persimmon Toast
It's so simple that I probably need not even write a recipe, but here it goes: toast slices of bread and butter them. Peel and mash ripe persimmons and spread the jammy fruit over bread. Eat immediately.
Photography by Bois de Jasmin