I have an article in the September 2013 issue of Perfumer & Flavorist magazine. It's called "Story in the Bottle : Supporting Natural Ingredients Article," and it's about benzoin production in Laos. Benzoin is a vanilla scented resin used widely in fragrances and flavors, but its supply chain is extremely fragile. It's mostly grown in the mountainous regions of Laos where small communities gather it to supplement their income. As the younger generation moves to the cities and other sources of income become more appealing, traditional activities like benzoin collection disappear. A loss of benzoin could have significant consequences to perfumers' palettes.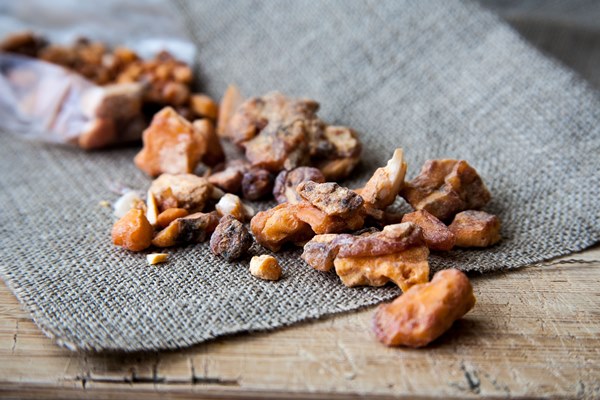 A similar story could be told about many other natural raw materials used by the perfume industry, and I take a look at the current situation and what is being done to support the producers. Perfumer & Flavorist is aimed at the professional audience, so the article is on the technical side. Still, if you're curious about such topics, you might like to take a look.
"The northern regions of Luang Prabang, Phongsali, Houaphan and Oudomxay supply the bulk of the benzoin used in the perfume and flavor manufacture. Benzoin is a balsamic resin obtained from the genus Styrax. The Laotian resin, tapped from Styrax tonkinensis, is considered to be of the highest quality, given its unique blend of vanilla, cinnamon and almond facets. In perfumery, benzoin can be found all over the fragrance wheel, from citrus colognes to orientals. Classics like Chanel Égoïste and Guerlain Shalimar rely on its velvety accent, while the addictive richness of this balsamic note is important for the caramel and chocolate flavors in ice creams and pastries."
The magazine is currently available at www.perfumerflavorist.com.
If you're curious to read more about benzoin and other resins, please take a look at my post Perfume Vocabulary: Resins and Balsams. Prada Candy contains the high-grade Laotian benzoin, and it's one of the most interesting benzoin dominated compositions on the market. Despite a  generous dose of this rich, warm resin, Candy has a luminous, bright quality. On the dark and brooding end of the spectrum, I love the layer of benzoin in Chanel Coromandel. 
Photography by Bois de Jasmin, benzoin tears.