Elisa questions whether Estée Lauder's Modern Muse can be her inspiration.
I am a longtime fan of the Estée Lauder lineup. The first perfume to take my breath away was White Linen – my grandmother wore it, and one day (I was 12 or 13) she let me use a dab of the lotion from her purse. The scent rushed up at me like a blast of cold air, snow blowing into a hot room from an open window. I stood there smelling my hands in awe.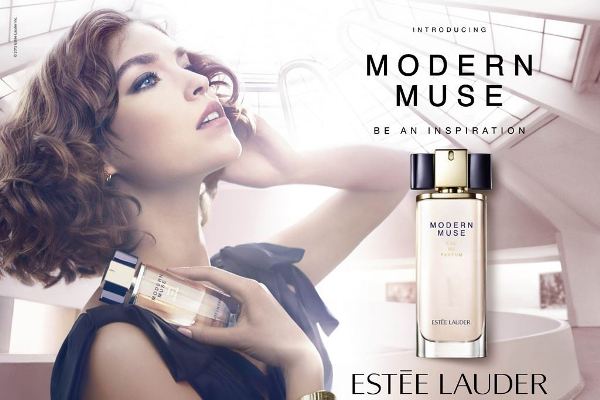 Years later, when my interest in perfume turned to full-blown obsession, Estée Lauder was one of the first lines I was drawn to return to. I bought a small bottle of White Linen, and others followed. I now own upwards of ten Lauder perfumes. With this many hits, of course I pay attention when they announce a new release, even if the marketing is suspicious. (Their first "major launch" since Beyond Paradise? What happened to Sensuous?)
From the get-go, Modern Muse smells very Estée Lauder – fresh, feminine, floral, and bright, pretty in a grown-up way, without the over-sugared sweetness of so many recent launches. There's a crisp, leafy-green top note and a touch of juicy citrus, more like tangerine than dry, tart bergamot. These effects are layered over what the press materials call "dewy petals" – and yes, there is a petal-like feel to the floral accord, a white bouquet of lily, with its distinctive waxy, vanillic notes, plus raspy jasmine and orange blossom.
This is all well and good. But as the clock ticks, the story gets more and more familiar, a woody, amber-y story we've heard a hundred times before – the soft white musk, the super-clean patchouli with all its pungency excised. It feels like a Lauder take on the structure of Narciso Rodriguez for Her: more sanitized, therefore not as sexy. Side by side, you can tell that Modern Muse has decent materials – the floral notes are more distinct. But it lacks NR for Her's smoldering intensity. Modern Muse is also thinner and less radiant, compared to both NR for Her and other Lauders. It wears close to the skin and after three or four hours has lost most of its character.
Modern Muse isn't terrible. The problem is, it's not distinctive. Forget the general sea of available perfumes – Modern Muse doesn't even stand out in Lauder's own lineup. Someone in the 30-and-up group looking for a safe, attractive floral already has Beyond Paradise or Pleasures and its many flankers. If she wants a lush white floral, Private Collection Tuberose Gardenia is the obvious choice. If it's the almost masculine woody base she's after, Sensuous Noir is a much more interesting option.
Further, Modern Muse doesn't feel "modern" in either sense of the word. There's no reference to modernism-era perfumes, like Chanel No. 5 with its overdose of soapy aldehydes, or the smoky oriental structure of Shalimar. But it's not strikingly innovative either, as in Ezra Pound's injunction "Make it new." The references are recent, obvious, and many. As a standalone perfume, Modern Muse is almost worth three stars, but I docked a star for disappointment – I expect most mainstream houses to phone it in, but not Estée Lauder.
Estée Lauder Modern Muse includes notes of mandarin, tuberose, fresh lily, honeysuckle, dewy petals, jasmine sambac, patchouli, Madagascar vanilla, amber wood and soft musk. It's available from major department stores like Macy's in three sizes: $98 for 100 ml, $78 for 50 ml, and $58 for 30 ml.