Elisa on roses, moss, and brocade.
Some perfumes take only moments to love, but years to understand. Such was the case for me with Une Rose Chyprée, a perfume from the indie line created by Andy Tauer. From the first sniff, I knew it was special. But I struggled to grasp why or how. It was not, to my nose, a chypre (a mossy-woody blend) at all. It was not of the sharp, haughty variety like Paloma Picasso; not chilly and green like Yves Ssaint Laurent Y or Chanel No. 19; not, like the more recent Agent Provocateur, saffron-sour up top and musky-dirty at the bottom. So what was it, then?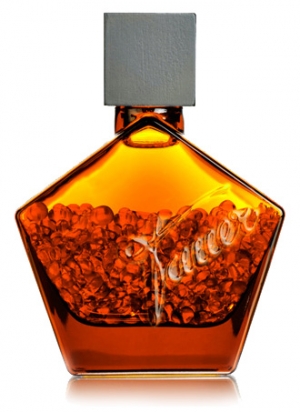 After spending a few years with his collection, I realized that Andy Tauer's true muse is amber. And Une Rose Chyprée is not a straight chypre but an amber in conversation with a mossy rose, melding into its bittersweet floral-herbal personality, but not losing its own round, full, and resinous scent.
Une Rose Chyprée's uplifting top notes are bright and juicy with lemon and orange, but with warm cinnamon and savory bay in the mix, it smells like Christmas morning, not a summery citrus. It opens up on skin to reveal a gorgeous rose heart with plenty of green geranium. It's not a fruity, jammy rose, as in the recent La Fille de Berlin from Serge Lutens, but dark and intense, like burgundy petals that have fallen from the blooms onto the table, velvety in the center and rippling crisply at the edges, turning slowly into potpourri.
The dark rose transitions into a powdery, soapy stage, where woody vetiver, oakmoss, and what feels like a touch of dry iris remind you of the "Chyprée" in the name. As it develops further, you smell more and more of the amber base: resinous and caramel-hued, with that distinctive oily character of Tauer's incense bases. Many hours later (this is an all-day-and-then-some perfume, with excellent radiance and tenacity) you're left with a comfort scent reminiscent of a cinnamon doughnut: creamy vanilla, smoky amber, and the earthy tang of patchouli.
Une Rose Chyprée is a niche classic – to me, it's the reference Tauer, even more than L'Air du Desert Marocain – and a must-try for men and women, even if you think you don't like rose or chypres. If you love the balsamic drydown of Estee Lauder Knowing, or the old-fashioned dandy quality of Parfums de Rosine Rose d'Homme, this will speak to you. When I initially sampled it, it felt too bold for me, like a brocade suit. But I suppose I've accommodated to it, and now it's among my all-time favorites.
Tauer Une Rose Chyprée includes notes of rosa damascena absolute and essential oil, bay, cinnamon, bergamot, lemon, clementine, Bourbon geranium, labdanum, oak moss, patchouli, vetiver, and vanilla. It is available from Lucky Scent for $140/30 ml.