I'm happy to bring back the much requested series on fragrances that influenced perfume history. If you're new to this feature, please start with Series 1, in which I describe how this project came about and how I made the selections.  Perfumery evolves slowly, and classical ideas continue to influence new creations. As I mentioned before, you need not enjoy classics (and you certainly shouldn't feel bad about disliking Chanel No 5 or not "getting" Guerlain Mitsouko). Every perfume, as is the case for art, music or literature, has its own era and its special flavor, and some of us gravitate to contemporary examples. But smelling classics at least once is important if you want to understand where modern perfumery gathers its inspiration.
Series 1 :: Series 2 :: Series 3 :: Series 4 :: Series 5 :: Series 6 :: Series 7 :: Series 8 :: Series 9 :: Series 10
41. Coriandre          (Jean Couturier, perfumers Gérard Pelpel and Jacqueline Couturier, 1973) The 1970s were the era of the chypre, a mossy woody fragrance family. It developed much earlier in the 20th century with Coty Chypre giving it a modern form, and then Guerlain Mitsouko making it more accessible, but the love affair with moss really exploded in the 1970s. If you enjoy this genre, the 1970s perfumes are going to be a great discovery.
The genius of Coriandre is in combining a rich floral accord (honeyed orange blossom, baroque roses, fresh lily of the valley) with the classical chypre ingredients–moss, sandalwood, musk, civet, patchouli. A lemony twist of coriander gives it sparkle. Impeccably balanced, Coriandre has a graceful but strong personality.
Coriandre was discontinued and then reissued in 2012 in a much fresher and lighter formula, but its spirit can be found in Estée Lauder Knowing (1988), Sonia Rykiel Le Parfum (1993, an underrated gem), and Comme des Garçons (1994). Agent Provocateur also reminds me of Coriandre with its big spicy top notes.
42. Halston Z14 (Halston, perfumers Vincent Marcello and Max Gavarry, 1976) M Here is another terrific 1970s chypre, this time a leathery, dark type. Despite its heavy, warm character, Z14 is sophisticated and polished. It has a generous dose of spice, playing up the richness of leather and amber.  The contrast between verbena and leafy green notes and the dark, smoky drydown is striking.
You can still find Z14 today, and Elizabeth Arden, the owner of Halston, keeps the brand in good shape. Other classical examples of the same idea include Guerlain Coriolan (1998), Aramis Havana (1994), and Frédéric Malle's French Lover (Bois d'Orage).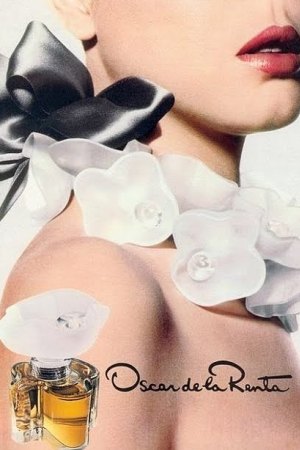 43. First (Van Cleef & Arpels, perfumer Jean-Claude Ellena, 1976) First is a remarkable fragrance not because of how many similar perfumes it inspired (not a whole lot), but because of its polished composition. Many perfumers will name it as one of the fragrances they admire for its technical precision. Essentially, First is a twist on Chanel No 5–take aldehydes, lots of expensive floral essences and shake well. But the subtle touches make First a perfect jewel–the effervescent jasmine layer, the green blackcurrant note, the milky sandalwood.
First is still around in fairly good shape. Try Jour d'Hermès to see how its creator, Jean-Claude Ellena, would interpret the floral theme today, almost 40 years later.
44. Lauren (Ralph Lauren, perfumer Bernard Chant, 1977) If you love fruity-floral fragrances, then you have to thank Lauren for inspiring the trend. Lauren is certainly a world apart from the sweet compotes we have been overfed lately, and it's refreshing to smell its graceful blend of green grapes, freesia and jasmine. A whisper of moss and woods gives it a mellow finish.
Ralph Lauren didn't preserve Lauren well, and the stringent fragrance regulations didn't help either. Lauren today is like an overly exposed photograph of its former self, but it's pretty enough. Most of its direct descendants like Valentino (1979), Eau de Givenchy (1982), and Kenzo Parfum d'Été (1992) are not available, so look for a similar green floral idea in Hermès Amazone, Chanel Cristalle, The Different Company Osmanthus, and for something more trendy, Marc Jacobs Daisy.
45. Oscar (Oscar de la Renta, perfumer Christian Bastard-Lafitte, 1977) Oscar brought back in fashion the blend of white floral and oriental (sweet, rich) notes that had a brief moment of popularity in the early 1900s. Brief but important, because that era gave us legends like Coty L'Origan (1906), Guerlain L'Heure Bleue (1912) and Elizabeth Arden Blue Grass (1935).
The perfume was inspired by Oscar de la Renta's childhood memories of tropical flowers, and the composition is a voluptuous bouquet of tuberose, orange blossom, ylang ylang, jasmine, and rose. The dark sweetness of sandalwood and vanilla further completes the exotic, languorous effect, but the cool stripe of myrrh keeps it in balance.
In contrast to its ancestor, L'Heure Bleue, Oscar is brasher, and it follows the maxim of "more is more." The same can be said about Vanderbilt (1981), Cacharel Loulou (1987), Dali Laguna (1991, does anyone remember this one?), and Jean-Paul Gaultier Classique (1993). More contemporary ideas: Armani Code for Women, Vivienne Westwood Boudoir, and Tom Ford Shanghai Lily.
46. Opium (Yves Saint Laurent, perfumers Françoise Marin, Jean-Louis Sieuzac and Raymond Chaillan, 1977) A bombshell! From packaging to ads to perfume, Opium was a controversial launch in 1977. Its spiced carnation wrapped in amber theme was also a huge success. Estée Lauder thought that Opium was just "Youth Dew with a tassel," and she launched her answer in the form of Cinnabar (1978). Lancôme Magie Noire (1978), Chanel Coco (1984) and Fendi Asja (1992) were some other descendants of Opium.
Opium was discontinued in 2009 and relaunched in a new guise by Antoine Maisondieu. You can read my new Opium review for more details, but if you want to smell Opium as it was, you would have to hunt down the vintage. Since Yves Saint Laurent made it easier by relaunching Opium in completely new packaging, it's easy enough to spot on Ebay and at various discounters.
Also consider Kenzo Jungle L'Éléphant, Yves Saint Laurent Nu, Donna Karan Black Cashmere, Byredo Seven Veils, and Anné Pliska. They are not copies of Opium, but their use of spices, woods and heavy florals echoes the great oriental classic.
47. Azzaro pour Homme (Azzaro, perfumers Anthony Gerard, Martin Heiddenreich and Richard Wirtz, 1978) M Fougère is a fragrance style that blends a distinctive accord of lavender, geranium, bergamot, moss, and patchouli (read about the originator of this family, Houbigant Fougère Royal, in Series 1). Azzaro pour Homme is a forerunner of the big fougères that would give the 1980s their smell–Davidoff Cool Water, Guy Laroche Drakkar Noir, and Yves Saint Laurent Jazz, among others.  It's fresh and bright, with a distinctive anise layer amplified by basil and fennel.
48. Van Cleef & Arpels Pour Homme (Van Cleef & Arpels, perfumer Louis Monnet, 1978) M One of the major trendsetters, Van Cleef & Arpels Pour Homme spawned a whole subfamily of leathery, woody chypres for men. You will find here Chanel Antaeus (1981), Puig Quorum (1982), Hermès Bel Ami (1986), and much later, in an even darker, smokier guise, Bulgari Black (1998). Van Cleef & Arpels Pour Homme smells like a gentleman's den redolent of tobacco, whisky, cedarwood chests, and worn leather of antique arm chairs. An elegant, unmistakably classical fragrance.
49. Polo (Ralph Lauren, perfumer Carlos Benaim, 1978) M Polo was the smell of an era, and although launched in the 1970s, it looked toward the 1980s with its big presence. It has some elements of Halston Z14, but it's more forceful and powerful.  Leather, patchouli and thyme are the distinctive elements of Polo, and while the moss is an important note, the woods take over. It's dry, resinous, reminiscent of pine sap and pencil shavings.
Polo is very easy to find at most stores, and I encourage you to spray some on a blotter if you pass by a Ralph Lauren counter. Take a deep breath. You'll probably recognize it. Almost any perfume calling itself Man/L'Homme owes a debt to Polo, from Oscar de la Renta Oscar for Men to Etat Libre d'Orange Je Suis Un Homme.
50. White Linen (Estée Lauder, perfumer Sophia Grojsman, 1978) White Linen is perfumer Sophia Grojsman's Chanel No 5–aldehydes and lots of flowers. Grojsman added a big dose of musk to mimic the sensation of freshly laundered fabric, and it was a brilliant touch.
Repeating such a feat was not easy, although Bjian Nude, Cacharel Noa and Estée Lauder Dazzling Silver have tried. White Linen also inspired many scents we encounter in a much more prosaic way: laundry detergents, fabric softeners, soaps and shower gels. Next: the bigger, the better. Yes, it's all about the Big Eighties Perfumes.
Photography by Bois de Jasmin, Important Perfume Ingredients: treemoss.