One of my  favorite Christmas gifts last year turned out to be Guerlain teas. My friend thoughtfully selected Shalimar and Habit Rouge blends, aware of my fondness for these perfumes. The intense aroma of vanilla and bergamot greeted me as soon as I opened the black tin container of Shalimar. Habit Rouge, on the other hand, was not deliberately scented; the natural aroma of Yunnan tea was meant to capture the leather and citrus nuances of the perfume.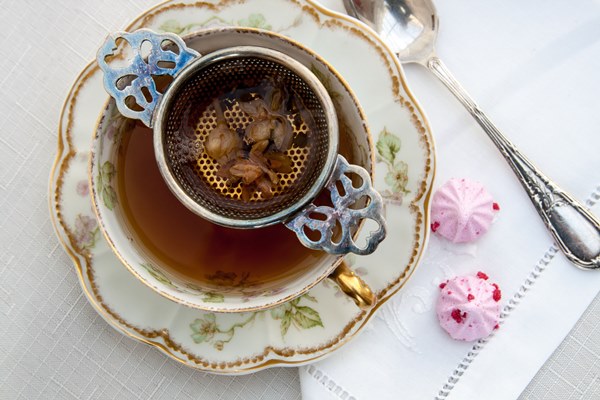 The collection of fragrant teas was created for the perfume house by Constance Braud, the founder of Thés de Constance, and I've shared the descriptions in my Guerlain Flavored Tea Collection article. The line is currently exclusive to the Guerlain flagship store on the Avenue des Champs-Élysées in Paris, where it can also be enjoyed at the new restaurant.
In the brochure that accompanied my teas, Shalimar was described as "a subtle blend of green and black teas from China and Sri Lanka, flavored with vanilla, bergamot, cinnamon, lavender, and natural aromas of cardamom. This tea recalls the rich and compelling character of the very first Oriental perfume." Sifting the tea leaves through my fingers, I also notice bits of vanilla bean and jasmine flowers. Inhale deeply, and the notes of bergamot and vanilla seem most obvious. Take another whiff, and you realize that there is also a generous dose of lavender. It smells addictive, but more like Jicky, the thyme and lavender accented precursor to Shalimar.
If you like Earl Grey tea varieties, Shalimar will be a winner. After 3 minutes, the leaves tint the water a deep ambery gold hue. The flavor is rich, but it's not overwhelming, and despite a lavish dose of vanilla, the tea is not cloying. The jasmine is more noticeable than in the dry mixture, and the tea has a suave, malty character. The second  steep is softer and smoother, but it doesn't have the exhilarating burst of bergamot.
As I enjoyed my tea time with Shalimar, I wondered how the same experience could be recreated if one doesn't have access to Guerlain's boutique. I took out my canister of Earl Grey tea and set out to experiment. It was fascinating how adding vanilla little by little transforms a familiar bergamot tea into an altogether different flavor experience.
The best way to arrive at Shalimar is to mix Earl Grey tea with jasmine tea and add some vanilla. My preferred combination is 1/4 cup jasmine green tea, 3/4 cups Earl Grey black tea, 1/2 of a minced vanilla bean, and a pinch of grated tonka bean. The toasted almond and sweet hay note of tonka adds a seductive touch, but feel free to skip it. I did follow Guerlain's lead with lavender and added 2 Tablespoons of dried flowers to balance out the sweetness of vanilla. Since each tea has its own flavor, you might have to adjust the quantities to your liking.
Mix and allow the flavors to marry for at least one week. Store in an air-tight container. Use 2g of tea per each cup of hot water and brew for 3 minutes at 195°F/90C. A dab of Shalimar perfume behind the ear is optional.
The tea collection is available at the Guerlain flagship store, 68 avenue des Champs-Elysées, 75008 Paris.
Photography by Bois de Jasmin