One rarely gets to use 'Chanel' and 'beef intestine' in the same sentence, but perfumery is often a mixture of seemingly incongruous concepts. The heavenly aroma of jasmine wouldn't be possible without the raunchy notes of horse sweat and moth balls.  To make a mouthwatering berry, a perfumer not only needs materials that smell of roses and violets, but also of rot and decay. The art of baudruchage is another such example. Well before technology made possible vacuum tight seals, craftsman used a fine membrane of animal origin, a baudruche, to protect the liquid inside the glass bottles.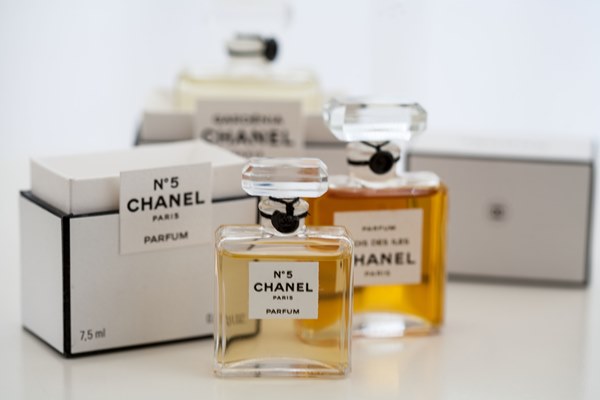 But if you're feeling slightly put off by all of this dirty talk, please heave a sigh of relief. Today, the baudruche is usually made of synthetic fibers, onion paper or other natural (although not animal) materials. You can recognize the baudruchage seal by the fine, transparent skin around the neck of the bottle.  Modern innovations aside, baudruchage is one of the most traditional and unique perfumery techniques. Since it is done by hand, one bottle at a time, few perfume houses resort to this labor intensive sealing method. Chanel, Guerlain, and Jean Patou* still employ it for the most precious item in their collections–the extrait de parfum.
The baudruchage is created by placing a dampened, extensible membrane over the neck and stopper of the bottle. The baudrucheuses, as the craftswomen who seal bottles are called, can do around 100 bottles per hour. Then a silk or metal thread is used to keep the membrane in place, and a drop of wax is the final touch. At Chanel, there are 8 such artisans for the entire house, while Guerlain employs 7. It means that when you hold a baudruche sealed bottle of Shalimar or L'Heure Bleue, one of these Dames de Table has touched it.
In case you haven't yet heard enough bottle sealing French jargon, here are two more words for your vocabulary: barbichage (bearding the silk threads) and brossage (brushing the yarn into place), two related techniques for creating the delicate tassels for Shalimar or the pink extravaganza for La Petite Robe Noire display bottles.
If a bottle sealed with a baudruche and intricate threading lands in my lap, I try to preserve the thread after breaking the seal. It's much simpler than it seems, although it requires some care.
Start opening the bottle by rocking the glass stopper back and forth. With the stopper released half-way, gently pull the edges of the membrane over the neck of the bottle. The baudruche is flexible enough to manipulate easily, but you can also dampen it lightly to make it more pliable. The membrane itself looks a bit messy around the stopper, so I remove it completely and keep it in the box.
A cord seal on most bottles can be simply loosened enough to pull out the glass stopper. Guerlain bottles can usually be opened without destroying the elaborate tassel. Just rock the stopper back and forth delicately and pull it up and out, stretching the cord.
Needless to say, if none of this works or you simply don't want to bother, just cut the thread and forget about it. The most precious part of your perfume is inside the bottle itself.
One last comment on the best way to apply perfume from stoppered bottles. If you plan to finish the fragrance within a year, go ahead and just use the stopper or your fingers. Perfume is a delicate substance, but it's not so fragile that brief contact with your skin will quickly destroy it. But if you have a large perfume wardrobe or simply would like to preserve your collection for as long as possible, apply fragrance by using a small disposable pipette. It may not be the most romantic way to perfume yourself, but this application technique makes it possible to create a perfect sillage.
Start with two drops at the back of your neck, close to the hairline. Then add one or two–depending on the strength of perfume–on your chest and stomach. The remaining amount can be wiped on the wrists. There is nothing more comforting than stealing a surreptitious whiff of your favorite scent throughout the day.
*If you're aware of other perfume houses using baudruchage today to seal their bottles, please comment. Guerlain has not always used baudruchage on its bottles, and my bottle of Nahéma from 2012 doesn't have it.
Extra: if you want to talk baudruchage, barbichage and brossage, Frag Name of the Day will help with pronunciation.
Photography by Bois de Jasmin. Also, please take a look at photos of baudruchage, barbichage and brossage at Guerlain via Osmoz. To see Chanel's practice in action, please watch this great video (thank you, Anne!)