The first time I smelled Guerlain's L'Homme Idéal, I chuckled, because clearly, their ideal man is wearing a little black dress. Yes, L'Homme Idéal is a masculine twist on La Petite Robe Noire. But this kind of borrowing, right down to the toasted almond and praline details, is clever rather than boring. This is not just another bland and safe sports cologne, that's for sure.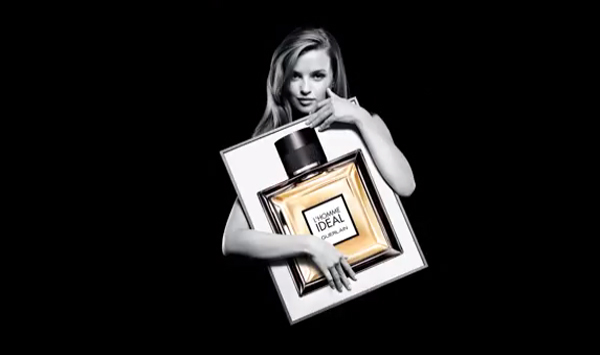 The quest for an ideal man is nothing new, in life or in perfume, and Guerlain's approach to L'Homme Idéal is rather humorous. Instead of using notes that for reasons of accident and culture came to be seen as the only ones appropriate to men, like lavender, herbs, cedarwood or mild spices, perfumer Thierry Wasser loads the composition with gourmand accents.  It tries to tempt men with the same delicious notes that made La Petite Robe Noire such a success. First, L'Homme Idéal makes sure that potential male customers won't be scared off by too much indulgence, and it starts its story with a bright citrusy opening. There is plenty of rosemary and orange blossom that offer a cologne like freshness and keep things tame enough.
The interesting part starts after 15 minutes or so, when the rich almond accord dominates the composition and takes L'Homme Idéal into a completely different direction. If you've tasted Amaretto liqueur with its distinctive bitter almond and mandarin flavor, then you'll recognize the same note in L'Homme Idéal. It's undeniably addictive. The almond extravaganza doesn't obscure the subsequent leather and cedarwood layer, and the vanilla and musk amplify the sweetness further.
L'Homme Idéal is loaded with plenty of woods and balsamic notes to place it in the same woody oriental camp as Paco Rabanne Black XS and Thierry Mulger A*Men, and if you like that kind of rich and sweet effect, then L'Homme Idéal will likewise satisfy. It will last for many hours, and its sillage is strong and distinctive.
The main complaint will be from die-hard Guerlain lovers who remember the glory days of Habit Rouge and Vétiver and who expect something no less ingenious. L'Homme Idéal, for all of its clever, eccentric character, is milder and tamer. It also won't impress those who don't have much of a sweet tooth. But if you're tired of being told that real men have to smell like synthetic lavender or citrus on steroids, then you'll enjoy the flamboyant sweetness of this new Guerlain.
Ladies, don't be put off by Homme in the name. If you like dark, sweet woods, you might find L'Homme Idéal, well, ideal.
Guerlain L'Homme Idéal includes the notes of citrus, orange blossom, rosemary, almond, praline, tonka bean, vetiver, cedarwood and leather.