"Why do you want to take my picture?" "You look so beautiful with these flowers, and they are the same color as your eyes." "Oh, bless you, you're making me blush."
I can't pass by the sidewalk sellers without at least glancing at their wares, and almost always I leave with a purchase: wild strawberries that smell of caramel and orange blossoms, a bunch of herbs for tisane tied with a string, or plums covered with a mottled silvery patina. When I saw this cornflower seller on a busy street in Kyiv, I already knew I couldn't resist the temptation. And you know, cornflowers smell wonderful–green, earthy, with a subtle peppery note.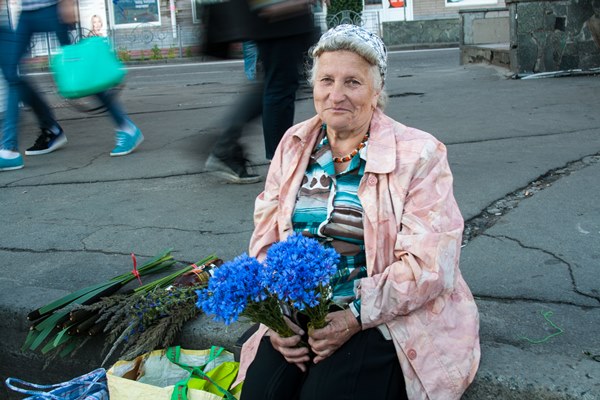 Our Scent Diary is a place where we can share fragrances we encounter, good and bad, perfumes we wear and the scents around us. It's a way to sharpen our sense of smell, but also just to enjoy the fragrance hobby in a different way.
Whether you write down 1 recollection or 10 matters less than simply reminding yourself to smell. You can add as many comments as you wish. You can comment today or over the course of the week; this thread will always be open. Of course, do share what perfume you're wearing or what particularly good scented products you've discovered.
Photography by Bois de Jasmin