Although I indulge in plenty of fantasies of spending summer by the sea, preferably a tiny fishing village where I would have nothing to do but read books and gaze onto the blue waves, every August I find myself in the city. With everyone rushing to the coast in search of their own summer fantasies and with airfares skyrocketing, I just create my own city vacation. I take long walks, experiment with my photography and just enjoy the strange calm of a European city during the summer break.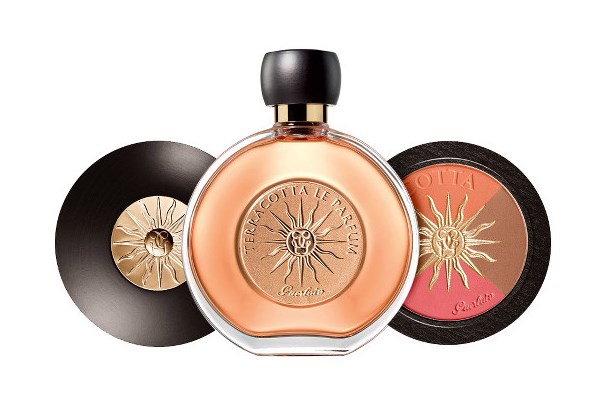 I turn to perfume to make my city summers feel more tropical. In principle, cologne is the most refreshing choice on a hot day, but I hardly ever reach for citrus in the summer–gloomy winter mornings are another story. Instead, my perfume wardrobe blooms with white flowers–Marc Jacobs for Her, Annick Goutal Un Matin d'Orage, Frédéric Malle Carnal Flower, Chanel Beige, and now, Terracotta Le Parfum.
Terracotta Le Parfum is a limited edition complementing the collection of makeup and body products, and it smells like a tropical blossom. Guerlain perfumer Thierry Wasser selected a blend of white flowers to convey its sultry, warm character–jasmine, ylang ylang, and frangipani (tiaré) and embellished them with coconut and musk.
You'd expect that with all of that white floral extravaganza, Terracotta would be as heavy as a fur coat, but instead, it's radiant and vivid. Interspersed among its rich layers are citrusy and fresh notes, and there are plenty of them. The first impression when you put on Terracotta  is a big white blossom, but at the same time, it smells of wintergreen and lemon zest. A red hot flash of cinnamon plays upon the contrast, and while the perfume continues on its jasmine and frangipani garden path, the spicy and fresh nuances temper the heady notes.
Terracotta smells like a suntan lotion, but in a much more sophisticated interpretation. For all of its nuances, it's not overly complicated–white florals, coconut, musk and vanilla. You can fill in the gaps with your own fantasies of warm sand, sunwarmed skin and sea breeze. If you like scents that are tropical but not too sweet (Estée Lauder Bronze Goddess or Nuxe Huile Prodigueuse), then Terracotta is a good choice. One spray is enough to last for the entire day, but not to overwhelm others.
While I love Terracotta and have been wearing it almost exclusively for the past month, I admit that it's not a perfume masterpiece. The least interesting part is its lingering trail of spicy vanilla and musk, which I'd describe as too conventional. But this summer in the city calls for something fun and tropical, and so it fits the purpose perfectly.
Terracotta Le Parfum includes notes of bergamot, coconut, tiaré flower, orange blossom, jasmine, ylang ylang, vanilla and musk. 100 ml Eau de Toilette/$73.
Jessica of Now Smell This answered my question as to whether Terracotta was similar to Terracotta Voile d'Eté (1999), since both perfumes were inspired by the Terracotta beauty collection. Jessica finds that they are different: Voile d'Eté is much more of a spicy carnation and ylang ylang, while Terracotta is a coconut and musk enriched tropical flower.