"I don't like colognes. They scream hygiene and wholesome, boring cleanliness to me," said a friend the other day, explaining that she wants a perfume that feels fresh but still sensual.  Classical citrus colognes are very much about zest and refreshment, but it's not hard to find options that do much more than this. For instance, Parfums de Nicolaï Eau d'Été.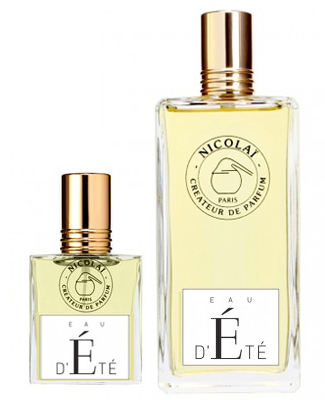 Eau d'Été has been around since 1997, but wearing it today I discover that it hasn't lost any of its appeal. Yes, its blend of orange, lime and bergamot is as refreshing as a sip of iced lemonade, but the sprinkling of cinnamon and jasmine adds a sultry touch. There is nothing boring about it.
The top notes of Eau d'Été are the most classical part, and if you like your citrus sharp and zesty, you will enjoy the explosive opening. The sweetness of orange is contrasted with the bitterness of grapefruit. The green and floral accent of lime adds a rich layer. This introduction lasts but briefly, but it's enough to set the mood and to give Eau d'Été a trademark cologne feel.
But the adrenaline rush of citrus is tempered quickly. Jasmine erases the sharp edges, and musk blots out citrus to the point that only a delicate sparkle is discernible. The most unexpected part is a touch of materials normally reserved for rich, opulent compositions–balsams. Many balsams smell of spicy vanilla, and in Eau d'Été they are set against the citrusy freshness so well that you won't notice where one accord ends and another one begins. On skin, the perfume feels soft but bright; its character is playful but understated.
What's more, Eau d'Été lives up to its summery name (it means Summer Water in French) by keeping the amount of spice moderate. There is just enough to create a pleasant fizz, without warming up the composition. The musk is used more generously, so if you like your colognes dry and woody (like Ô de Lancôme, 4711, or Acqua di Parma Colonia), then you'll find the drydown too sweet. Your skin will determine the final effect.
Patricia de Nicolaï, the perfumer and creative mind behind the collection, has added several different colognes over the years, including Eau Soleil, L'Eau à la Folie and L'Eau Mixte, and many of them explore this classical family in new guises. We're certainly spoiled by choice when it comes to cologne, but Eau d'Été easily holds its own.
Parfums de Nicolaï Eau d'Été includes notes of jasmine, lime, grapefruit, blood orange, cinnamon, balsam, and musk. Available at Luckyscent and New London Pharmacy. 30ml/$50, 100ml/$120.