Like bits of colored glass inside a kaleidoscope, the scent constellations shift constantly around you. You can go about your day without much thought to anything but the affairs at hand, when suddenly the right combination of talcum powder, hot asphalt and cut grass whisks you out of your routine and into the scene years ago, when you grazed your knee running too fast after an ice-cream truck and were soothed by an extra portion of chocolate sauce. Some scents mark you indelibly; they form the core of your memories, and time and again they return to haunt, delight or move you.
Much of my scent vocabulary comes from Poltava, a town in central Ukraine where I spent all summers for the first 15 years of my life. I was born in the capital city of Kyiv, but Poltava, or rather a small hamlet in the town's suburbs, is our family nest. My mother's line can trace its roots to this region as far back as the 17th century, and although in its complex and tumultuous history four centuries are hardly ancient, this land exhorts an inexorable pull on me.  I can describe without much effort how many trees are in the orchard and which of the peeling grey shutters has a difficult to use hook, but I also can recall the exact scent inside the water tank, the damp warmth of the tool shed, and the bitter, raspy odor of dandelion flowers on the compost pile.
You, my readers, have breathed in these scents along with me, because this is the place, where Bois de Jasmin, my jasmine forest, got its first tender shoots. When describing the fragrance of carnations, roses or antique wood, I thought not of the fantasy blooms that inspired Caron's Bellodgia or Guerlain's Nahéma, but my great-grandmother's carnation patch, rose garden, and termite marked chests of drawers. It's about time I took you to very place that inspired Bois de Jasmin, to my great-grandparents' house in Poltava. My grandmother still lives there, and she loves guests.
The tour of the town proper with its white neoclassical buildings and mint-green churches we leave for another time. Instead, we head into the countryside, through the quilt of vegetable gardens and cherry orchards dotted with whitewashed houses and roofed water wells. Our house is the pale pink one set into a lush thicket of cherry trees and lilac bushes. I'd rub the craggy bark of old cherry trees to offer you a sticky morsel of resin, a favorite childhood treat that tastes of licorice and myrrh, not unlike the edible version of Serge Lutens's La Myrrhe.
The house that inspired so many of my scented memories was built by my great-grandfather shortly after he returned from WWII, a young man whose head turned white and one of whose legs was left behind someplace in Kursk, across the Russian border. He resumed his teaching at the local school and devoted the rest of his life to his students, garden, and family. The grey roofed dwelling with dark enfilades and doors that creak at different registers was built by the soldiers of his division. When I walk around the house every evening to close the shutters, I wonder who decided to add the frilly brick decorations over the windows, which seem charmingly out of place on the austere facade.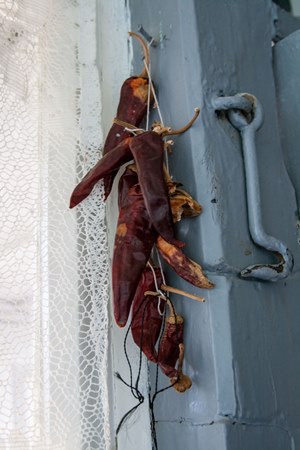 Lozenges of yellow sunshine decorate the floor in the gallery kitchen, and the red woven rugs smell of sesame and toasted bread. Open the cupboards, and it is one scented impression after another: stale chocolates and chamomile, dried mint and valerian drops, vanilla and allspice, rusty coffee tin and sunflower seed oil. But with my grandmother cooking one feast after another whenever anyone visits, the scented kaleidoscope moves in an exhilarating rush—the sweetness of sautéed onions, the earthy heft of potato peels, the anise pungency of dill, the burnt  caramel of scalded milk, and–the crowning glory–the musky seduction of roasted pork belly.
Serge Lutens's Cuir Mauresque may smell to others of Moroccan markets and French leather, but to me it smells of the bookcase in my great-grandparents' bedroom.  My love for reading and for the sweet perfume of old paper grew as soon as I could pry open its stubborn glass doors. My great-grandparents are resting under a tall pine tree at a cemetery less than a mile away, but to us remains their slender bookcase with the rosette carvings, stuffed three rows deep with heavy, leather-bound volumes of Gogol, Dostoyevsky, Lermontov and Pushkin, Natasha Rostova and Pierre Bezukhov, Oksana and Ironsmith Vakula, Tatiana and Onegin. My grandmother changed the decor, but she kept the squeaky spring-form bed on which it's so wonderful to curl up with a yellowing volume that smells of vanilla and crumbling leather.
The clock chimes, marking the hour ten minutes too early, and while we wait for dinner, we would wander to another scented treasure trove–small low buildings, collectively called sarai. The word sarai has ironic undertones, because in its original Persian sarai referred to a palace. But in modern Ukrainian, it's a garden shed, and nothing about our sarai is regal.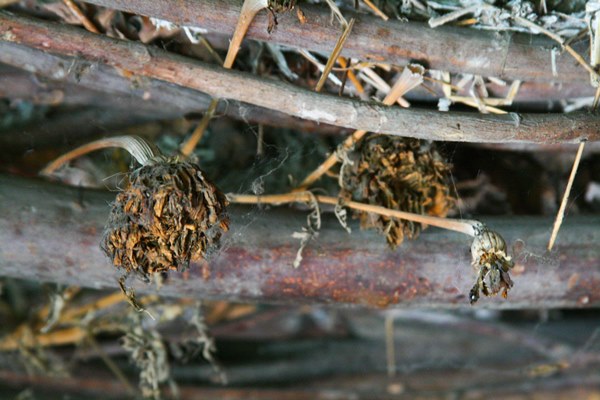 Dust dances in the air shot through with pale sunrays. When my great grandmother was alive, she stored rose and chrysanthemum cuttings here, and the green freshness dispersed the heavy musty odor. Today, the space is just a repository of old things. There are stacks of my late grandfather's military coats, chairs with missing cushions, reproductions of famous paintings. The folk hero Ilya Muromets glances from his patinaed frame at the sad fairy tale maiden Alyonushka painted by a local plumber. Either his model was 6 feet tall or he finished the painting after several shots of vodka, but Alyonushka's feet would better suit the hulk of Ilya Muromets than a waifish beauty. At first you might wonder why I took you here, but soon you notice the caramelized odor of dried immortelle and pin it down as a note in Annick Goutal's Sables.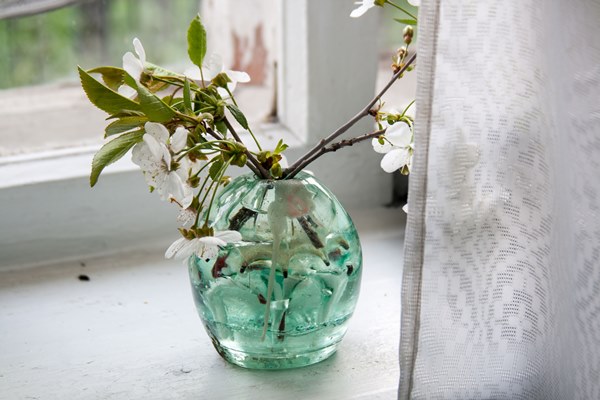 The "winter kitchen," as we call a separate house built for my grand uncle, is around the corner. My uncle died tragically before he could move in, and although the house is larger and newer than the one we occupy, we can't imagine using it as living quarters. The sadness left its mark, and it's used mainly for storage: drying onions, glass jars, garden supplies, laundry detergent, old newspapers from the 1970s telling the news of the Poltava sausage factories beating their production targets.
The space smells so much like Etro's Messe de Minuit that for a moment I think that someone has spilled perfume. But no, it's just the towering stacks of books and last year's dried thyme. The time is measured by the monotonous buzz of the beetle hitting the misty glass of windows draped with lace curtains. I open the frame, let it out, and we watch it fly until it finally disappears behind the linden-treed horizon. We shake the plaster and cobwebs out of our hair, but the smell of old books and wet wood lingers on the skin.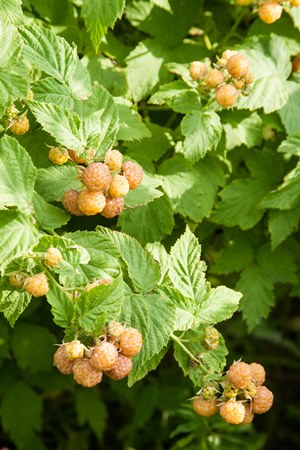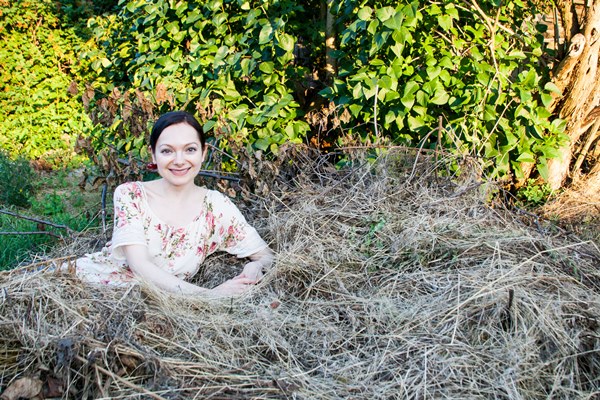 The garden beckons with its secret lilac groves, grape vine festooned cherry trees, and its herb and flower beds by which we could kneel for hours, comparing peppermint with lemon balm, crushing the silvery tendrils of bitter artemisia, tasting spicy blackcurrant leaves, and burying our faces in roses the color of ballerina slippers. But we're late for afternoon tea with cherry jam, and my grandmother has prepared a honeycake with walnuts. "All this perfume talk is good," she'd say, "But you could use something to eat."
Photography by Bois de Jasmin