Jean-Paul Guerlain, the last perfumer for the house carrying the family name, once memorably said that one could be a Shalimar woman or a L'Heure Bleue woman, but not both. Of course, he made the statement in his usual provocative manner, but the idea was that the two perfumes had such different characters that you loved either one or the other. I had all the makings of a L'Heure Bleue woman, having fallen for its older sister Après l'Ondée, but then I met Habit Rouge. One encounter was all it took for me not only to be captivated by its velvety orange blossom doused in incense and bergamot, but also to understand the allure of Shalimar.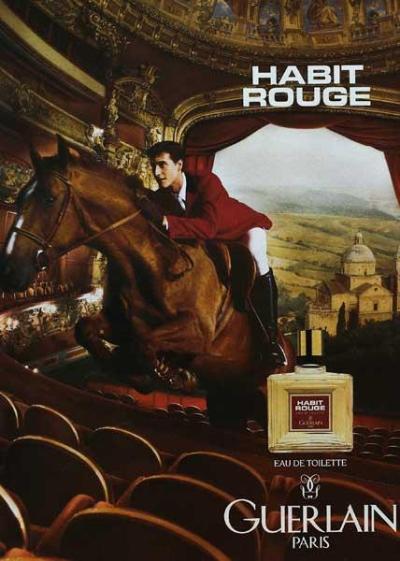 That Habit Rouge is marketed to men should make no difference to women. In 1965, when Habit Rouge was created by Guerlain, the collection had many splendid feminine perfumes like Jicky, Shalimar, L'Heure Bleue, and Mitsouko, but the offerings for men were considerably less outstanding. The exception was Vétiver, which Jean-Paul Guerlain created a few years earlier. His solution to draw gentlemen to the perfume counter was to take the basic outline of Shalimar and its famous accord of citrus and sweet oriental notes and give it a dandy appeal with leather and green orange blossom. The result was a less sweet, less curvy and less ripe version of Shalimar, but with all the elegance and panache of its great ancestor.
Tweaking Shalimar may not sound like an inspired idea, but the genius of Guerlain is in the details and the way he manipulated notes for a dramatic effect. By highlighting the contrast between fresh, cologne-like notes and the warm ambery drydown, Guerlain created a fragrance that has plenty of facets and strong character. Unlike the sweeter, heavier Shalimar, Habit Rouge is more bracing but it nevertheless has an opulent, seductive side. As you wear it, you notice how different facets reveal themselves with time. At first, it's the harmony between the citrus and vanilla that gives Habit Rouge its opulent character, then the orange blossom and leather set the mood, and finally, the patchouli and tonka bean darken the outlines.
To put it simply, Guerlain's Habit Rouge is one of the most distinctive oriental fragrances you can find today. Despite the inevitable changes, reformulations and alterations that it has seen since its birth in the 60s, it remains an excellent example of the genre, dark and light, velvety and radiant.
Habit Rouge is an excellent option for anyone with a penchant for dramatic scents. The master of drama, Tom Ford, took it as a starting point for his very appealing Tom Ford Noir. One could marvel at Ford's audacity to rework this classic in his own mold, but Tom Ford Noir is injected with such a great touch of citrusy lavender and feels so contemporary that I can't hold Ford guilty of mere copying.
A review of Habit Rouge unexpectedly turned into a month long endeavor, as I realized that not only was the fragrance reformulated numerous times, it also has enough variations–Extrait, L'Eau, Sport, Légère, etc–to make one's head spin.  Below is my humble attempt to sort it out.
Habit Rouge Eau de Toilette
The Habit Rouge Eau de Toilette you'll encounter on Guerlain's counters today has been given a major facelift over the years. The balance is weighted towards the citrus and herbal notes, and the plush vanilla and toasted almonds in the drydown are toned down. The leather is slicked with musk, and on the whole, the perfume feels brighter and bigger. How you feel about the new version vis-a-vis the older one depends on what you prefer–the shimmer or the powder, the fresh or the animalic notes.
Habit Rouge Eau de Parfum
The Eau de Parfum, on the other hand, is not simply a stronger concentration; it has a completely different character and seems more austere and sober next to the baroque Eau de Toilette. Created in 2003, it caters to the new flavor of the moment by adding oud to the mix. There is still enough bergamot to perfume a sack of Earl Grey tea, but the citrus layer is more subdued. The dry raspiness of oud is punctuated by patchouli and modern day cedarwood and amber notes that are as crisp as shards of ice. The surprise is a romantic accent of iris, which pops up half way through the perfume's development. I like it very much.
Habit Rouge L'Extrait
The Eau de Toilette outlasts the Eau de Parfum on my skin by several hours, but if you want not just tenacity but also curves, look no further than L'Extrait. Created in 2008, it doesn't stray too far from the original Habit Rouge idea–take Shalimar, add leather, reduce sweetness, add more spice and incense. Beautiful and perfect for gents who want to feel like modern day maharajas, but I'll take the chiseled good looks of the EDT and EDP over this plump cheeked charmer.
Habit Rouge Sport
In 2009 Habit Rouge fathered the inevitable Sport version. Putting the patriarch on the treadmill required the intervention of various trendy notes like bamboo and pink pepper. While it has an interesting combination of green notes with patchouli and leather, this sports cologne is not outstanding. If you find the original Habit Rouge too sweet and imposing, why not consider its ancestor Jicky?
Habit Rouge L'Eau
I'll skip the incomprehensibly named flankers like Habit de Métal (2008), Beau Cavalier (2009), Sport Gentleman Driver (2010), Habit de Cuir (2011), and instead talk about Habit Rouge L'Eau, a variation created in 2011 by Thierry Wasser. This Habit Rouge is further from the original than any other version I've described, and the warm drydown is sheered out and softened. The murmur of leather is replaced by toasted woods, and the freshness of the top notes is longlasting. Appealing enough.
Since Habit Rouge is a perfume legend and a trendsetter, its story is far from finished. To be continued.
Habit Rouge Eau de Toilette includes notes of bergamot, lemon, lime, bitter orange, neroli, spices, cedarwood, patchouli, leather, amber, and vanilla. Habit Rouge Eau de Parfum: bergamot, lime, orange, neroli, cinnamon, cedarwood, leather, oud, patchouli, and vanilla. Habit Rouge L'Extrait: bergamot, lemon, lime, orange, leather, patchouli, and vanilla. Habit Rouge Sport: bergamot, citrus accord, lemon, lime, bitter orange, bamboo, jasmine, neroli, pink pepper, cedarwood, leather, patchouli, amber, and vanilla. Habit Rouge L'Eau: bitter orange, hazelnut, jasmine, patchouli, and vanilla. Available at Guerlain counters and boutiques.