Patricia revisits Calandre, a metallic green rose with a chypre heart.
Nineteen Sixty-Nine was a year in which I watched with my family as men walked on the moon, 400,000 young people crammed into the then little known town of Woodstock, NY for a three-day music festival, and the hugely unpopular war in Vietnam was escalating with accompanying casualties on both sides of the conflict. In the same year, Calandre, an avant-garde perfume from the fashion house of Paco Rabanne and created by nose Michel Hy, was launched.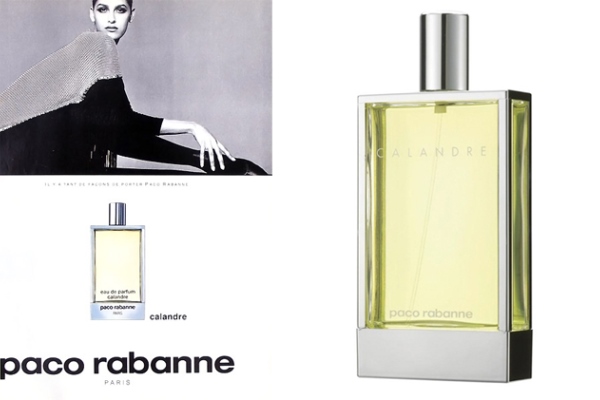 Betty Friedan, considered by some to be the mother of the second wave of American feminism, had written The Feminine Mystique in 1963, and the sixties provided fertile ground for the growing Women's Movement. Perfume styles were changing as well. The more formal floral style of the fifties and early sixties was giving way to more modern interpretations.
Calandre was the first fragrance released by fashion designer Paco Rabanne, and its minimalist approach is evident in both the juice and the bottle containing it. Designed by Pierre Dinand, the tall rectangular bottle of thick glass is enclosed with metal to resemble a "calandre" or grille of an automobile. This perhaps suggests that the modern woman of the late sixties was going somewhere, and from the vantage point of the driver's seat behind the wheel instead of taking a back seat.
In terms of its pared-down quality, Calandre makes me think of a precursor to the austere elegance of Chanel No. 19. It reminds me of mid-sixties modern furniture, such as the one-piece Tulip chairs in the family room that my brother and I delighted in spinning until too dizzy to walk. Calandre opens with a huge blast of starchy aldehydes and the slightly sour note of oakmoss. After about fifteen minutes the aldehydes calm down, and the floral notes appear. I get mostly rose, but it is a more transparent rose with metallic overtones, quite chilly when compared to a realistic rose perfume like Une Rose by Frederic Malle, which smells like a red rose with petals, thorns, and stems all thrown into a blender.
The dry down is part of the overall progression in that there is nothing unnecessarily added, just a gradual shift into the grounding agents of vetiver, sandalwood, and musk becoming softer and more powdery with time. Although Calandre doesn't project much, only a small amount is needed to last all day, and I can still detect traces on my wrists the next morning. As it is not sweet, it would also make an excellent masculine.
Perhaps because it was so widely worn during its heyday, it is instantly recognizable. I don't wear it anymore, but I take comfort in its familiarity. I could be anywhere on the planet, or even on the moon for that matter, and smelling it would pin me to a time and place, along with its attendant memories. And isn't that what perfume is all about?
Victoria's note on reformulation: the world doesn't stay the same and neither does perfume. Calandre is still recognizable in its new form, and it still has its green rose layers. It smells less green in the top notes and the drydown has lost some of the milky heft. Patricia's review was based on her vintage bottle, but while like many older perfumes, Calandre is better in its original version, the recent one should still be considered. Another perfume with a similar metallic-green rose accent that I like is Yves Saint Laurent Rive Gauche, also created by the same perfumer as Calandre, Michel Hy.
Paco Rabanne Calandre includes notes of aldehydes, bergamot, green notes, geranium, orris root, jasmine, lily-of-the-valley, rose, amber, oakmoss, musk, sandalwood, and vetiver. Available at department stores and online retailers.