Tom Ford's Private Blend Collection is a mixed bag. It's too large and hard to navigate. Some fragrances are excellent enough to justify the high prices; others barely stand out. I can list further complaints, but the truth is that I keep returning to the collection and smelling all of its launches, because when Tom Ford scores, he really does offer something impressive. Such is the case with Fleur de Chine.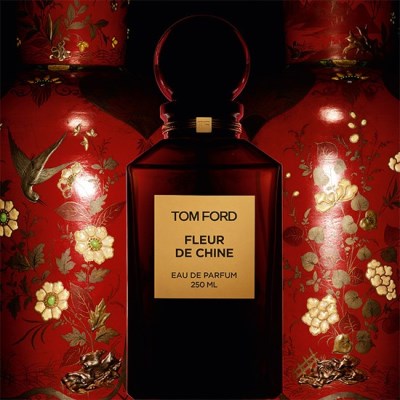 When I first tried Fleur de Chine, it intrigued me, but I wasn't quite sure what to make of it.  Shanghai Lily from the same Atelier d'Orient collection (it also includes Plum Japonais, Fleur de Chine and Rive d'Ambre) was an instant hit for its lush white flowers and generous dose of spice. Fleur de Chine wasn't going to open up so easily, though. I loved its baroque, ornate character and its hints of retro glamour, but it took its time to grow on me.
Now, a year later, I can say with confidence that this is the best fragrance from Tom Ford's Private Blend collection. It's complex, distinctive, with a neo-classical shape and interesting development. It has all of the hallmarks of a timeless perfume, for its references to the great classics that came before and original twists throughout. Fleur de Chine has a baroque character, but it's not so high-maintenance that it can't accompany you to the grocery store, library, or worn discretely, to the office. You don't need to dress up for this perfume, but it will make you feel as if you're in couture head to toe. It's a shame that it seems to be lost in the over-bloated Private Blend collection, without more of a spotlight.
Describing Fleur de Chine as a spicy magnolia set on top of plums and sandalwood is too simple. It has so many layers that you can easily enjoy it like a good book–sit down in a comfortable armchair with a cup of tea, spray the perfume on your wrist and follow the story. You  not only get a beautiful fragrance out of Fleur de Chine, but also a perfume history lesson. The start is a cool and sparkling floral aldehyde that calls to mind Balmain Ivoire and Lanvin Arpège. A dash of cinnamon, and soon you notice the creamy sweetness of plums, an impression that will linger long after the aldehydes are gone.
The combination of crushed green leaves and plums reminds me of Yves Saint Laurent Y, and to a lesser extent, Guerlain Mitsouko. These references are subtle, not at all contrived, and the result is original. The magnolia is the star of the composition, but sheer rose and hyacinth add other facets. The drydown is seductive and enveloping, rich in milky sandalwood and musk. As your day slips into the evening, Fleur de Chine wraps you in soft moss and woods. And now it is the classical French chypre, ornate and plush. It takes several hours to get there (and yes, its lasting power is excellent), but this is what makes this perfume so intriguing. It doesn't reveal all of its cards at once.
While I'm waxing poetic over Fleur de Chine, I realize that it might appeal the most to those who like retro flavors. You have to enjoy the starchy, metallic fizz of aldehydes and the vintage vibe of fruity chypres like Balenciaga Quadrille and Rochas Femme. Part of Fleur de Chine's charm is its nod to the grand parfums of the past, and while its reinterpretation is novel, it is still the child of another era.
Tom Ford Private Blend Atelier d'Orient Fleur de Chine (Eau de Parfum) includes notes of star magnolia, clementine, bergamot, hyacinth, jasmine tea, plum, rose, white peach, wisteria, cedarwood, amber, benzoin, styrax, and vetiver. 50ml/$215.