Andy invites us to share a cup of tea.
I'm never really sure autumn has begun until I can smell the fallen leaves. Even as the trees begin to shed their green coats, sporadic warm days and bright sunshine deliver teases of summer. Nonetheless, once the leaves begin to tumble, so fall the tea leaves into my cup, and when dried foliage starts to crunch underfoot and release its crisp perfume of vetiver, myrrh, and scorched citrus peels, I know I'm in another season. Much in the way I select a perfume to wear, I often tailor my choice of tea to harmonize with the seasonal scents that naturally color my day. Whether you wish to reflect the time of year in your teacup or simply want to experience a taste of fall wherever you are, below are some of my favorite autumnal teas.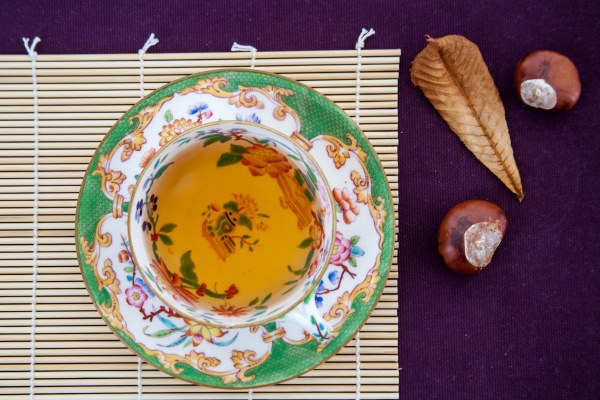 The Art of Tea Caramelized Pear
I never would have believed a tea could deliver on a promise as specific as caramelized fruit, but this offering by Art of Tea actually does. The real wonder lies in a pear flavor married perfectly with the toasty softness of rooibos, so as to create the effect not merely of pears, but those slowly baked in the oven and glazed with golden sugar. This herbal tea is an indulgent choice, but even a sometimes tea-purist like myself can appreciate the autumnal embrace of this comforting cup.
Oolong Teas
Chestnut, chrysanthemum, and stewed plum are just a few of the nuances I have tasted in various oolongs, though there are plenty more alluring aromas to uncover when savoring these special teas. Oolongs all classify to varying degrees somewhere between a green and black tea, which means that they differ widely. It is this quality that makes them perfect for autumn, a time that similarly charms me with the beauty of transition between contrasting seasons.
I'm particularly partial to greener oolongs, which can remind me of green chypres like Balmain Ivoire in their taste of dusky, bitter greens and spent petals. Ten Ren's Alishan Oolong is a beautiful example, as is Ruan Zhi, an unusual Thai oolong I recently discovered from Upton Tea Imports. If incense perfumes are your favorite choice for cooler weather, perhaps try the Organic Frankincense Oolong from Aftelier. A crisp frankincense essence is delicately balanced with Taiwanese oolong for an unusually soothing effect, not unlike the relaxation I experience from burning incense. No matter what you choose, it is worth noting that oolongs are a wide category, though; if it's your first time trying this type, I recommend perusing the selection of oolongs offered by your favorite tea company and trying a few at once. Even a very small selection will likely keep your interest, because these teas are more complex than any perfume.
Le Palais des Thés Thé des Fakirs
Most tea companies sell a spiced black tea, a variation on the Indian chai theme, but Le Palais des Thés provides a point of departure from these rich blends with Thé des Fakirs. A lighter base of green tea is layered with a zingy blend of cloves, cardamom, and grapefruit peel, which provide a crisp taste without sacrificing warmth and opulence. And for a twist on more traditional spiced black tea, this company's Thé des Amants adds an appealing twist of apple to warm spices and vanilla.
Lapsang Souchong
I could wax poetic about Lapsang Souchong, but the simple reason that I include it in my autumn rotation is that it perfectly captures evenings spent by a bonfire, the marriage of flinty chill and smoky warmth all at once. A cup of Lapsang Souchong is an infinitely sensual experience, as the aroma is liberally laced with the scent of pine smoke used to cure this black tea. For a light veil of smokiness, try a "Caravan" style tea, such as Kusmi Tea's Samovar. For the full effect, I've greatly enjoyed all of the Lapsang Souchongs from Upton Tea Imports, as well as Thé du Tigre from Le Palais des Thés.
Le Palais des Thés Mélange du Cap
If cooler weather is your invitation to start wearing decadent, gourmand perfumes, then this rooibos blend from Le Palais des Thés is sure to please. Rooibos tea naturally has a subtle vanillic edge, which perhaps explains why, when blended with flavors of cocoa and vanilla, the result is so absolutely delicious. I often like this tea with breakfast, for it's an instant mood lifter on days that promise grey skies and make me long for little more than easy comfort and a touch of cheer.
Extra: Andy's Tea Primer
What teas are you enjoying these days?
Photography by Bois de Jasmin