Lauren who is a professional fragrance evaluator shares her insights into what makes us perceive some smells as unpleasant. 
My dog smells like Saltine crackers: bleached white dough, a touch of yeast, and a generous sprinkling of salt. Her doggy scent, while unexpected, is not altogether unpleasant – and really quite appropriate, since she is snow-white. Historically, I never liked the smell of Saltine crackers—it conjured anxiety-filled memories of being sick with a stomachache—but today, I inhale my dog's Saltine odorprint, and I'm filled with all the light and sweetness that her little spirit exudes. Whatever my associations with the aroma, it begs the question: how can my pet really smell like a processed cracker?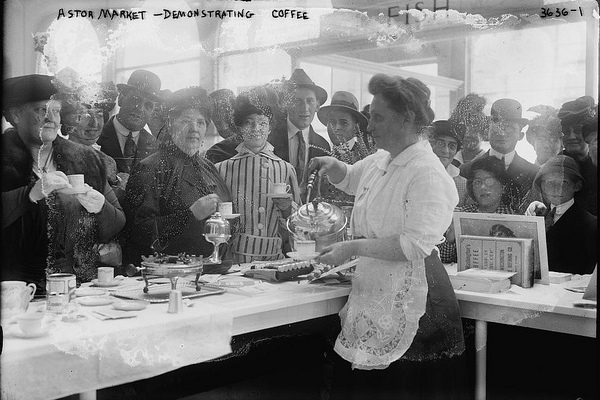 It turns out that many things we come into contact with on a daily basis do, in fact, share flavor or fragrance compounds. This explains why large tomatoes, if unripe, taste metallic like fish to me; or why, if I'm awakened by tempting odors luring me into my grandmother's kitchen, I can never pinpoint if it's brewing coffee, frying bacon, or both – bacon and coffee smell extremely similar to me.
People have told me this can't be right; instead, it's a mere association, since coffee and bacon are often served simultaneously. In response to this, I've scowled in confusion, because I have always trusted my nose to reveal the truth. In a previous job when I developed "fresh-brewed coffee" scents, I frustrated both perfumers and clients by describing the "coffee" fragrance blindly as "roasting meat."
Coffee is one of the great pleasures of my life, but I have a friend who refuses to consume even a drop, because he finds the odor totally repellant – as he describes it, "like stinky feet." For me, coffee never smelled like anything unpleasant, until once again, my dog broadened my life experience when she got sick. One evening, after a long day at work, I entered my apartment and was immediately greeted by the pleasant but alarming scent of dark-roast coffee. The "coffee" turned out to be various bodily fluids and emissions from a sick puppy, making it impossible for me to brew or drink coffee for several days. It seemed to me then that there was no denying a powerful connection between things we deem fit for consumption, and even enjoy, and substances we immediately decide to avoid and never consume. Could it all really be the same stuff?
An article in the September 2013 edition of Scientific American finally confirmed for my reasoning brain what my nose has known all along: the same compounds can be found in many different foods, across a broad spectrum of what different people may classify as positive or negative. (The article demonstrates many connections visually, with an impressive graphic called "The Flavor Connection"). As it turns out, coffee and roasting beef share over 100 different flavor compounds. So it's not simply the "breakfast" association hindering my ability to distinguish coffee from bacon; I am in fact smelling some of the same molecules in both! (Yes, bacon is profiled in the article, as well as beef).
When I think of fragrance compounds this way, it's difficult to maintain only positive or negative associations with any one substance, because the same compounds are in things that are equally delicious or disgusting. I once read that the government has struggled for years to develop a "stink bomb," because no one concoction is equally repellant across all cultures. When I lived in Japan, I watched my supervisor go cross-eyed and nearly faint from the "horrific" odor as I happily gobbled one of my favorite foods: goat cheese.
Clearly, one man's repulsion can be another man's delicacy. What are some examples of the cross-over from your own life?
Astor Market Demonstrating Coffee, between ca. 1910 and ca. 1915, George Grantham Bain Collection (Library of Congress). No copyright restrictions.