Does luxury need to come with a big price tag? If you take a stroll around any department store, you might come away with that conclusion. But if your shopping strategy is more of the Poirot sleuthing variety, then you can turn up some affordable gems. My local India shop doesn't fall under any definition of upscale. It's a tiny, overcrowded space that smells pungently of cumin, wilting coriander greens and fried snacks. But it is here that I discovered my favorite soap of all, Mysore Sandal Soap. And it cost me 1.95 euros.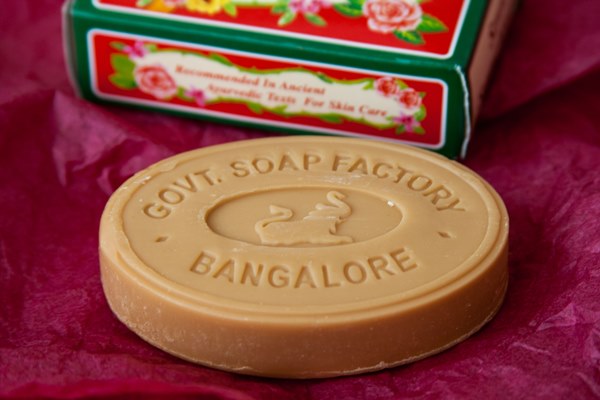 Mysore Sandal soap is produced by Karnataka Soaps and Detergents Limited, a company owned by the Government of Karnataka, a southern Indian state famous for its sandalwood. Mysore sandalwood groves were plentiful at the turn of the century, but while Europe was engulfed in the First World War, the precious wood couldn't be exported. In 1916, the Maharaja of Mysore established a company to use up the excess sandalwood, and Mysore Sandal soap still remains the company's trademark. It bears a proprietary Geographical Indication seal and contains natural sandalwood oil.
Today, the Mysore groves are overharvested and depleted, so the government of Karnataka has launched an extensive cultivation project and imposed strict quotas. Mysore Sandal soap is now made with imported sandalwood, and while I don't know how much sandalwood oil it contains (it's surely doctored up with some other perfume materials), it smells amazing. And it smells of sandalwood.
There is a saying in India that sandalwood is so fragrant, it scents the ax that cuts it.  Mysore Sandal soap certainly does it justice with its powerful aroma. You don't even need to tear the plastic wrap on the tan colored bar to notice a creamy scent that is somewhere between frilly wood shavings and dry rose petals. If you want your wardrobe to smell like a maharani's treasure chest, a single pack of soap will suffice. It lasts well in the shower and foams easily, filling the whole bathroom with the heady, intoxicating scent.
In Ayurvedic medicine, sandalwood is considered cooling and purifying, and the soap is advertised as being able to calm prickly heat rashes and soften the skin. I can't attest to the former, but my dry skin likes this soap and feels silky to touch after I use it.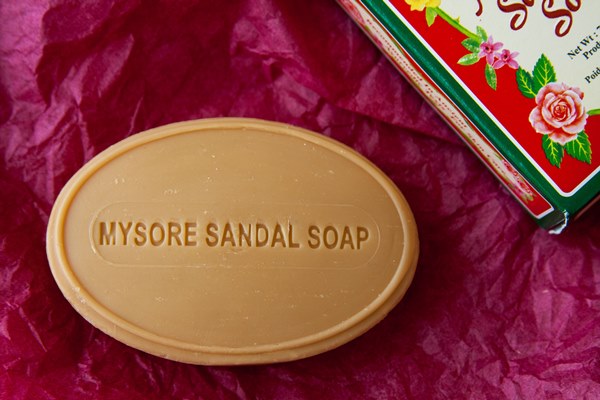 Ultimately, to wake up in the morning and step into the shower filled with the sensual aroma is luxury of the best kind.
Mysore Sandal soap is available in 17gms, 75gms, 125gms, 150gms and 150gms x 3 packed in a set. Look for it online (just google the name), Ebay and Indian grocery stores. My shop stocks it next to henna and jasmine scented hair oils. The smallest bar can be found for as little as .95 cents.