So, the first of our perfume boxes is continuing its travels, and Kate is now ready to pass it along to another person. Below, Kate is including her sampling notes and the list of perfume samples in the box. So, if you are in the US and would like to participate, here is how you can do it.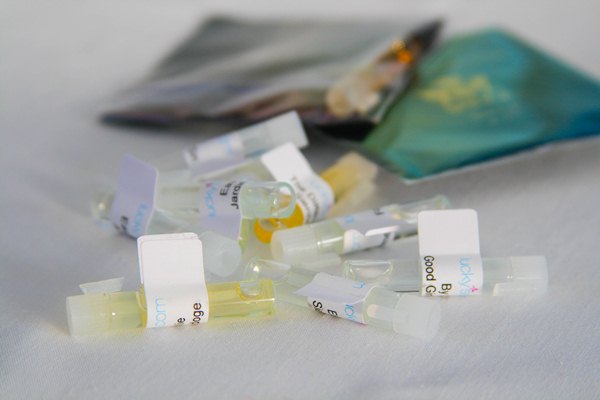 How does it work: To enter, please answer these questions: 1) are you in the US? ; 2) do you agree to pass the box onto someone else (and share your sampling notes with the rest of us)? and 3) what perfume are you wearing today and why did you pick it? Bois de Jasmin is on its fall break next week, so the thread is going to be open till we return on Monday, November 24th. I will pick the next box recipient via a random number generator.
When a winner is ready to pass the box onto someone else, they should get in touch with me. Please include the list of samples and your sampling notes (what you've discovered, what you've liked/disliked, any observations you care to include).
Kate's box includes (some samples are carded store samples, others are 1ml vials):

Parfums DelRae–Coup de Foudre
Thierry Mugler–Angel
Annick Goutal–Ambre Fetiche
Bond no.9–The Scent of Peace
Chloe–Roses de Chloe
Santa Maria Novella–Eau Santa Maria Novella
Olfactive Studios-Flash Back
Aerin–Gardenia Rattan
Costume National–Scent Costume National
Dolce & Gabbana–Dolce
Calvin Klein–Endless Euphoria
L'Artisan Parfumeur–Explosion D'Emotions
Lancome–La vie est Belle
Parfums di Nicolai–Eau D'Ete
Burberry–Eau de Parfum
Amouage–Opus VII
Amouage–Opus II
Tom Ford–Velvet Orchid
Viktor & Rolf–Flowerbomb
Versace-Bright Crystal Absolu
Prada-Candy
Chloe-Eau de Parfum
Valentino-Valentina
Cartier-Eau de Cartier
Parfums de Nicolai-Patchouli Intense
M. Micallef-Couture de Denis Durand
by Kilian-Beyond Love
by Kilian-Amber Oud
Kate's Sampling Notes
I took Amouage Gold Woman, Tom Ford Shanghai Lily, and (for a friend) Aerin Lilac Path. I put in M. Micallef Couture de Denis Durand, Olfactive Studios Flash Back and Knize Ten.
The box also includes a little notebook so that everyone can write down their impressions of the scents they try. Here are some of mine:
11/5 Amouage Gold Woman. I've always avoided Amouage because of their stupid "boy toys/girl toys" names. Anyone could wear this and it's delightful. Kind of a sharp, stretched top that rounds out into a warm, mellow, gently spicy situation–it doesn't smell old-fashioned but it smells old, like something old and special.
11/6 Parfums delRae Coup de Foudre. Big, spiky opening, then a very clean rose. Clean all the way down.
11/7 Amouage Opus VII. Green and bitter, a note like wood ash almost, at first. Bitterness and sweetness rise together. Some leather underneath? I don't know what the sweetness is. The two notes seem very separate for a while, then gradually blend, tart without being sour. I loved this; my friend tried it and said it smelled like a "failed stew" on her, first cumin, then celery.
11/10 Tom Ford Shanghai Lily. Another stupid name, but I'm really into this one. It does smell like lilies; it smells like a room where there's always lilies and always incense and always spices, and everything has soaked into the fabric.
Photography by Bois de Jasmin