No perfume families are as vast as the fruity-floral and gourmand families. It seems that you can get any dessert in perfume form, from crème brûlée to cupcakes. There are also many fragrances that smell like clones of each other, which is why after you smell one too many variations of Angel, you start giving up on the whole lot. On the other hand, if you want lighthearted and fun, then nothing can beat a well-crafted gourmand blend. From time to time, I canvas perfume store shelves for such contenders, and my latest search turned up Cacharel's Anais Anais Premier Délice.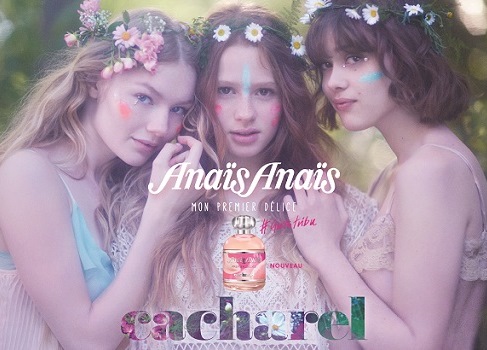 Premier Délice is one of several variations on the classical green floral Anais Anais, but it's the first major departure from the original. Instead of accenting the floral notes, perfumers Olivier Cresp and Dora Baghriche took a different route. They've laced it with chocolate! If you're familiar with the original, you're probably skeptical right now, but if you like gourmand and fruity notes you'll like Premier Délice. It is moderately sweet on the contemporary gourmand spectrum, and it has some interesting elements.
Besides sweet orange and bergamot, the fruit that gives Premier Délice its main accent is pear. It's bright and tart, and in combination with the green leafy notes, you get a crunchy, juicy impression. The dessert elements of Premier Délice–the chocolate and praline-like woods–become obvious shortly thereafter, and the powdery, nutty cocoa lingers on the skin.
The surprising aspect of Premier Délice is that beneath its frilly, bubbly sweetness, it hides the smooth floral heart of the original Anais Anais. You'll have to smell closely to see the cool lily of the valley and hyacinth peaking out underneath the chocolate coated cedarwood, but this accord lightens up the perfume and gives it a sophisticated twist. As a result, the sillage (scented trail) of Premier Délice is a comfortable, not at all cloying, blend of sweet and floral notes, with a zesty, green nuance. This blend of watery floral and chocolate notes makes it reminiscent of Maurice Roucel's excellent Missoni.
Usually, lighthearted perfumes like this are described as good for teens, and Cacharel certainly emphasizes the point with its marketing campaign. While Premier Délice would make a great choice for a young girl, I simply enjoy Premier Délice for its charming character. Who says that all the fun should be left to the teens? Last but not least, it's affordably priced.
Cacharel Anais Anais Premier Délice includes notes of bergamot, galbanum, hyacinth, peony, cocoa, cedarwood. Available in 30ml (29€) and 50ml (38€) Eau de Toilette.
For other interesting dessert-inspired perfumes, please see the 3 and 4 star rated reviews in the Gourmand category.