Divine is a perfume brand from the region of Dinard in the north of France. It's niche in terms of distribution, which is pretty much only the Dinard shop in Brittany and a couple of online retailers, but if your definition of niche is avant-garde and quirky, then Divine doesn't fit. The collection is classically themed and understated. What makes Divine such an appealing brand is quality and polish. Nowhere is it more obvious than in its latest release, Spirituelle.
Created in collaboration between Divine's founder Yvon Mouchel and perfumer Richard Ibañez, Spirituelle is a rose. If you use perfumery jargon, an oriental rose, which merely means a rose laced with spices and incense. Since rose has a perfect affinity with dark, rich notes, there is nothing particularly unusual about Spirituelle's theme. It hints at its sultry personality, but it's still understated and soft. The allure of Spirituelle unfolds when lulled by its mild charms, you wear it to the office and suddenly, in the middle of another long, stressful day, find yourself wrapped in layers of petals and amber. It lingers for many hours on skin, changing ever so slightly, but every facet, every layer of it is delightful.
Spirituelle opens on the cheery accord of citrus and pink pepper. This commonplace combination could have been dull if it were not for the way it's balanced against the floral notes that follow. Divine uses a combination of rose naturals and synthetics to convey the lusty feeling of warm petals as well as brightness and radiance, and the roses of Spirituelle smell like rosewater mixed with honey. They nevertheless remain crisp, sharply defined and sparkling.
So, imagine this crisp rose, and then add a few splashes of brown and amber. As time goes on, Spirituelle takes on a smoldering, dark guise, and the spicy notes and woods that in the beginning only teased you, now come into their own. The fragrance is languid, velvety, with mild accents of patchouli, sandalwood and clove warming up the roses. If you love this part, you're in luck, because this is what gives Spirituelle its main impression.
Unlike bolder dark roses like Frédéric Malle Portrait of a Lady, Amouage Lyric Woman or Agent Provocateur, Spirituelle is easier to wear. It's more transparent and more approachable. It's not a "special occasion" perfume, but neither is it a bland wallflower. It's like a well-tailored dress, which nevertheless still feels as comfortable as a T-shirt. Gentlemen, give it a try as well. The incense and amber balance out the sweetness, and nobody would question your masculinity when you wear Spirituelle (if such things matter to you, that is).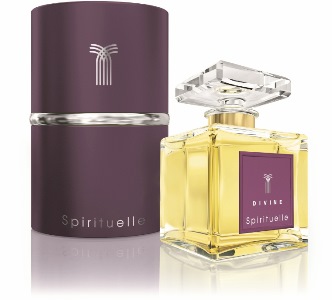 Divine Spirituelle includes notes of Sichuan and pink peppercorns, geranium, cistus, May rose absolute, Anatolian rose absolute, light amber, white musk, Texas cedar and incense. It is available as Eau de Parfum and Extrait de Parfum. My review is of the EDP. Luckyscent.com and First-in-fragrance.com carry the line.
Photography (top) by Bois de Jasmin