Elisa's guide to fragrances with licorice and anise notes.
In my day, bringing black licorice candy to school would win you no friends on the playground. Count me among the nine out of ten kids who found the taste of Good & Plenty absolutely repulsive. We looked at the one boy who wanted all the black jelly beans with horror.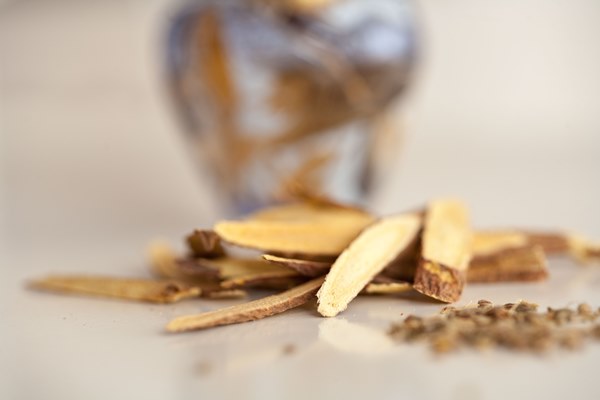 Perhaps, as with coffee and hard liquor, we appreciate these tastes extra much as adults because their appreciation came hard-earned. I still don't buy and eat black licorice, but I've come to enjoy the taste of licorice in other forms – licorice tea, roasted fennel, Italian sausage, and so on. And as it happens, I adore the scent of licorice in perfume.
As Victoria notes, real licorice roots (Glycyrrhiza Glabra) are intensely sweet – the herbal, peppery, slightly bitter taste we associate with licorice candy is actually due to anethole, a flavoring agent derived from phenylpropene. Anethole occurs naturally in anise, fennel, and a number of other plants; the closely related isomer estragole occurs in tarragon and basil (explaining why some varieties of basil have a strong anisic odor). In perfumery, the distinction between licorice and anise often blurs, with the classical interpretations of the former being slightly darker and warmer.
Lolita Lempicka brought licorice notes to the mainstream. The eponymous women's perfume combines anise with sprightly, sweet green violet notes and a cherry-almond-heliotrope twist reminiscent of LouLou. Lolita Lempicka au Masculin, also by Annick Menardo (who seems to have a penchant for the material), takes a fougère structure (lavender and coumarin) and crosses it with a post-Angel gourmand: the femme version plus aftershave. Like Angel, the Lolita Lempicka brand releases regular flankers; I'm also fond of the Midnight Couture edition, which puts the original under a black light, intensifying the licorice note with resinous benzoin and myrrh.
If a perfume has "reglisse" in the name, you can bet it's going to feature licorice prominently. 1000 Flowers Reglisse Noire opens with an intense black pepper top note, moving into a textbook licorice accord and ending (hours later) with an exquisite patchouli-vanilla drydown. Caron Eau de Reglisse is similar to Reglisse Noire, but lighter-weight and with the delicious addition of lemon and coffee, giving it a morning/cologne feel befitting the "eau" in the name.
Kerosene Black Vines clearly makes reference to the black version of Red Vines licorice, but it's not a straight licorice scent; instead, it plays up the spicy quality of anise with a surprising hot cinnamon note (think Red Hots); in combination with fruity notes of fig and fir, this produces an olfactory illusion of spiced apples.
Other perfumes use anise as a subtle accent in composition. Parfums de Nicolai Kiss Me Tender, a fragrance inspired by anise flavored Guerlain L'Heure Bleue, is a plush, fluffy floral-vanilla-musk with hints of almond and star anise. In Huitieme Art Myrrhiad, the licorice facet of myrrh is played up and set against creamy vanilla; the result smells like a root beer float with incense on the side. Another strange gourmand, Parfumerie Generale Aomassai smells like caramel and hazelnut from arm's length and vetiver and hay up close, joined by part-herbal, part-sweet licorice in the middle.
Licorice also plays well with leather. Serge Lutens Boxeuses is a dusky, plummy leather with woods and just a hint of anise. The more austere and boldly anisic Commes des Garcons Black butches up licorice with lots of smoky birch tar. Also on the masculine side, Dior Eau Noire is like a dark, spicy aftershave – it smells of rooty, unsweetened licorice, lavender, and dried herbs.
Do you have a favorite perfume with a licorice or anise note?
Photography by Bois de Jasmin