Elisa takes a look at Byredo.
Is there anything new or interesting left to do with orientals? You'd be forgiven for thinking "I doubt it." They've been around since at least the late 19th century, and their popularity hasn't waned; we've probably seen thousands of variations on the basic structure of perfumes like Coty L'Origan and Guerlain Shalimar. But perfume will always surprise you – Thierry Mugler Angel came pretty late in the game (1992) and introduced a totally new idea to the oriental genre.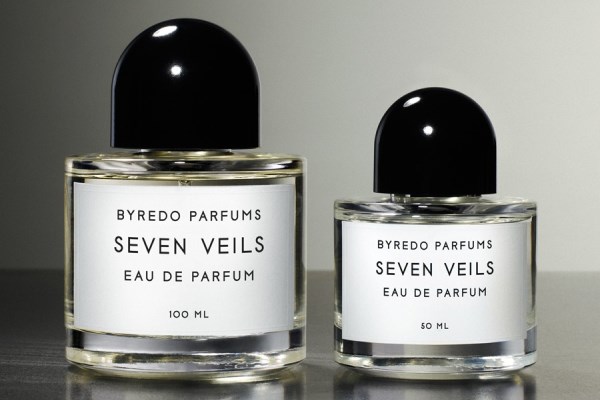 Byredo's Seven Veils is one recent perfume that completely subverted my expectations. The name refers to the biblical story of Salome's "Dance of the Seven Veils" – an orientalist version of the striptease – and it's fitting, because the perfume unfolds in layers. It opens with a classically rooty iris note, a big whoosh of raw, starchy carrots – which is, frankly, exactly the kind of thing I usually dislike. But I stuck with it, and within ten minutes I knew it wasn't just another chalky iris soliflore. Rather, Seven Veils is a boozy oriental with a spicy root-vegetable twist.
The heart reminds me of root beer – an effect that can result from any combination of iris, vanilla, anise, almond (or tonka), and myrrh. But unlike, say, Huitième Art's Myrrhiad, which has an ice-cream-float sweetness, Seven Veils retains a dry woody quality, like whiskey infused with sarsaparilla, and the semi-savoriness of roasted parsnips with black pepper. Later, in the far drydown, all this strange complexity resolves into a relatively simple – but perfectly lovely – vanilla with salty amber facets.
Byredo strikes me as one niche line that hasn't really found its niche. Some of their fragrances are downright pedestrian (see Victoria's one-star review of La Tulipe). Others are quite appealing, like the cheerful, citrus-y Bal d'Afrique, but hard to justify at Byredo's prices. But Seven Veils is closer to Pulp, my other favorite from the line – both are fully committed to their weirdness. I wouldn't say either is a must-try for everyone, but if you love black currant, you should definitely try Pulp, and if you love either carrots or bizarre orientals, you should try Seven Veils.
Byredo Seven Veils has notes of carrot, pimento berries, Tahitian vanilla flower, rose, glycine, tiger orchid, sandalwood, and vanilla. It's available from Byredo in a 100 ml bottle for $220 or three 12 ml refill vials for $110.