Who could have predicted that one of the greatest perfumes of the 20th century would be a rejected green tea accord? Bvlgari Eau Parfumée au Thé Vert was originally created by Jean-Claude Ellena for Christian Dior, but at the last moment, the house decided on what is now Fahrenheit. A number of fragrance houses also shook their heads, until the Italian jeweler Bvlgari took a gamble on Ellena's mod. The rest is history.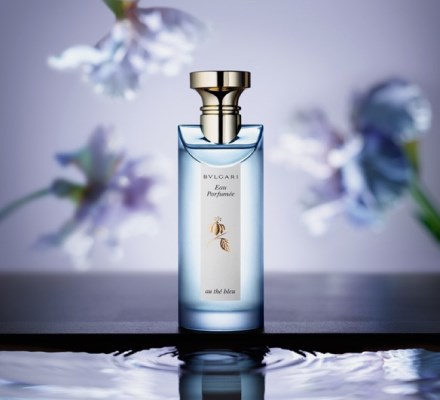 Today, despite its young age, a mere 23 years, Eau Parfumée au Thé Vert is in the pantheon of perfumery classics for its laconic composition and distinctive character. The theme invites plenty of variations and none have been more interesting than Bvlgari's own. The green tea note can be embellished with orange blossom and bitter herbs (Eau Parfumée au Thé Blanc), pepper and fig (Eau Parfumée au Thé Rouge), or, as is the case with the latest sequel, Eau Parfumée au Thé Bleu, iris and lavender.
This, my friends, is what infatuation smells like. Eau Parfumée au Thé Bleu is exactly the variation on green tea I have been craving–plush but sparkling, understated but rich in nuance. It retains the radiance of the original while adding more verve with the bittersweet lavender. The use of this note, intuitive though it may be in terms of color association, is not without risks. For one thing, lavender is so firmly associated with cheap masculine colognes that to change its reputation in Anglo-Saxon countries would require mass hypnosis on the whole population. In France, lavender is often seen as classical, which is a polite way of saying dull.
The beauty of Eau Parfumée au Thé Bleu is that it makes lavender luxurious and uses it in a novel manner. Lavender forms the tea and chypre (mossy woods) accords that fire up this fragrance. While Thé Bleu starts as bright and zesty, with a spicy green explosion of crushed black currant buds and cardamom pods, it slowly turns into a soft velvet of violet petals and mimosa. The illusion of tea is there–the similarity to Thé Vert is too–reminding you that some varieties of green tea have more in common with flowers than leaves and stems.
The cat's cradle of notes eventually unravels to an elegant drydown of musk and iris, with tonka bean coloring the edges. Lavender and tonka bean share a common ingredient, almond smelling coumarin, so the effect is of seamless transition. The creator of Thé Bleu, Daniela Andrier, has a magic touch when it comes to iris, and once again she manages to hit the right notes, forgive the pun. Iris adds a smooth, powdery layer, without making the perfume heavy or retro. Thé Bleu is airy, but it lasts well and leaves a pronounced trail.
If you love Thé Vert and the idea of theme and variations, I have no qualms recommending Thé Bleu. Fellow cardamom lovers will also appreciate it for a generous dose of spice. Finally, if you think that colognes can't be glamorous, Thé Bleu might change your mind. It feels versatile and easy to wear but unpredictable enough to keep me guessing. I predict that my infatuation is growing into a long-term love affair.
Bvlgari Eau Parfumée au Thé Bleu Eau de Toilette includes notes of citrus, cardamom, oolong tea, lavender, and tonka bean. Available at major department stores and Bvlgari boutiques.