Being married into an Indian family, I learned a few things: Time is a flexible, fluid entity; when you have a few millennia of history underpinning your culture, what's an hour here or there. You can always eat–and if you can't, you're probably not conscious. Spices to a cook are like essences to a perfumer. On this latter point, I would like to linger.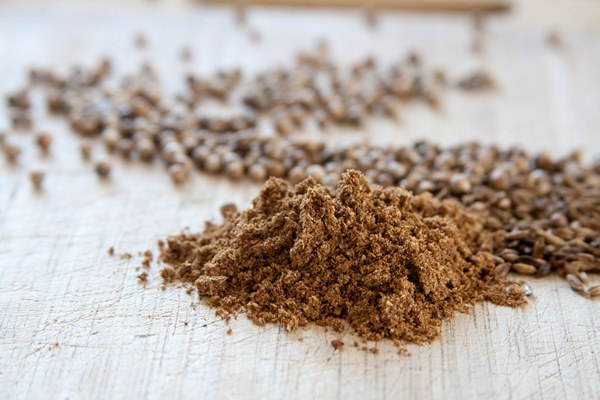 I thought I knew spices before I went to India, but nothing prepared me for the dazzling array of flavors and the variety of techniques with which they can be brought to life. India is divided into 29 states, and each region has its spice signature; generalizing is all but impossible. For instance, Aai's, my mother-in-law's cooking combines the refined sweetness beloved in her native Gujarat with the robust spiciness of Maharashtra fare. These two states share a long border, but the cuisines are remarkably different. Gujarati cooking is rich in coriander, tamarind, with peanuts and sesame giving it a nutty flavor, while Marathi dishes have a sharp bite of garlic, chili pepper and mustard seeds. Cross into northern India, and the richness of cinnamon, clove and fenugreek color the local meals. Travel down the southern coast, and coconut becomes the main leitmotif.
Watching my mother-in-law taste vegetables and then open her masala dabba, a spice box, to find the right seasoning was mesmerizing. With a few judicious pinches, she'd amplify the sweetness of carrots or tone down the green tang of okra. "How do you know which spices go with which foods?" I kept asking, and she patiently explained. Some aromatics are sweet, others are bitter, and depending on what you want to highlight in your dish, you make your choices. It is part science, part alchemy. It's cooking by the nose.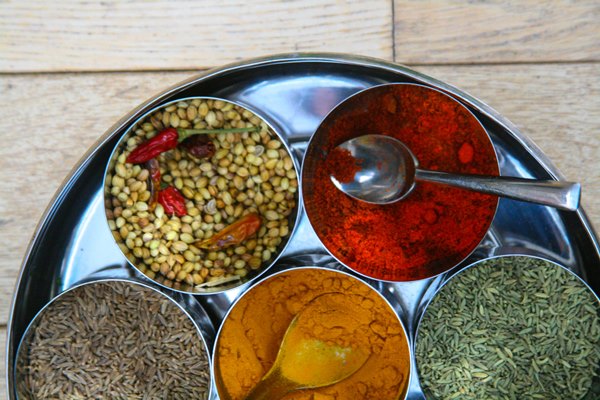 I also acquired a spice box for my kitchen. It's a round, double-lidded metal container with 8 bowls for spices, and I usually keep it filled with paprika, hot chili pepper flakes, turmeric, cardamom, mustard seeds, fennel seeds, cumin seeds and coriander-cumin powder. The latter, also known in our household as the cc powder, is one of Aai's favorite blends. Now it's one of mine.
If you haven't made your own spice mixes before, trying your hand at cc powder will be a treat for several reasons. First, it's simple. You roast two spices, grind them and have a generous supply to see you through several months. Second, you get a marvelous scented experience as coriander and cumin change into something far richer, plusher, and warmer. Coriander gains a caramelized orange accent, along with a buttery popcorn nuance, while cumin loses its sweaty note and becomes nutty and incense-like. Finally, since spices are already cooked, you can use the mix in anything, from marinades to salads. Indian tradition frowns upon eating raw spices (cardamom and nutmeg are among the few exceptions), and so should you; lightly toasted spices taste infinitely better and more complex.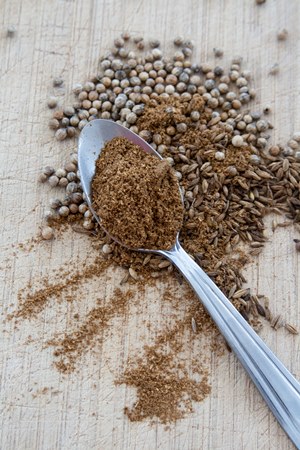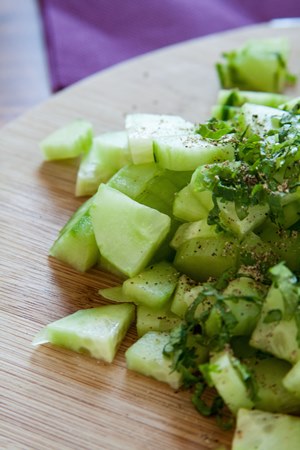 How to Use the CC Powder
On grapefruit: sprinkle cut grapefruit with salt and add 1/4 teaspoon of cc powder. If you've only tried grapefruit with sugar, the salty combination will be a surprise.
In salty lassi: mix 2 cups chilled yogurt, 1 cup cold water, 1 teaspoon cc powder and 1/2 teaspoon of salt (or to taste) in a blender. Garnish with mint leaves.
In salad dressings: combine lemon juice, olive oil, cc powder, black pepper, salt, grated orange zest (optional) and finely minced parsley, or another herb of your choice. A touch of orange zest will highlight the caramel orange accent of toasted coriander. Serve over green lettuce, cucumbers or tomatoes.
In marinades for fish and chicken: juice of one lemon, 1 teaspoon cc powder, 2 crushed garlic cloves, salt, a splash of olive oil, and 1/2 teaspoon of honey will be enough for 1lb of fish fillets. Roast in the oven or grill. Use a similar marinade for chicken, but instead of lemon juice, try orange juice or white wine. Increase the amount of honey and instead of crushing garlic, mince it and rub it into the skin. Basil leaves strewn over chicken at the last minute will add a licorice note.
In rice pilaf with cardamom and pistachios: melt 1 tablespoon of butter in a saucepan and add 1 chopped onion and 1 minced garlic clove. Cook, stirring, until transparent. Add 1 teaspoon of cc powder, 3 cardamom pods and 1/4 cup whole pistachios. Add 1 cup long grain rice and stir briefly over low heat until grains are coated with the butter. Add 1.5 cups of water, salt to taste. Bring to a boil, cover tightly with a lid and cook for 15 minutes. Remove from heat and let the pilaf rest for 10 minutes. Remove the lid, discard cardamom pods and bay leaves. It also makes a great base for a cold rice salad.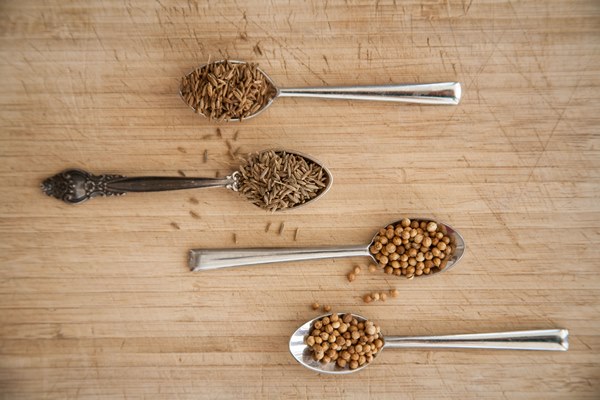 The photo above shows the subtle color change you should aim for. Top to bottom: toasted cumin, raw cumin, toasted coriander, raw coriander.
CC Powder (Toasted Coriander-Cumin Mix)
Use twice as much coriander as cumin per volume. For instance, for every tablespoon of cumin add two of coriander.
1/2 cup whole coriander seeds
1/4 cup whole cumin seeds
Toast each spice individually in a dry pan. Start with cumin. Toss it on medium heat for 3-4 minutes, until it starts to turn golden and emit an incense-like scent. Transfer to a bowl. Add coriander seeds to the same pan. Since the pan is already hot, toss the seeds vigorously to prevent them from burning. Coriander will barely change color; it will start smelling first like lemon and then like caramel oranges. This quantity should take you about 4 minutes to bring the spice to the right condition. Transfer coriander to toasted cumin seeds and allow them to cool. Use a coffee grinder to make fine powder.
I keep some cc powder in my spice box and store the rest in the freezer to preserve flavor.

Photography by Bois de Jasmin