Launching a perfume today requires an intricate–and costly–configuration of product development, marketing, and distribution. Small brands may risk taking their own idiosyncratic course, but large fashion houses usually rely on another brand to create and distribute their fragrances. If they want to make real money, that is. For Prada's sister Miu Miu, the partnership has been with Coty. It means in practical terms that the Coty fragrance development team weighs heavily on the finished creation, subjecting it to market tests and other scrutiny; after all, the success of it will reflect as much on Coty's profit margins as it would on Miu Miu's. In other words, don't expect avant-garde or cutting edge.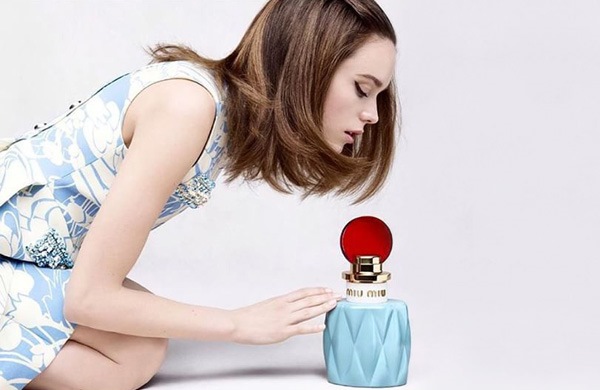 And so I didn't. But I was still taken aback at the wan aura of Miu Miu. I am certain that in its early iterations it must have been more interesting, since it was composed by Daniela Andrier, a perfumer noted for the elegance and polish of her creations (Marni, Bottega Veneta Knot, Prada Infusion d'Iris, Martin Margiela Untitled, all among my favorites). But what I smell on my skin is pale and far from the flamboyant chic of Miu Miu fashion. There is definitely quality, there is attention to detail, but it feels like the numerous cycles of market tests stripped Miu Miu of its more distinctive parts.
This is a shame, because Miu Miu holds much promise. My first thought as I spray it is "jasmine bubbles." It smells like jasmine in pastel tones set against a backdrop of dry woods. Imagine it airy, light and sparkling. The jasmine is clean (indole lovers, this one is not for you), the woods are unsweetened. There is a dose of white floral notes, but they don't stand out as a particular flower and just add to the petal-like texture of Miu Miu.
Special patchoulis and ouds are mentioned prominently in the press release, but for me they hardly make an impression. As Miu Miu hovers around me–and for all of its lightness, it has a nice presence–it smells like a sparkling, fresh white floral on a dry woody base. Pretty but not something you'd pick out of a crowd, and the crowd of perfumes on store shelves is massive. The bottle inspired by the Miu Miu's matelassé leather bags is the most memorable aspect.
Miu Miu doesn't smell exactly like Estée Lauder Modern Muse and Jour d'Hermès, but it's the same type of a bright, well-laundered floral. Why Coty decided that one more of such a thing is needed in this world is beyond me. I don't believe for a moment that pleasing has to equal boring.
Miu Miu by Miu Miu includes notes of jasmine, rose, lily of the valley, green notes, and akigala wood (a patchouli like material with woody, peppery accents). Available in 30ml, 50ml and 100 ml Eau de Parfum. In the US, it will be exclusive to Neiman Marcus and Bergdorf Goodman from September to December 2015, while in different European countries, it's already on the shelves. The 30ml size runs for about £48 ($75).