As we discovered, shipping regulations on stringent in the UK, so we now have a separate box. If you live in the UK and would like to participate, here is how you can do it. And whether you're participating or not, please read Laura's perfume descriptions below.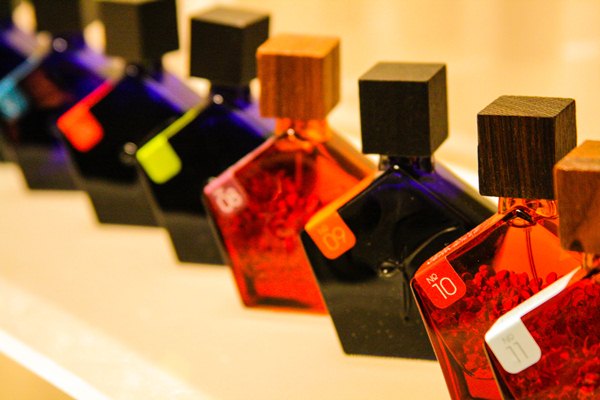 How does it work: To enter, please post a comment answer these questions: 1) are you in the UK, and if you're a winner, can I share your email address with Laura? ; 2) do you agree to pass the box onto someone else within two weeks or so (add a couple of your own samples and share your sampling notes with the rest of us)? and 3) what perfume are you wearing today? I will pick the next person to receive the box via a random number generator. I will announce that person in this spot and contact them via email. The box is going to Roger.
Winners, please read this part closely: When you're ready to pass the box onto someone else, please get in touch with me. Please include 2 things in your email: the full list of samples and your sampling notes (what you've discovered, what you've liked/disliked, any observations you care to include).
To check the progress of our boxes, please click on the Traveling Sample Box tag.
Notes and samples list
So many samples, so little time! To be honest, the sheer quantity is a bit overwhelming: where to start?
Having a good rummage every now and again, it still took me quite a few week-ends to sample a fair selection, whereas I've only managed a third of the lot.
Still, it was fun to have such a big pile of little vials to dip into. So, in no particular order:
Aedes de Venustas, Silver Iris
First impression is crisp and dry, of light woods mingling with candied violet and a spiced iris; the dry-down reduces to transparent woody notes and light muscs. This is not a watery iris, nor is the flower paired with powdery notes as in other familiar compositions.
If I had to choose an iris soliflore, this would be one of the few candidates worth recommending.
A Lab on Fire, What We Do in Paris is Secret
Plastic flowers overlaid with harsh, non-descript notes, hints of cosmetic (?) powder. This smells surprisingly cheap and unenticing, to say the least. Whatever they do in Paris, it is probably best if it remains secret!
Comme des Garçons, Bleu Cédrat
Pomelo skin for the opening citrus blast, then hints of warm, sea salt-fragranced skin, and the vivid green of crushed tomatoe leaves leading onto dry spices (cardamom?), and omni-present cypress swirls. If you mixed Eau de Campagne Verte and Grey Vetyver, this might be the result.
Penhaligon's, TraLaLa
Burlesque show-girl indulges in salted caramel truffles, popped between ruby-red lips from a leather-clad mitt. The name is program, and this is an interesting, if trend-abiding, play on the gourmand theme. Ah, who am I kidding? I looked out for this in parfumeries after sampling and, had the price-tag be more appropriate for a fun, joyful and uncomplicated fragrance, I would probably have gone home with a bottle…who can resist salted caramel, after all?
J.F. Schwarzlose, Treffpunkt 8 Uhr
Who dares put such an outrageously high price-tag on such a soapy, musky mess? Lynx, going heavy on the synthetic leather. Enough said.
By Kilian, Playing with the Devil
Sweaty flower meets boozy apricot. Entrancing!
By Kilian, back to Black
If the late and regretted Amy Winehouse, like so many celebreties before her, had had to put her name to a fragrance, she could have done much worse than this: liquorice-infused leather and honeyed tobacco. Bring on the night.
By Kilian, Vodka on the Rocks
The breath of spices through cool, aromatic herbs; add some citrus. Great recipe for a herb rub or marinade; not so sure as a skin scent.
Acqua di Parma, Essenzia
Cologne Extra Vieille made in Italy; nostalgia in a bottle; would fare better scenting a bar of soap, IMHO.
4160 Tuesdays, Doe in the Snow
Forget all you know about chypre perfumes and let Sarah take you by the hand through fire and snow, flowers carved of leather and a magical scene as raw as it is refined.
4160 Tuesdays, The Sexiest Scent on the Planet, Ever (IMHO)
If skin were to have a scent permanently tattooed in, then let it be this addictive concoction of spices, woods, balsams and musks. I'm told that it also works great as a basis for other fragrances, which it would deepen, enhance and make more durable.
Shay & Blue, Altropa Belladonna
This smells surprisingly tame and innocuous for a fragrance named after the Deadly Nightshade; I picture meadow flowers on a bed of crisp green leaves.
Shay & Blue, Amber Rose
Pale rose warmed by light woods and vanilla…(yawn).
However, non-descript and non-obtrusive as they are, both this and the one above may work well as room fragrances; for the adequately chintzy interiors, that is.
Narciso Rodriguez, Narciso
Pumped-up lily with a sharp opening turns into some sweet chypre, not quite finding its edge.
Jardins d'Ecrivain, Junky
What junk? A fresh, green start; light smoke and leather come through ; it all remains on the office-appropriate side of animalic. More cosy than junky.
Bottega Veneta, Knot
Soapy iris. Clean baby musks. Talcum powder. Watery flowers. Probably a pleasant skin-scent, if you like them self-effacing.
Rouge Bunny Rouge, Silvan
Fire, fir-wood smoke; green ferns whispering in the dark forest. A comforting blanket of wooded nature.
Rouge Bunny Rouge, Cynefin
A mineral cocktail; vermouth? absinthe? Candied angelica root on metallic woods.
Rouge Bunny Rouge, Embers
Exactly: spicy, woody incense.
Ormonde Jayne, Osmanthus
A citrussy start to an otherwise subdued green floral with powdery undertones. But where is the rich, luscious apricot and green tea of the flower this is claiming to emulate?
Alexander McQueen, Kingdom
I braced myself for the infamous cumin note. It's here, but sublimated into a beautifully skunky whole, of dark overripe fruits and wilting flowers and warming balms.
Amouage, Honour
Well-rounded production. So much so, that I utterly fail at identifying any salient notes.
Etat Libre d'Orange, Noël au Balcon
Sugar and spice and all things nice? More like pine needles scattered atop the Christmas cake. Some incense wafting about. Enigmatic and comforting. A skin-scent of wonder.
Andy Tauer, Une Rose Vermeille
Vermeil as in gold-plated silver, giving a red rose metallic undertones that are surprisingly pleasant.
Andy Tauer, Pentachord White
This smells of old books, of warm snow; the mind bogles. And it feels utterly lovely on skin. Now, that's fragrant artistry.
The updated list for the sample box is as follows:
Agonist Onyx Pearl
A Lab on Fire what we do in Paris is secret
Alexander McQueen Kingdom
Amouage Gold
Amouage Honour
Annick Goutal Eau d'Hadrian
Annick Goutal Un Matin d'Orage
Atelier Cologne Grand neroli
Atelier Cologne Mistral Patchouli
Bottega Veneta Knot
By Kilian Back to Black
By Kilian Playing with the Devil
By Kilian Vodka on the Rocks
Cacharel Loulou
Caron Lady Caron
Caron Piu Bellodgia
Chanel Coco Mademoiselle
Chanel Cristalle Eau Verte
Comme des Garcons Blue Santal
Comme des Garcons Blue Cedrat
Diptyque l'Eau Neroli EDC
Diptyque Tam Dao EDT
Donna Karan Gold
Etat Libre d'Orange Noel au Balcon
Etro Shaal Nur
Fendi Theorema
Frederic Malle l'Eau d'Hiver
Frederic Malle Vetiver Extraordinaire
Grossmith Amelia
Grossmith Floral Veil
Grossmith Golden Chypre
Grossmith saffron Rose
Guerlain La Petite Robe Noir
Guerlain l'Homme Ideal
Hermes l'Ambre des Merveilles
Hermes l'Elixir des Merveilles
Hermes l'Eau des Merveilles
Hermes Jour Absolu
Hermes Un Jardin sur le Nil
Hermes Voyage
Jardins d'Ecrivains Wilde
Jardins d'Ecrivains Junky
J.F. Schwarzlose Berlin, Treffpunt 8 Uhr
L'Artisan La Chasse aux Papillons
Liz Earle No 1
Liz Earle No 15
Miller Harris Noix de Tubereuse
Narciso Eau de Parfum
Olfactive Studio Autoportrait
Olfactive studio Lumiere Blanche
Ormonde Jayne Osmanthus
Paul Emilien Une Belle Journee
Penhaligon's Tra La La
Roger et Gallet Amande Persane
Rouge Bunny Rouge Cynefin
Rouge Bunny Rouge Embers
Rouge Bunny Rouge Silvan
Shay & Blue Amber Rose
Shay & Blue Atropa Belladonna
Tauer Perfumes Une Rose Vermeille
Tauer Perfumes Pentachord White
Vero Perfumes Onda EDP
4160 Tuesdays Doe in the Snow
4160 Tuesdays Sexiest scent on the Planet
Yves Rocher Rose Absolue
Emptied samples: Aedes de Venustas Silver Iris
I have added to the box: Guerlain Acqua Allegoria Bouquet No 1