It's easy to fall into a routine underpinned by the stable schedule of work, studies and family responsibilities. One day flows into the next, alternating with all too brief weekends and lit up by the distant glow of a vacation. Around here this way of life is referred to as métro, boulot, dodo, translated literally as "commute, work, sleep." As the daylight hours get shorter, I feel the drain of such a schedule even more. Waking up to the murky darkness and a glittering sliver of moon–the same vignette I saw before I went to bed, I start counting the number of days until the winter holidays. Which at this point feel too distant for comfort.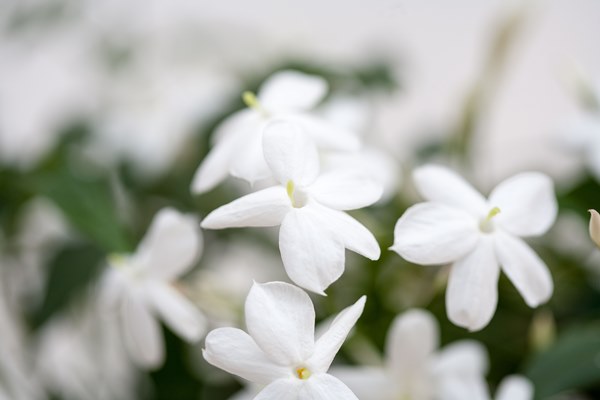 On the other hand, it's always possible to make a mini holiday for yourself, even in the middle of the dullest period. It can be an hour at a museum, a shopping excursion with friends or even just a favorite scented candle. Surrounding yourself with favorite objects and planning events that give you a dose of pleasure goes a long way to alleviating the sameness of inescapable routine.
Lately, my little joys have been jasmine scented. It may come as no surprise to my regular readers that I love jasmine, but there are times when I'm particularly obsessed with it. Jasmine is linked to all things I enjoy–Chinese tea, Persian gardens, Indian incense, Ukrainian summer nights and Sicilian desserts. Just a whiff of its complex perfume, a harmony of apricot jam, green banana and a hint of warm suede, is thrilling. Since I try to start my day on the right note, jasmine scented showers are it.
A discovery of Korres Jasmine shower gel ($12, 250ml) at a pharmacy sale was the initial inspiration. I usually prefer soap, but Korres had such a rich–and true to nature–perfume of jasmine sambac that before long I sampled several other jasmine shower gels and found new favorites. If I disregard Korres's ludicrous natural claims, it's quite a good product. No real jasmine suffered for the sake of this acacia honey colored gel, but it can easily fool you into thinking otherwise. The aroma is vivid and rich the moment you open the bottle, and it lingers in the bathroom and on skin. If you want a body product to layer with Serge Lutens A La Nuit, a jasmine extravaganza, Korres will be a great choice.
Having grown addicted to Korres's Jasmine, I decided to branch out. My next shower gel came from The Body Shop. Its Indian Night Jasmine ($10, 250ml) is an inexpensive treat, and while its jasmine is less nature-like than Korres's, there is enough vibrancy to make my morning shower pleasant. The gel leaves my skin soft, and it forms a meringue like lather.
Another jasmine discovery was to be had at Jurlique. Its Jasmine ($24, 300ml) is reasonably priced and richly scented. It smells of white petals and dark grapes, which together mimic the aroma of jasmine. The shower gel isn't particularly moisturizing, but my skin doesn't feel tight or flaky afterward, a common problem with harsher cleansers.
When I searched for jasmine scented body products, L'Occitane's Jasmine & Bergamot range came up time and again. Jasmine & Bergamot shower gel ($18, 175ml) indeed contains a smidgen of natural jasmine essence, but it doesn't translate into the scent. Jasmine is blended with fresh floral and green fruity notes. In the shower, Jasmine & Bergamot feels uplifting and bright, and I've repurchased it twice.
Neal's Yard Remedies makes you believe that by buying their products you're contributing to world peace and women's rights, not to mention organic agriculture. Since I can't independently evaluate these claims, I don't give them much weight in my purchasing decisions. On the other hand, their products are very well-formulated, and I love the Jasmine & Ylang Ylang range. The Body Cream is decadent, while Shower Gel (£14, 200ml) has a lush aroma of white flowers. Ylang ylang smells like fruity jasmine with a dose of wintergreen, so it's an opulent pairing. If I close my eyes, I feel as if I'm covered with soft white petals, a nice fantasy on a grey Belgian morning.
Finally, in my jasmine explorations I have returned to my old favorite, Alba Botanica Midnight Tuberose ($9.50, 355 ml). While it's called tuberose, it's more of a white floral bouquet, with plenty of jasmine mixed into the milky tuberose. The fragrance is effervescent, with the right touch of citrus, and the prospect of my shower scented with Midnight Tuberose makes me want to get out of bed. Yes, Alba Botanica is that good. The perfume lingers on skin for an hour, and if you want to amplify its presence, pick either a jasmine blend or an orange blossom cologne. L'Artisan La Chasse aux Papillons, the closest perfume to Midnight Tuberose, makes for a perfect companion.
If you have other jasmine scented ideas for body products, please share them with me. I can never have too much jasmine.
Top image by Bois de Jasmin