Perfume samples are essential for the pursuit of your fragrance hobby, and Elisa tells you everything you wanted to know about these all important tiny vials: where to find them, how to store them and when to use them. This article is part of our Perfume Storage series.
One of my favorite perfume smells is not a single perfume, but the ur-perfume that rises up when I open this box of samples and minis I keep in my closet. It reminds me of the sound of an orchestra tuning up – there is no plan or pattern, just noise and chaos, and yet it sounds like music to me, a beautiful mess heightened by anticipation of what's to come. Likewise, no matter what samples go into or come out of the box, the composite perfume always smells delicious – like fuchsia-colored roses and hazy amber, with aldehydes casting their candlelight glow over it all.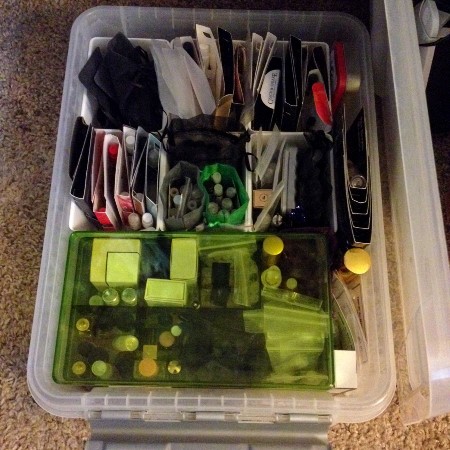 Once you fall down the rabbit hole, perfume samples start to accrue and multiply; it's just part of the culture. In this post I'll share my own sample habits, and I'd love to hear about yours.
Where I Get Samples
When I first got seriously interested in perfume, I would frequently order samples from places like Luckyscent. But I quickly saw the shortcomings of this method – the costs add up fast, and the samples (1 ml vials with no atomizer) were too small to get a true sense of the fragrance.
When I do order samples – if there's something I'm dying to try and I can't find it in a local store – I usually order large (at least 2 ml) spray samples from surrendertochance.com. This gives me enough juice for multiple wears, and they have a huge selection, cheap shipping, and great service.
Samples can be found at stores like Nordstrom and Sephora; the staff will often volunteer to make small (1ml) decants. However, my favorite way to acquire samples is through the perfume community – perfume lovers are some of the most generous people in the world and have created a sharing economy that reminds me of my other favorite people, poets, who are always trading books and chapbooks. If you find someone who loves what you love, you want them to experience what you experience!
How I Store and Organize Samples
Where do I store them? Everywhere! The aforementioned box used to be my only storage space, but after a year or so of serious perfume collecting, the box was full. I now use it mostly for "archived" samples – samples that are off-season, that I want to keep for reference, or that I plan to eventually pass on. The organization is scanty, but not nonexistent – I group most of the loose samples into bags by type (such as vintage, fruity/citrus, and white florals), and carded samples get filed in smaller boxes, separated by mainstream brands and niche.
"Active" samples and decants, usually stuff that I've recently received and feel like wearing, or samples that I want to write about, are scattered all over my desk and on top of my dresser in various small receptacles – repurposed sake cups and shot glasses, used votive candles, empty jewelry boxes and the like. I try to group large decants together by type – one container for roses, one for spring and summer florals, and one for orientals – but with small samples I'm afraid there's more madness than method.
How and When I Wear Samples
Since I moved to Colorado four years ago, I work full-time from home. One of my perfume resolutions last year was to finish more samples, and part of the way I've been accomplishing that is by wearing samples in the morning on workdays. Later in the day, once it's worn off or after I've exercised and showered, I can feel free to wear favorites from my full bottle collection.
Inspired by Victoria's post on different ways to wear scents, I've gone through a number of my 1 ml sample vials by dumping them into my hand along with a blob of unscented lotion (Vanicream works well) and spreading the mixture all over my arms. This is a great way to more sillage and presence out of a non-spray sample.
I also travel quite a bit, and I like to bring samples with me when I travel – but only samples that I've already tried and know I love. Men's scents that I like, but that don't feel like me, get passed on to my husband for his travel bag.
How Long I Keep Samples
I have a tendency to hoard samples, since you never know when you might want to return to something. Tastes change, and I like having a "library" of reference scents for comparison purposes in reviewing. But sample collections can rapidly get out of hand! Too, spray samples are vulnerable to evaporating or turning if you store them too long. (Victoria's note: If your sample vials are made of plastic, don't store them for more than 6 months. Same goes for the glass atomizer samples that don't have a cap. Regular stoppered glass vials can be stored in a dark, cool place for 2-3 years before changes in the scent become pronounced.)
I try to counter sample proliferation by passing on at least two or three samples whenever I do a swap, as extras. Another good tactic: If there's a perfume I appreciate but don't particularly like on my skin, I'll use it as a room spray in the bathroom. The last two to three sprays in a sample, sprayed into the shower, will usually scent the whole room nicely for up to 12 hours.
How do you organize and use your perfume samples? Please do share your favorite sample tips.
Photography by Elisa