It's easy to dismiss the Oriental Collection from Yves Saint Laurent as yet another banal attempt to capture the attention of the Gulf markets. Hence, we have the luxury packaging, high prices and a trite press release. Noble Leather, Majestic Rose, Supreme Bouquet and Splendid Wood are said to be inspired by "the splendor of the East." But overload of orientalism aside, the collection judged only on its olfactory merits is very good. The ideas are clever, interesting and well-executed. And, as I discovered when traveling in Oman, traditional Gulf perfumery is spectacular enough to emulate.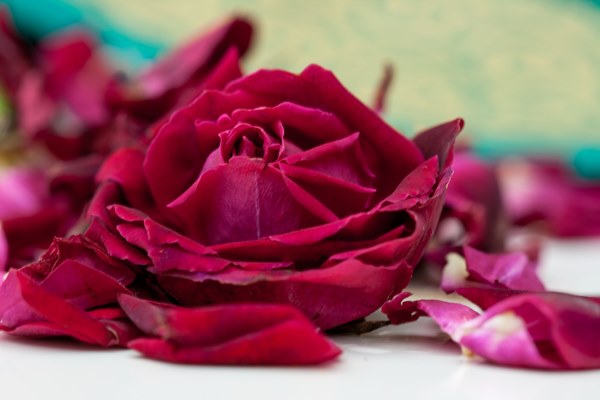 In traditional Middle Eastern and Persian Gulf perfumery, rose and oud are important players. With the discovery of oud by European and American perfumes, dark roses have become common enough, and every line worth its prestige brand name has attempted them with varying levels of success. Blend rose with enough dark woods, and even a novice can approximate something vaguely "eastern", but what makes traditional perfumery and fragrances like Majestic Rose interesting is their use of bright accents. Harmony, especially if we're talking about dark, rich notes, is hard to achieve.
A perfumer trained in the Omani or Emirati tradition might reach for saffron for its ability to lighten the heft of oud, musk and rose attar. A medicinal, peculiar note, saffron makes everything it touches radiant. (You can see this brightening effect of saffron when you add it to your meat stews or rich milky desserts.) This is exactly what perfumer Alberto Morillas uses to offset his roses for Yves Saint Laurent. He infuses them with saffron and then does another trick by muting the overly medicinal edge of this spice with raspberry.  The base of the perfume is a well-cured vanilla bean mixed with leather and oud. Wait long enough–and you'd have to, since Majestic Rose lingers for hours–and it turns into an ambery chypre. In the end, there are more woods than roses.
Majestic Rose has a polish that I often miss in the so-called French-Arabian perfumery. It's one thing to copy the traditional forms, but it's another to do them justice. In this case, there is much to enjoy. I like the dramatic character of the perfume, its richness and presence, but I also admire how it evolves on skin from the bold and bracing start down to the velvety base layers. It's also a perfect elle pour lui perfume–I think that men smell irresistible in roses.
For other French-Arabian roses, you can consider Frédéric Malle Portrait of a Lady, by Kilian Rose Oud, Agent Provocateur, Serge Lutens Santal Majuscule, Terry de Gunzburg Rose Infernale, or Guerlain Rose Nacrée du Désert. Am I missing anything else interesting?
Yves Saint Laurent Oriental Collection Majestic Rose includes notes of bergamot, papyrus, raspberry, rose, maté, saffron, oud, guaiacwood, and vanilla. Available at Saks 5th Avenue, Neiman Marcus and YSL boutiques. 2.7oz/80 ml $250
Top image by Bois de Jasmin