My grandmother Valentina's approach to food is simple–if it doesn't taste good, it can't be good for you. She doesn't have patience for the self-induced sufferings of health food devotees, and she remains suspicious of green juices, raw beet salads and salt-free cabbage soups. I once loved to experiment with all of the above. To my credit I even convinced a friend to try a raw food diet for a week. Such an idea in the Soviet Union during winter wasn't for the fainthearted. Our food supply was ideal for Park Slope locavores–seasonal. It meant that once we got fed up with last year's apples and carrots, we moved onto raw potatoes. There is a reason–and I suspect, evolutionary sense–why humanity has chosen to give potatoes some form of thermal treatment.
After that infelicitous experience,  I've remained immune to most food fads, preferring instead to follow Valentina's logic. Above all, it must taste good. Although Valentina doesn't care for raw lettuce, she has a repertoire of vegetable salads, many of which she makes during the summer and preserves for the winter. Her pantry shelves are lined with jars of pink cabbage, eggplant slices in a spicy sauce, pickled zucchini or honey marinated peppers. Since Belgian markets have peppers all year round, the latter is an effortless dish to put together, summer or winter. I skip the canning part.
Combining vegetables and honey is a classical Ukrainian approach. For instance, a seasonal delicacy during the summer months is cucumbers drizzled with first of the year honey. There are those who prefer their cucumbers fresh and others who like them to be lightly pickled, but either way, a marriage of crunch and sweetness is addictive. Peppers are naturally sweet, so accenting the sugary notes with honey makes perfect sense.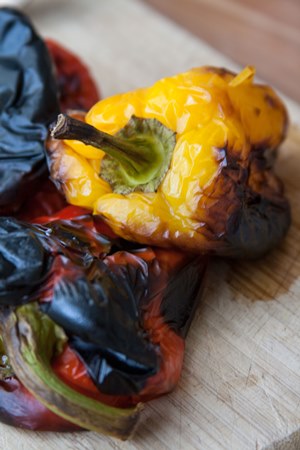 All you do is dress roasted peppers with a honeyed, garlicky marinade. You can eat the salad right away or store it in the fridge for a week. The flavor will deepen over time, with the garlic mellowing and becoming sweeter.
To make the marinade, I use either red or white wine vinegar. Ukraine is a wine country, and when my grandfather was alive, he made his own grape vinegar. Today Valentina buys it from a neighbor, while another friend supplies her with sunflower oil made from roasted seeds. For me, store-bought vinegar and olive oil suffice. Valentina also uses whatever herbs she grew that particular summer, but thyme reminds me of my great-grandmother's cooking, and for this reason I'm partial to its lemony sharpness.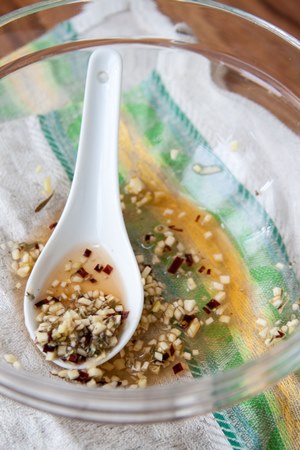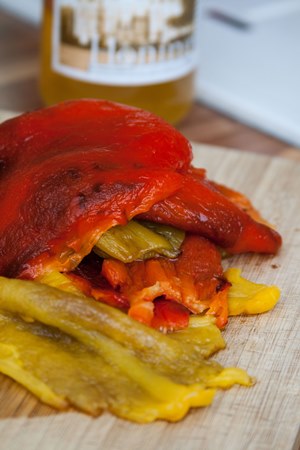 I make honey marinated peppers almost every week, and they sit in a large jar ready to be spooned onto bread, eggs, rice, or arugula salads. They also make a fragrant bed for grilled salmon, steamed cod or sauteed chicken cubes. Simple, delicious and most definitely good for you.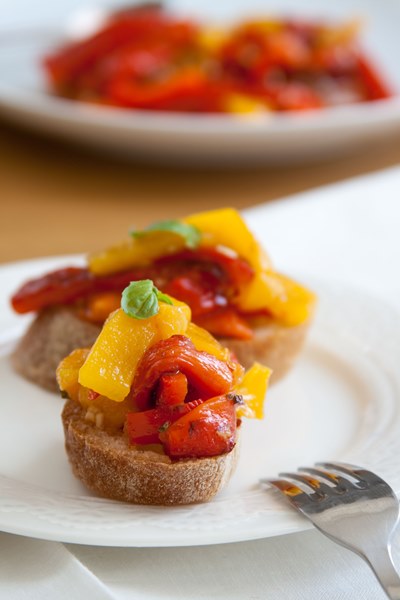 Honey Marinated Peppers
Instead of thyme, you can use other herbs, such as basil, parsley, tarragon, or dill. If you can find roasted sunflower seed oil, by all means use it. Otherwise, olive oil is an ideal choice, with a drop of roasted sesame oil should you want a richer, nuttier flavor.
Serves 4
4 bell peppers, red, yellow, orange or any color of your choice
1 garlic clove, minced
1 teaspoon honey
1 Tablespoon wine vinegar
2 Tablespoons roasted sunflower (or olive oil)
thyme or any other herb of your choice
salt, black pepper
To make the dressing, mix together garlic, honey, vinegar, olive oil, herbs and salt and pepper to taste.
Preheat broiler and place the peppers on a foil lined sheet below the broiler. Roast for 10-15 minutes, turning them until the skin is charred, and the peppers are soft. Remove from the oven and transfer into a covered bowl. Let peppers steam for another 10-15 minutes and then remove the cores, seeds and skin. After steaming, the skin will slip off easily.
Cut the roasted peppers into 1/2-inch wide strips. Toss with the dressing. Serve at room temperature or slightly chilled.

Photography by Bois de Jasmin