How to improve both your sense of smell and your ability to speak about aromas via wine tasting? Elisa explains.
A few months ago I read a sentence in the Atlantic that gave me serious pause: "In English, there are only three dedicated smell words—stinky, fragrant, and musty—and the first two are more about the smeller's subjective experience than about the smelly thing itself." Excuse me, what? I can think of a lot more smell words than that. How about aromatic, acrid, pungent, yeasty, perfumey, resinous, skunky?
And those are just the "dedicated smell words" – but most descriptive terms can be used for multiple types of sensory experience. "Rosy" could refer to a perfume or a complexion, "silky" to a fabric or a voice, "sharp" to a taste or a smell or a sound or a feeling. Our senses aren't as distinct as we think – most of "flavor" is actually smell (that's why you can't taste your food when you have a cold), and sound effects or different color packaging can make your chips taste fresher or your soda taste sweeter. (See also the "McGurk effect" – seeing a different mouth shape makes you "hear" a different sound.)
As I bemoaned the Atlantic's lack of fact checking, a Twitter follower sent me a link to a fascinating article on "odour character and thresholds" (PDF) published by the Environment Agency, a public body dedicated to environmental protection in the UK. It contains an image of an "urban odour descriptor wheel" used by the UCLA School of Public Health, with primary categories including "auto exhaust," "wastewater bathroom," "parks and fields," "coffee shop," "fast food," and "roadkill." These are further broken down into descriptive terms mapped to the responsible chemicals. Pairs include:
Rotten egg: hydrogen sulfide
Sour milk: butyric acid
Nail polish: acetone
Hay grass: cyclocitral
Honey: phenylacetic acid
Roasty: decadienal
Dead animal: putresine, cadaverine
Naturally, the wheel design reminded me of the aroma wheel commonly used in wine tasting, one of example of which you can see below, via www.winearomawheel.com. It's a tool developed by Dr. Ann Noble, Professor Emerita of the University of California at Davis, for consumers and wine professionals alike: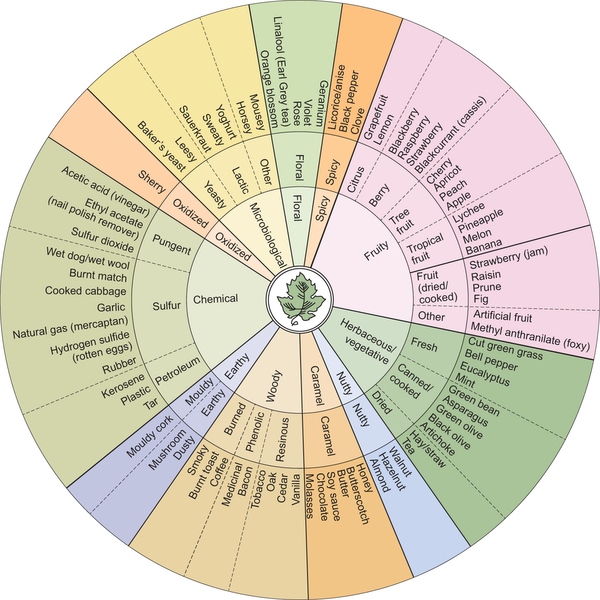 Right away you'll see a bunch of wine aroma terms that apply equally well to perfume – cut grass (remember Gap Grass?), "horsey" (as in animalic jasmines), medicinal (an edge present in many Guerlains), nutty (tonka bean), clove (carnation), raisin (see Shiseido Feminité du Bois). Except for the underdeveloped floral section, it wouldn't make a bad starting point for anyone new to describing perfume.
Trusting Your Nose
One thing I love about wine tasting (aside from the fact that you get to drink wine) is that anything goes. Sometimes, when describing a perfume, you have the nagging impression you might be "wrong," that whatever you're smelling is not actually in the materials. Not so with wine – while each grape tends to have its own typical profile, weird things happen in the fermentation process, and all kinds of unexpected aromas can bubble up due to process and weather. So if a wine smells to you like buttered popcorn, you might as well say so. (Buttery notes are usually associated with chardonnay, but I love when I find a lactonic red. Once I had a marvelous red that smelled like coconut.)
So describing a wine is mostly about instinct and confidence – and these traits come in handy for a perfume reviewer too, since you can't trust the marketing materials to be accurate. I've learned to follow my nose and its associations in both contexts. Pinotage is a grape that has fallen out of favor at least among wine snobs – when I asked for an opinion on one at a shop a couple of years ago, the seller said, snottily, "it's a typical pinotage." But I fell in love with this cultivar as a vegetarian because it's so smoky it smells like cured meat – bacon, ham, even hot dogs. You get a similar barbecue effect from birch tar – Winter Woods from Sonoma Scent Studio is distinctly meaty.
The Power of Suggestion
Wine tasting must be fun for the very suggestible, those who hear a description and immediately recognize it. As I write this I'm sipping a Nebbiolo that the shop described as showing characteristics of "rose and vanilla." I picked it up hoping for a perfumey wine. Unfortunately I'm getting none of that; it's quite dry and not very floral. (You know what is floral though? Dogfishhead 90-Minute IPA from a tap.) I sometimes wish my nose was a bit more suggestible. Once at a wine tasting I heard a sparkling wine described as "toasty," and while I didn't think it smelled like toast, I've always remembered that, due to the pun.
My dad, though a genuine a wine lover, likes to mock the copy on wine labels, pretending to taste things he clearly doesn't. Holding his glass up to the light, he'll pompously pronounce "Shades of boysenberry!" But the label descriptions really can steer you in the right direction, getting you in the general aroma neighborhood. There's currently a fashion for very chocolatey reds – if you've had the Apothic red blend you know the style. They are usually described as having "vanilla" notes, but vanilla in a red often translates into milk chocolate.
Even the experts can fall prey to suggestion. See that term "foxy" up there, in parentheses next to methyl anthranilate? If you google "what is a foxy wine," the first result is from Wine Spectator, and a "Dr. Vinny" explains that "foxy" wines have "a sort of wild, musky, animal smell that reminds me of the odor of a fur coat." Like a fox, get it? However, that's not what it means! "Foxy" refers to the methyl anthranilate note of Concord grape juice, from vitis labrusca, AKA "fox grapes." It's also present in jasmine and gardenia, and you'll find it in spades in Thierry Mugler Alien (which has always smelled to me like grape soda).
The Gestalt of Wine
Perfume and wine descriptions can be terribly lengthy, leading you to expect a parade of distinct notes one after the other. The actual experience is often much more holistic, a single overwhelming impression, however complex the actual parts. When I'm first smelling a wine or a fragrance, I generally start by noting just one or two words that most capture what I'm smelling, rather than trying to pick out ten or twelve distinct scents.
If I'm writing a review, I'll take my time and eventually pick it apart, but the wines and perfumes that I return to again and again are easily "compressed" in my mind to a kind of scent shorthand, a few words that best represent what I experience. I'm fond of the two-word descriptions in Turin and Sanchez's Perfumes: The A to Z Guide (such as "brassy peony" or "waxed lemon") because they feel true to the way the mind encodes memories of smell. I don't remember all the nuanced details of, say, Midnight in Paris when I'm not wearing it; I just think "leathery tonka."
So, too, when I drink wine, I'm happy to notice a sulfuric grapefruit in a New Zealand sauvignon blanc, or dried cherries in a Zinfandel, and leave it at that. When you're ready to "graduate" into more detailed description, the absolute best way to sharpen your senses is by comparing similar types side by side: compare a flight of rosés or three rose soliflores and the differences leap out at you: One rosé is bone-dry and another tastes like mint and strawberries; Tea Rose smells like a long-stem pink rose in a florist's bouquet, while Rose Flash smells like a wild red rose on the vine.
Extra Reading: Speaking Perfume and How to Improve Your Sense of Smell
First image: wine tasting by Bois de Jasmin. Second  image: Wine Aroma Wheel, Copyright A C Noble 2002 www.winearomawheel.com.