Out of all holidays, Nowruz and Easter inspire me the most with their promise of rebirth and hope. Nowruz, which means "new day" in Persian, falls on the spring equinox (March 20th in 2016) and is celebrated for the thirteen following days. Often called Persian New Year, it's an important celebration not only in Iran, but also Azerbaijan, Afghanistan, Georgia, India, Turkey, and other lands that were once part of the political or cultural Persian sphere.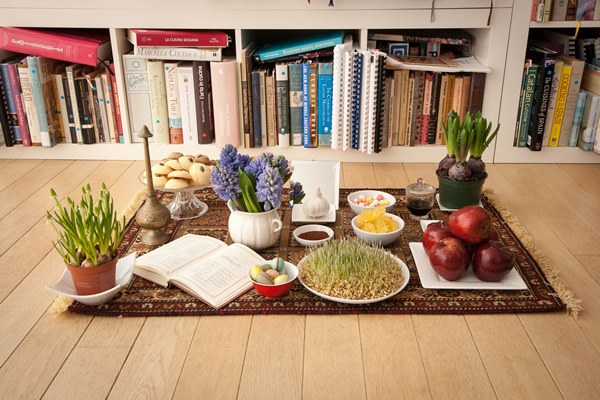 I received a glimpse of Nowruz through my Azeri stepmother, although my own explorations directed me further down the path. While today it is by and large a secular event, observed by people of different religions and communities, Nowruz is a 3000 year old holiday with rich symbolism and ties to ancient Zoroastrian traditions. Nowruz contains beautiful, colorful and uplifting elements, a great reason to celebrate it.
The centerpiece of Nowruz celebrations is haft seen, or an elaborately decorated tablecloth. Haft means seven in Persian, and seen is the name of the letter "s." Seven is a lucky number, believed to have roots in the "Seven Eternal Laws" of Zarathushtra–good mind, ultimate truth, good guidance, lawful desire, perfection, immortality, wisdom*. Each item on the haft seen spread also has its particular significance, but as can be expected for such an ancient event, some meanings have been lost and others have been added over the centuries. My personal aim with my haft seen is to welcome spring, give thanks for the departing year and anticipate another, better one.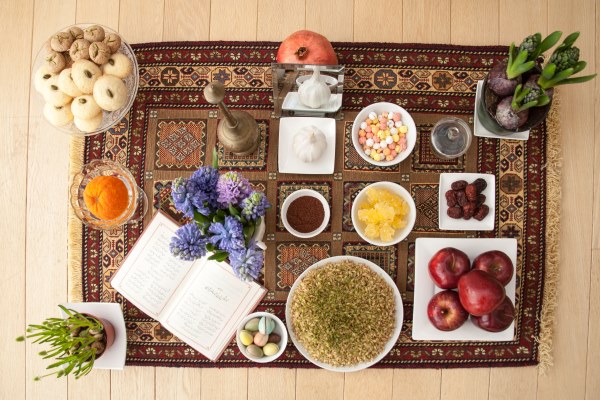 I sprouted a mix of lentils and wheat grains (sabzeh), a symbol of happiness and rebirth. I added garlic (seer) for good health, sumac for patience, senjed fruit for tolerance, vinegar (serkeh), hyacinth (sanbol) and apple (seeb). The latter signifies beauty–one of the most charming compliments I heard in Iran was "her face looks like an apple cut in half."
Other haft seen elements are a mirror, a reminder to be honest, and a flask of rosewater, a symbol of purity.
A friend mentioned that a bitter orange floating in a bowl of water stands for the world, so I made a room for the universe on my haft seen.
Also essential are the sweets, and this year I laid out seven varieties, supplementing classical Persian rice cookies, walnut macarons, chickpea biscuits, and Olena's rose jam rolls, with store-bought candied nuts, saffron sugar, and Pierre Marcolini Easter chocolate eggs. Painted eggs, a familiar part of Ukrainian Easter spreads, also have a place on haft seen, and mine came with a Belgian accent.
I also added a volume of Hafez poems, hoping for improved Persian language skills in the new year.
Spring is officially invited into my home.
*Extra reading: Iran Chamber, an independent, non-partisan website, has a number of interesting articles on different Persian topics, including Nowruz and haft seen. Wikipedia has a thorough entry, including explanations of how the holiday is celebrated around the world.
Also, Turmeric and Saffron  and My Persian Kitchen feature great recipes and articles about Nowruz.
Two favorite recipes: Rhubarb Rose Sherbet and Rice Cardamom Cookies.
Photography by Bois de Jasmin, all rights reserved.