Citrus is the main reason I'll miss winter. The season of blood oranges, lemons and grapefruits is winding down in our parts, and although I look forward to the strawberries and cherries of spring, a perfect orange is enough to make me forget the cold, sticky snow and grey skies of Belgian winters. Orange rewards you with both taste and smell, since few other plants are so willing to yield their aromatic oils. With orange–or any other citrus fruit–you only need to squeeze the thick spongy peel to experience essence in its pure form.
It's a pity to waste all of that goodness, and if I have organic , unsprayed fruit, I preserve the zest in a variety of ways: by candying, flavoring vinegar, mixing with tea, drying or perfuming salt and sugar. The latter is by far the easiest and most versatile way to capture the aroma. All you need to do is to grate the colored part of the fruit and mix it with the base ingredient of your choice.
This time I used bitter (Seville) and sweet oranges for the recipe, but you can use any type of citrus for these recipes or even mix citrus to create your own blends. A trio of orange, lemon and mandarin is a combination you'd be tempted to rub on your wrists. More exotic citrus fruits like citron (etrog), Buddha's hand, Meyer lemon, yuzu or bergamot also converse well in salt and sugar.
Per every teaspoon of zest you should use 2 teaspoons of either salt or sugar. It makes for an intensely flavored condiment that you can later dilute with more salt or sugar, depending on your preferences.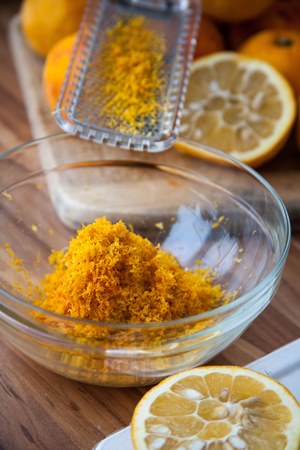 Now that you have the flavored condiments, you can use them in a variety of dishes. Orange salt is delicious on grilled seafood. I blend it with my coriander cumin powder and paprika for a dry rub that gives a punch of flavor to fish, lamb or sweet potatoes. Lemon salt can be used in anything, from soups to chocolate cookies (a hint of salt enhances the chocolate). I also mix it with green and black pepper to season steaks.
Citrus perfumed sugar is likewise a fantastic blend to keep on hand. I add it to my pastries and milk based desserts. I whip it into fresh cheese and golden raisins to fill crepes. A teaspoon of orange sugar is a must in a cream of carrot soup, which I start by sauteing carrots with leeks, parsley and coriander. Fragrant, delicious, easy.
Orange Salt and Sugar
Sterilize the jars by washing them with hot water and baking soda and then bake them for 5 min in a 225F/108C oven. Wash the lids with boiling water. Let the jars cool.
Grate the colored part of the citrus peel avoiding the bitter white layer. Mix it with salt or sugar. Per every teaspoon of zest you should use 2 teaspoons of either salt or sugar. Pack into jars and give them a good shake. To preserve the fresh flavor longer, I store the main bulk of citrus salt and sugar in the fridge and remove small portions as needed to keep by the stove.
Extra: Miso Grilled Salmon with Honey and Orange :: Orange Trout with Korean Flavors :: Orange Marmalade :: Candied Orange Peel :: Orange, Cardamom, Hazelnut Biscotti ::
Photography by Bois de Jasmin, all rights reserved