I'm happy to share that I'm going to teach another perfumery course in Provence this spring. It will take place from April 5-9th in Grasse, while the guests shall be staying near the Cap d'Antibes. Located between Nice and Cannes, it's ideal for exploring the area that gave rise to modern perfumery as we know it today. Moreover, spring in Provence is the best season: mild, warm and richly scented.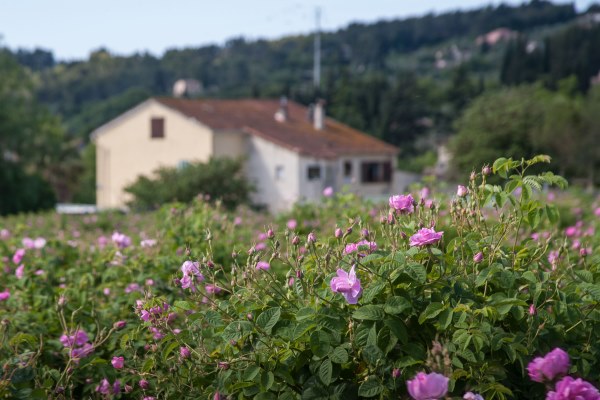 My course will cover the principles of fragrance construction and perfume history. It requires no prior knowledge of perfumery, and my goal at the end of the long weekend is to leave you with greater knowledge of scents and ways to enjoy them. We will also smell the original versions of classical fragrances and learn about quality and what makes perfume great, rather than merely pleasant. We will also do exercises to sharpen our sense of smell and use professional techniques to help us memorize and describe aromas. It will be a longer and more intensive course than the one I gave in October, with an emphasis on learning the fundamentals of perfumery and the perfumer's palette.
Another highlight of the long weeekend is the opportunity to visit Edmond Roudnitska's garden and his Art et Parfum lab which is still run by his son, Michel. Roudnitska's garden and house are usually closed to the public, but Michel Roudnitska has been kind enough to invite our group and give a guided tour of the estate. You will see the room where Edmond Roudnitska worked on most of his creations, take a look at his library, walk down his favorite garden paths and see his flowers in bloom. If the weather cooperates, you can even smell the legendary lily-of-the-valley patch where the famed Diorissimo scent was born.
You will also visit the perfume lab that still creates Diorissimo and get a glimpse of the background lab work, without which a creator's olfactory idea can't find its way to you.
The course is run by Science & Vacation and you can find more details and schedules on their website. For those who want to explore the area and stay longer, there is a week long option with several guided tours around Provence. If you have any questions about my course specifically, don't hesitate to ask. For all other questions, such as logistics, schedules and costs, please contact Science and Vacation directly through their website.
Photography by Bois de Jasmin, Grasse, a rose de mai field.