The scent of tea leaves is created by hundreds of aroma-molecules, and each variety has its unique fragrance. Terroir plays a role as does the method of curing the tea leaves. For instance, steamed Japanese teas like sencha and matcha have grassy, spinach-like aromas thanks to hexenal, while mildly oxidized oolongs share aromatics with lilac blossoms, roses and jasmine (nerolidol, cis-jasmone, linalool). The smoky profiles of teas like lapsang souchong are created by molecules like pyrazines, longifolene and guaiacol. In an interesting twist, guaiacol, along with certain types of pyrazines, is what gives roasted coffee its distinctive scent, which is why smoky teas are recommended to coffee drinkers wanting to expand their horizons. With such a rich palette of aromas, the tea accord is a fascinating exercise for a perfumer.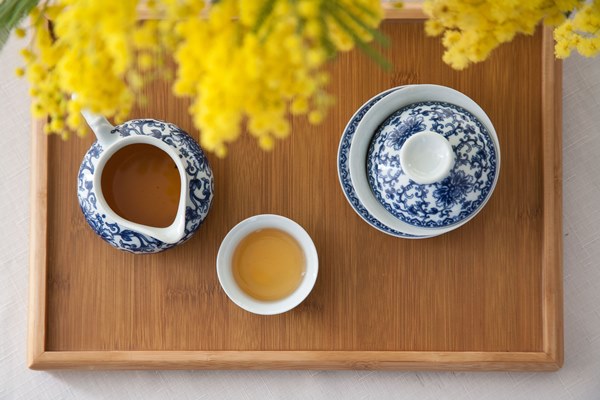 In my recent article on the development of Bulgari's Eau Parfumée au Thé Vert, I described how Jean-Claude Ellena discovered a novel accord and created a modern classic. Since Bulgari launched the perfume in 1992, it became the green tea of fragrance. However, tea accords aren't limited to delicate green blends, and when I began researching my article, I realized how many fragrances successfully incorporate a tea effect, both light and dark. I decided to make a list of the most interesting examples, in 10 different styles.
Moroccan Mint Tea : Guerlain Aqua Allegoria Herba Fresca
One of my favorites is Guerlain Aqua Allegoria Herba Fresca, created by Mathilde Laurent. It's a cologne that blends a citrus note with green tea and a generous dose of mint . The effect is icy and refreshing, without any toothpaste associations. You can also discover Mathilde Laurent playing with the mint tea note in Cartier Roadster, where the traditional fougère accord of bergamot, lavender and cedarwood is given an edgy twist with mint.
Osmanthus Oolong: Hermès Osmanthe Yunnan and Parfums d'Empire Osmanthus Interdite
Oolong and osmanthus, flowers of a Chinese olive plant, share so many fragrant components in common that their association is classical for a reason. They create a natural harmony. In the compositions blending tea and osmanthus notes, the effect is less pronounced, since tea accords are a result of a perfumer's fantasy. That being said, Hermès Osmanthe Yunnan and Parfums d'Empire Osmanthus Interdite are two excellent examples. Osmanthe Yunnan is the most wistful and elegant of the two, a silk scroll vignette to Osmanthe Interdite's watercolor etude. The only downside is that such ethereal beauty is too evanescent and Osmanthe Yunnan is frustratingly short-lived. Osmanthe Interdite brings the whole Chinese garden to join the osmanthus for tea, and the effect is lively and dazzling.
Rose Tea: Les Parfums de Rose Un Zest de Rose and Eau d'Italie Paestum Rose
I've been drinking tea with rosewater ever since Andy shared his simple and fragrant recipe, but the combination can also be worn. Les Parfums de Rosine Un Zest de Rose is a delight on a warm day–a melange of white rose petals, lemon peel and green tea. Even if you think you hate roses in perfume, I recommend trying it. Eau d'Italie Paestum Rose is for those who like their tea black and their roses red. It layers incense, sandalwood and cardamom for richness, although the final result has an interesting transparency thanks to the radiant woody aromatics.
Tea and Fruit: Lanvin Éclat d'Arpège
This combination of wisteria, lilac, peony and green tea has been one of the top-sellers in Japan, which isn't much of a recommendation for those who like their perfumes buxom and rich. The lovers of fresh, clean blends will appreciate the charm of Éclat d'Arpège. It's one of the best creations by Karine Dubreuil. Do ignore its flankers, however, especially something bizarrely called Éclat d'Arpège Eyes.
Violet Yerbamate: Armani Privé Iris Céladon and Annick Goutal Duel
Yerbamate has nothing to do with Camelia sinesis leaves, but in perfumery it can be  used to recreate the effect of green tea. It also marries well with floral notes. Armani Privé Iris Céladon pairs yerbamate with iris, while Annick Goutal Duel with violets. Both have a crystalline clarity reminiscent of jade, and while their drydowns are soft and musky, there is not a hint of the dreaded fresh laundry effect.
Tea Smoke: Bulgari Black and Three More
Bulgari can't atone for its crime of discontinuing the masterpiece that was Bulgari Black. On the other hand, life goes on, and if you enjoyed the smoky, burnt rubber heart of Black, you can try another of Annick Ménardo's creations, Le Labo Patchouli 24. It's softer, heavier on caramel notes, but the character is similar.
Otherwise, you can consider Santa Maria Novella Nostalgia, leather cured in enough birch tar to make one fear the arrival of the Cossacks. Or Comme des Garçons Tea from Series 1 Leaves. It smells smoky, dark and brooding.
Genmaicha : Ormonde Jayne Champaca
Toasted rice mixed with green tea, genmaicha is my favorite morning beverage. It has a savory edge that I have always suspected would do well paired with a flower. In perfume, such a thing has been done and it's Ormonde Jayne Champaca. Champaca builds its story around a magnolia note redolent of dried apricots and suede and adds rice nuances to give the perfume more depth. Tea is part of the illusion made by the notes, rather than by a specific material, but it stands out clearly in the top.
Jasmine Pearls: Caudalie Thé des Vignes
Caudalie Thé des Vignes is a jasmine tea accord accented by orange blossom, fruity grape and ginger. Simple but charming. Otherwise, there is always the classic Thé Pour Un Été from L'Artisan, jasmine tea on ice that has a cult following but smells bland to me.
Darjeeling Tea: Bulgari Pour Homme
Next to the exuberant and lush Pour Femme version (signed by the great Sophia Grojsman and Nathalie Lorson), Bulgari Pour Homme can appear as too well-behaved and handsomely predictable. Yet, this floral musk with a polished woody drydown smells elegant and complex on skin. It also hides a deliciously rendered darjeeling tea accord.
Masala Chai: L'Artisan Parfumeur 32 Venenum
Masala chai is an Indian tea made with milk, sugar and an array of spices like cardamom, ginger, cinnamon and cloves. The best example has been Bulgari Omnia, a spiced tea accord set into dry, elegant amber. Unfortunately, Omnia has been discontinued and whatever has taken its place doesn't hold a candle to the original. L'Artisan Parfumeur's 32 Venenum is a recent discovery. It's a composition around the notes of toasted rice, masala tea, and creamy sandalwood. Venenum is bracing, uplifting, more like a cologne than a plush blend one would expect from such a list of ingredients.  I liked that perfumer Daphné Bugey decided to surprise us. Along with Bulgari Pour Homme, it's the most conventionally masculine fragrance on my list, although tea scents usually have an androgynous quality.
Another L'Artisan perfume with a masala tea accord is Dzongkha, a creation by Bertrand Duchaufour. L'Artisan nailed the tea category, didn't it? Unlike most other spiced tea compositions, it's cool and introspective, with iris and mossy woods toning down the heat of spices.
Perfume snobs miss out on all the fun. Good fragrances can be found in all categories, including the maligned celebrity genre. I could care less for Lady Gaga, but I love her second perfume, Eau de Gaga. It's an elegant green tea fragrance in the same airy style as Bulgari's Eau Parfumée au Thé Vert but at a fraction of its price and with a crisper, brighter character.
More on tea perfumes: Bois de Jasmin's Tea Collection. Also, to complement tea perfumes, please take a look at Andy's 5 part Tea Primer.
What are your favorite tea fragrances (and of course, teas)?
Photography by Bois de Jasmin