As preparation for the Art of Perfume and Wine class that I'm teaching in April in France (more details here), I thought I would write about 7 vintage perfumes that have been influential for the evolution of perfumery and that we will smell in their original versions. There will be over 50 different perfumes in this course, but these 7 are among the most essential to learn.
Guerlain L'Heure Bleue 1912
Many perfumers will name Guerlain as the most influential perfume house, especially in its period when Jacques Guerlain was the head creator. L'Heure Bleue is a textbook example of a classic as well as of a symphonic perfume.
We will, of course, smell other Guerlain classics, from Après L'Ondée and Mitsouko to Chamade and Chant d'Arômes.
Coty Chypre 1917
Paul Poiret's memoirs tell the amusing story of François Coty dropping by the couturier's house and saying by way of hello that he wanted to purchase his perfume business, Les Parfums de Rosine. Poiret curtly told Coty to leave. While he was a less than pleasant character, from his business practices to his political convictions, Coty was a visionary. Rebuked by Poiret, he went on to create a big enterprise. Even though the Coty classics fell into oblivion as brands, fragrances like Coty Chypre, L'Origan, or Emeraude changed perfume history by introducing new forms and streamlining accords. As Poiret banished the corset in favor of loose, floating garments, Coty introduced simpler formulas and stronger effects. It would be left up to perfumers like Jacques Guerlain and Ernest Beaux to refine his discoveries.
Chanel No 5  1921
We will compare No 5 from different decades to see how perfume has changed and how these changes affect the character of the perfume. Chanel No 5 is a good example to discuss reformulation, changing tastes and the difficulty of creating classics in today's competitive and short-sighted market. We will compare it to different aldehydic perfumes and will smell different components that give No 5 its distinctive scent.
Balmain Vent Vert 1947
Germaine Cellier was a remarkable perfumer and a fascinating character. Of all her fragrances, Vent Vert is the one that captures her style best–bold accords, technical elegance and originality. It's the sensation of early spring bottled.
Christian Dior Miss Dior 1947
When marketing press releases talk about a perfume pyramid, they're usually misusing the term. To smell Miss Dior is to understand what a perfume pyramid really is–a structure with clearly defined layers, which evolve smoothly to tell a story. By contrast, most perfumes today are linear compositions. We will examine Miss Dior on paper over the course of a day to see how it evolves. We will also see elements of other famous perfumes in it, including Germaine Cellier's Balmain Vent Vert.
Hermès Calèche 1961
Perfumer Guy Robert contributed not only great fragrances to the art of perfumery, but also a new way of composing them. His fragrances are what many call today grands parfums, with a rich sillage and strong character, and yet they have uncluttered, elegant structures and interesting accords. I was privileged to know Mr. Robert and to learn from him, and in explaining the marvel that is Calèche, I will explain in his own words the intent and the idea behind it.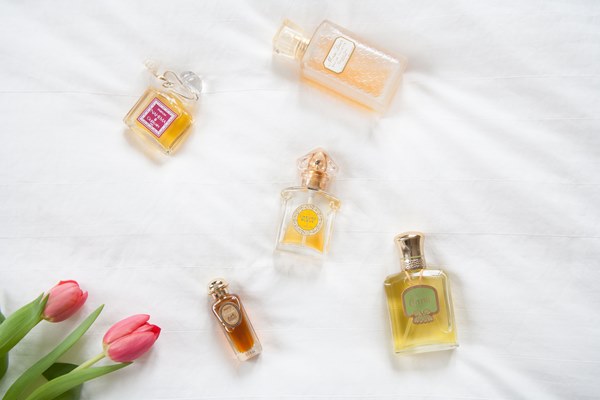 Guerlain Nahéma 1979
Are all great perfumes successful? Not really. Some fine fragrances were terrible flops. Nahéma caused Guerlain the loss of real estate in the heart of Paris, since its sales didn't pay off. Nevertheless, it's a true masterpiece, and we will smell it in its lush, damascone-rich glory. Nahéma's extrait de parfum has been discontinued, and while the Eau de Parfum is a beautiful perfume, and I wear it happily, it doesn't have the drama of the original.
The Art of Perfume and Wine website also has extra information that you've requested via email. Those of who are interested in combining the class with discovering this area of France will have a chance to do so. Please take a look at the page, and if there are any other questions, please don't hesitate to ask.
How to Book The Course: please go to The Art of Perfume website. The class is close to being full, but we can still make room for a couple of spaces.
Photography by Bois de Jasmin