In the summer of 1913, an artist arrived in Paris. He was 27 and discovering the city of lights had been his obsession since he was a child in Meiji-era Japan. Foujita Tsuguharu was from a well-off family, the son of a general in Japan's imperial army and a graduate of the prestigious School of Fine Arts in Tokyo, but he arrived in the French capital as a complete unknown. His goal was to learn, paint and be inspired by the city.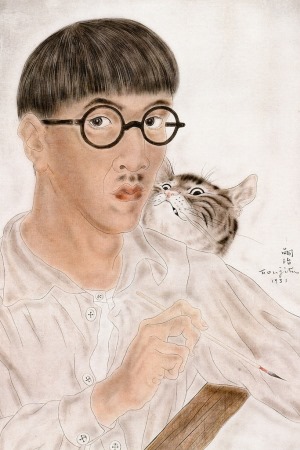 He moved into a studio in Montparnasse and soon met artists like Henri Matisse, Amedeo Modigliani, Chaim Soutine, Fernand Léger, and Pablo Picasso. He worked as a copyist at the Louvre, took dance lessons from Isadora Duncan and staged exhibitions with other painters. In Japanese, Foujita meant "a wisteria field," but in the Montparnasse circle he soon became known as Fou-Fou, Mad to the power of two. Foujita didn't mind. He welcomed the notoriety by cultivating a flamboyant image complete with a bowl cut, earrings and a lampshade as a headdress. He added Léonard to his name for a French inflection and as a tribute to Leonardo da Vinci. In the Paris of the Roaring Twenties, he was a star and a natural, more successful than either Picasso or Matisse.
The recent exhibit of Léonard Foujita's work in the Musée Maillol in Paris examines his work between 1913 and 1931. Even among the many great artists who made up the Paris scene during those roaring years, les Années Folles, he stood out. And not simply for his Greek tunics and crazy antics. Foujita created his own style blending Japanese and western techniques. He worked incessantly on perfecting it, cooking and even sleeping in his Montparnasse studio, with his favorite cat, Miké, for company. Miké was a stray who followed Foujita to his studio and refused to leave.
The first time I saw Foujita's work was during an exhibition of the artists' self-portraits. Foujita's showed him in a studio looking pensive and slightly melancholy, with Miké looking protectively over the painter's shoulder, one eye at the viewer, another searching his owner. It was such a strange and yet moving image that I wanted to know more about the painter.
It's not surprising that Miké's personality was one of the elements that caught my attention in Foujita's self-portrait. Cats appear time and again in his works. They are always mischievous and mysterious, seeming to know more about the world around them than their owners do. Foujita created a number of paintings and drawings with feline subjects, and his Book of Cats published in 1930 and including 20 etched plate drawings is still among the most sought after by cat lovers.
Another subject that made Foujita famous was a woman with luminous white skin and golden hair. In 1921, Foujita met Lucie Badoul. The young Belgian became his muse, whom he would call Youki, meaning snow. The nude paintings of Youki are among the most poignant and enigmatic in the collection. Whether she reclines gazing into the distance or looks at the viewer directly, there is something disarming, and yet almost disconcerting, about her beauty and radiance. Perhaps because one realizes when returning Youki's glance that such beauty is as fragile as a snowflake landing on a warm cheek.
Foujita's delicate brushwork, the use of color and the combination of soft shadows with sharply defined lines give his nudes an ethereal quality. Even more fascinating is the shade of white he used to paint the most captivating of all materials—human skin. Foujita's white is luminous and pearly and looks like glaze. Foujita kept the composition of his white a secret, but modern technologies allowed us to understand that it was a blend of flaxseed oil, magnesium silicate, and white lead. It recalled the makeup geisha once used to give their skin a pure white glow. Even in photographs it's mesmerizing, especially when contrasted with Foujita's trademark tones of grey, yellow and black.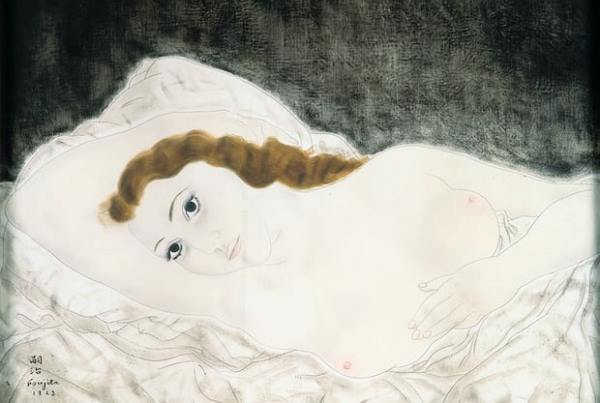 In 1929, the stock market crashed, ushering in the Great Depression. The party and the Roaring Twenties was over. Foujita's wealthy clients packed their bags and returned to the US. Youki became the lover and later the wife of the surrealist poet Robert Desnos, and Foujita set sail for Latin America with yet another muse.
Foujita spent the next decades looking for a place to call his own. In Japan he served as a propaganda painter to the Japanese Imperial Army during the second world war, and after the defeat he returned to France in 1955. France would be his final destination, a place that accepted and forgave him. He took French citizenship and converted to Catholicism. One of his last projects was a chapel in Reims. Foujita designed it himself and embellished the interior with frescoes, working on the elements of the design until he passed away in 1968. Even as he was slowly succumbing to cancer, he kept painting.
The Foujita Roaring Twenties Exhibit (until July 15, 2018)
The Musée Maillol
Address: 59-61 Rue de Grenelle, 75007 Paris, France
Phone: +33 1 42 22 59 58
http://www.museemaillol.com
Images: photographs taken at The Musée Maillol exhibit, wiki-images.