It's easy to be dismissive of a perfume like Mon Guerlain. It checks off all of the contemporary cliches–fruity-floral, sweet, and pretty. One can almost guess what it would smell like by looking at its adorable pink bottle. And it first, Mon Guerlain indeed smells predictable, a fruit compote accented with citrus and spiced with patchouli. Yet, in perfume, as in life, it pays to be open-minded.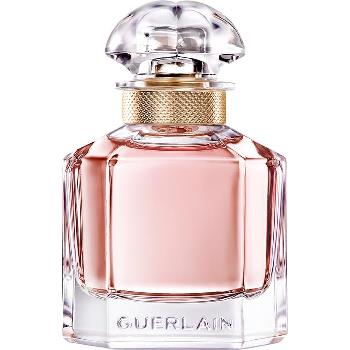 Those who are willing to give Mon Guerlain a chance will find an upbeat, easy to wear fragrance with a solid Guerlinade imprint. How it gets there is the most interesting part.
Perfume lovers often decry the lack of creativity in the fragrance market, and the so-called pillar brand fragrances get most of their opprobrium. The pillar brand is a launch meant for the widest possible release, so it's generally intended to be as much of a crowd pleaser as possible. An average perfume in this category is priced at €40-60 euros for 30ml, whereas a niche fragrance is closer to €200 for the same amount. I should underline, however, that the price of a perfume is an imperfect indicator of its quality.
In some cases, like Dior Poison Girl, the result is so vapid that it's hard to understand the point, but in others, perfumes are well-made and interesting. I'm thinking of fragrances like Marc Jacobs Daisy, Bottega Veneta, Prada Candy, and Alaïa.
Mon Guerlain also joins this group. It plays with time-tested favorites like fruity notes, gourmand patchouli, and soft, citrusy jasmine, and the end result is charming. Although the idea of sweet, fruity notes in the Guerlain context may seem incongruous at first, accustomed as we are to fruity-floral copycats, almost all of the Guerlain classics are powered by a combination of gourmand notes like vanilla and tonka beans and sweetened florals like rose and violet. In Shalimar, an overdose of bergamot keeps the vanilla in check. In Mitsouko, the peaches, cream and cinnamon are corseted by moss. In L'Heure Bleue, the green neroli and anise take the sugary edge off the orange blossom marshmallow and musk.
Mon Guerlain uses lavender to reign in the sweetness of its gourmand accord, and the combination of pleasantly sharp lavender, orange and jammy (but not indolic) jasmine is appealing. Lavender stops the fragrance from becoming a true edible perfume and its herbal bite makes it airy.
I wore Mon Guerlain a few times before I realized why something about it was achingly familiar. And no, it wasn't only because its combination of patchouli and sweet notes reminded me of Angel. I took out my bottle of Jicky and dabbed a bit of the vintage perfume on my wrist. And there it was–the same combination of lavender, toasted almonds and vanilla. Jicky's interpretation is much more sumptuous and velvety, but Mon Guerlain's modern version is fun.
I like Mon Guerlain best after about an hour and a half, when the fruity-floral part and the top notes of patchouli soften, and the Guerlinade base appears more clearly. It's not overly sweet and it has enough presence to create a beautiful sillage. If on the other hand, you like the fruity accents, go for the Eau de Toilette version. My review is the Eau de Parfum, which is creamier and uses citrus as an accent, rather than the main note. There is also something called The Eau de Parfum Florale, with a bigger dose of jasmine. It's very good, but I find it too sweet.
Mon Guerlain is not a perfume for those who want smoke, incense and loads of amber. Neither is it a second Shalimar. But as an elegant and lighthearted option, Mon Guerlain gets my vote.