If I made a map of my favorite walks in Paris, the routes would invariably lead to an old church, a cemetery, a café or a market. They would circumvent the glamorous Paris of the tourist brochures and explore the places where the ancient and the modern city coexist, where the mysteries linger, and where one can satisfy one's hunger, literal and figurative. Paris is often associated with spring, romance and blossoming, but my Paris is autumn, fallen leaves and the light streaming through the stained glass windows.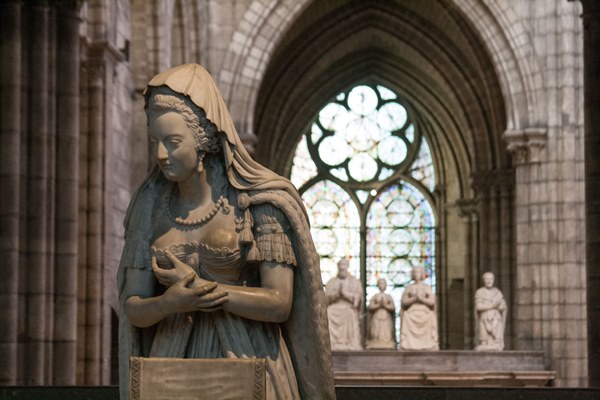 The Basilica of Saint Denis, Basilique royale de Saint-Denis, is one of those large French Gothic churches that to a non-expert eye are hard to tell apart. Even the fact that it has only one tower instead of the usual two can get lost as one contemplates its imposing size. Yet, the space inside the basilica is so elegant with its slender windows, graceful columns and candlelight filled enfilades that I'd take a stroll here over visiting Notre-Dame. It's worth a metro ride to Saint-Denis, a northern suburb of Paris that manages to be both bland and seedy. My Paris explorations often end up here.
Despite the extensive ruin during the Revolution (1789-1799), the church still retains much of its original 1144 structure. Yet, the site is older still, dating to Roman times. The basilica is named after Saint Denis, a 3rd century bishop and a martyr, who according to legend walked all the way here from Montmartre, carrying his severed head.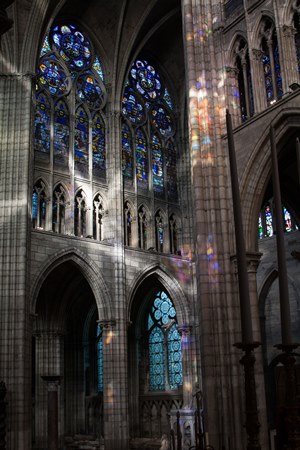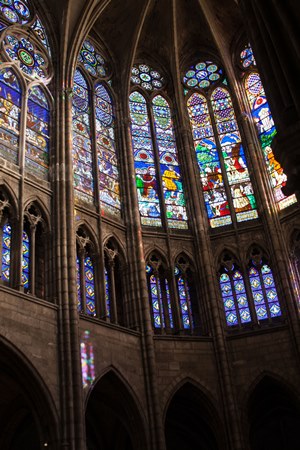 From the 7th century and until the 19th, the basilica served as the royal necropolis. The tombs of the kings and queens still remain, from the first burial of the Merovingian king Dagobert I to the mummified heart of the dauphin Louis XVII. The king of the Franks found eternal repose here in 639, the remains of Marie-Antoinette's son in 2004, more than 209 years after the young dauphin died.
While French kings were crowned in Reims, queens received their honors in St. Denis, and the coronation regalia still line the chapel walls. Light the candle, contemplate the bejeweled ripples of sunshine on the stone walls, consider the evanescence of glory, riches and fame. Only the stones and light seem eternal.
Photography by Bois de Jasmin