If you've never tried any Comme des Garçons fragrances, think of the stuff you might smell at your car mechanic–tar, machine grease, burnt rubber. Today's collection includes more than a dozen perfumes, and by and large, they have an industrial, deliberately synthetic feel (even if created with natural materials.)  To some people, these are the ultimate edgy perfumes, to others–smells to avoid.
Whatever camp you belong to, Black Eau de Toilette is likely to be a love it or hate it perfume. The name doesn't lie–it's a dark, potent brew. If you've ever dreamed of smelling like molten asphalt or barbecued ribs or a cross between the two, then your wish has come true.
I thought that no fragrance could shock me, but Black did. It opened with a blast of tar and black pepper, acrid and pungent. Most fragrances might tease with smoke and become more civilized, but Black continues to roar. Even when the tar mellows down, the pepper continues to burn.
There are many different things going on in Black–the sweet smoke, maple syrup, black licorice, but overall, the perfume smells of charred wood and pepper.
The drydown has a surprisingly tender leather wrapped in musks. I was ready for anything but didn't expect this soft touch of suede. The sweetness of licorice tones down the smoky, tarry notes, which is not enough to tame Black, but sufficient to dispel some of the smoke.
When I first tried Black, I appreciated its creativity, but I didn't want to wear it beyond the initial testing session.  Over the next few weeks, however, I've been thinking about it and dipping into my bottle to check whether it really smelled as dark and smoky as I remembered it. It did. Then, I noticed something else. The curious thing was how cleverly the perfumer Guillaume Flavigny balanced the composition and in spite of its dark and smoky combination of notes, Black ended up smelling like an edgier version of a woody oriental. It was avant-garde but grounded in classical themes.
It's been over two years since I first started writing down my observations on Black, and since then I've been wearing it on a regular basis. It no longer shocks me, but it still thrills me. The great tenacity and diffusion of Black means that it can do so over the course of several hours.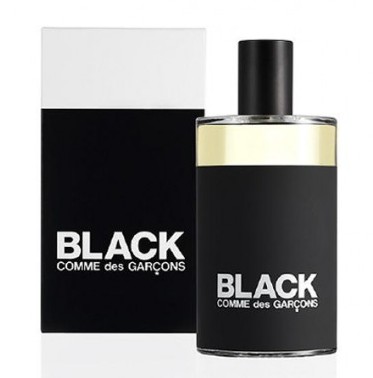 Comme des Garçons Black lists notes of black pepper, Somalian incense, leather, licorice, birch tar, pepperwood, vetiver, and cedarwood. Available in Comme des Garçons boutiques, aedes.com, luckyscent.com. 100ml spray bottle/$100
Painting: Wassily Kandinsky. Around the Circle. 1940. The Solomon R. Guggenheim Museum, New York, USA.