I always look to that moment when leaves start to fall; the air is filled with a mellow sweetness reminiscent of walnut shelves and faded leather. It makes me want to write poetry, find patterns in the intertwined bare branches, watch bittersweet Japanese films and contemplate the beauty of morning light. Such impulses tend to break against the shoals of my routine, but even so, I enjoy the autumnal moods and the element of fantasy.
I did, however, do some translations of Persian poetry, as I shared in my October Newsletter.
And indeed, fantasy and pleasure are the only criteria guiding my selection of perfumes for this fall. My list has room on it for different themes for different moods and for new favorites as well as beloved staples.
L'Artisan Parfumeur Mont de Narcisse
Some years ago, L'Artisan Parfumeur had a collection of so-called grand cru fragrances inspired by the best grades of orange blossom, iris and narcissus. Narcissus was the most intriguing, because smelling this note interpreted as a complete perfume, rather than an accent, made me realize how close narcissus is to leather and woods. The same theme returns this year with Mont de Narcisse. It's signed by Anne Flipo, the same perfumer responsible for the long-vanished grand cru, but the idea is more complex. And more interesting, I should say. Narcissus is accented with cardamom and osmanthus, another floral note that inches close to leather, to make a multifaceted, elegant scent.
Chantal Thomass Eau de Parfum
A blend of cherries, vanilla, powder, and raspberries made today would make one's blood sugar rise at the mere inhale. But Chantal Thomass Eau de Parfum dates from those distant times, like around 2002, when it was fine to make a distinction between a fragrance and a flavor. So, it's as fun and sassy as Chantal Thomass's lingerie, with the sweetness balanced out by woods and orange blossom.
Prada Infusion de Mandarine
Mandarin is unique among citrus essences for having a note reminiscent of Concord grapes or wild strawberries. In Prada's new perfume, it's blended with tuberose and orange blossom to highlight this sweet, fruity facet. The finish of velvety musk and balsamic notes that smell of vanilla and cinnamon makes mandarin shine. A cologne that's plush enough for a cold autumnal day.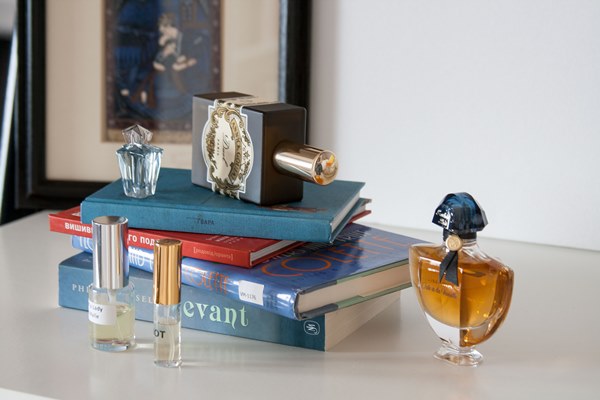 Boucheron Tubéreuse de Madras
I had an unforgettable experience visiting tuberose fields in India, and the fragrance of white blossoms, warm and opulent in the evening air, has stayed with me. Tubéreuse de Madras was inspired by perfumer Christophe Raynaud's trip to India, and as a lush and enveloping composition of tuberose, frangipani, ylang-ylang, sandalwood and vanilla, it's a beautiful tribute.
Guerlain Shalimar in all of its forms
Come cool days, and I want Shalimar in all of its forms, the Eau de Parfum, extrait de parfum, Souffle de Parfum, or the Eau de Toilette. It never fails to amaze me how this bergamot-rich fragrance, almost a cologne, manages to be so seductive.
Penhaligon's Cairo
Penhaligon's perfumes are a mixed bag for me, but their latest release, Cairo, is charming. Based around a warm rose note, it layers it with woods, saffron, patchouli and incense. The result is radiant and bright, but with enough duskiness to add complexity.
Hermès 24, Faubourg
Perfumer Maurice Roucel is known for his smoldering compositions, and yet what I particularly enjoy about them is that they're not the stereotyped cliches of roses petals, sugary vanilla or amber. Even when using these notes, Roucel creates radiant, elegant, and wistful fragrances. Such as 24, Faubourg.
Éditions de Parfums Frédéric Malle Brume pour Les Cheveux Portrait of A Lady
The hair fragrance from Frédéric Malle turned out to be such a nice discovery that I wanted to share it. I liked the Portrait of A Lady version, which retains the dark roses and musky woods of the original, but adds more luminosity. The fragrance lasts and diffuses remarkably well, whether you use it on hair or clothes. It does contain some alcohol, but in a smaller quantity than a traditional perfume and in a cocktail of moisturizing ingredients. At 150€ for 100ml it's less expensive than the Eau de Parfum.
Annick Goutal Duel
Tea fragrances are by and large rather dull. Whatever they promise–the smell of Taiwanese oolong, jasmine pearls or matcha–rarely materializes, because many perfumers shy away from a bitter touch that's essential to a tea accord. Also, tea is complex, and capturing its nuances with a few aromatics is difficult. Duel, on the other hand, doesn't aim to be a green tea fragrance, but it smells like one. The bitterness of green leaves, soft leather, and the dark sweetness of violets are blended into a harmonious whole.
Thierry Mugler Angel
I also have been reaching for Angel, though less because I had a specific craving for it, but because it kept coming up as a reference in my work. The first time I smelled it I remember thinking that it was a sugar bomb. As with Chantal Thomass (see above), Angel smells remarkably austere next to modern gourmands. Like it or not, it has become a classic.
Please take a look at the other autumnal lists by Grain de Musc :: Now Smell This :: The Non-Blonde
Photography by Bois de Jasmin