Although classical leather notes in perfumery are dark and dramatic like Robert Piguet Bandit and Grès Cabochard, this theme offers many variations, including the soft and creamy ones. In my recent FT column, Leather Scents with a Soft Focus, I describe different ways in which leather can be interpreted. I also talk about my idiosyncratic behavior at the vintage shops.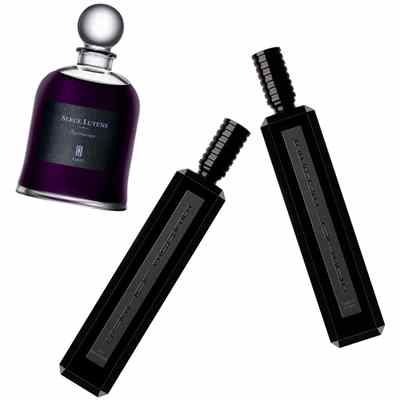 Unconventional is the leather collection of Serge Lutens. The line has a number of fragrances with leather accents, whether Sarrasins, with its interplay of leather, jasmine and musk or Fumerie Turque, which weaves leather into tobacco leaves and rose petals. Cuir Mauresque, however, makes this tanned note the star player. It is buttery and rich, oscillating between the darkness of amber and the spicy bite of clove. What makes its leather tender and luminous is the clever addition of orange blossom and mandarin. Inspired by the old tradition of perfuming gloves with fragrant pomades, Cuir Mauresque conjures up vintage handbags and well-worn armchairs in old libraries. To continue reading, please click here.
Where do you fall on the leather spectrum, dark or light?
Image via FT