The fall market in Ukraine is all about pumpkins–the delicate yellow squashes that resemble melons, orange rounds large enough to become Cinderella's coach, elongated butternuts, green pebbly varieties with white flesh, and so much more. In the customary fashion of a Ukrainian market, the sellers offer small pieces of pumpkin to prove that theirs is the sweetest, the ripest and the most fragrant.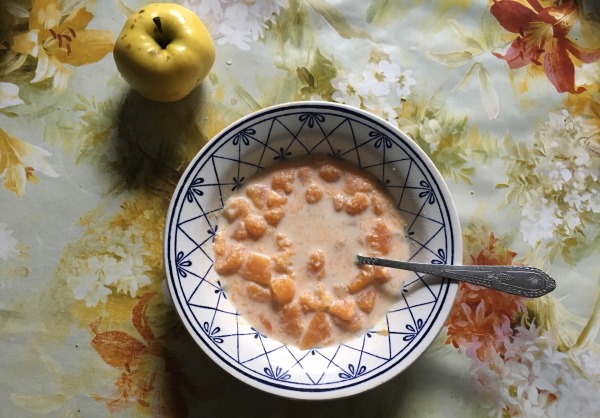 Sampling pumpkins at the market in Poltava, I realized that many varieties taste of violets. This floral-fruity note makes pumpkin an interesting ingredient in sweet and savory dishes. I like to roast pumpkin cubes tossed with garlic, chili and cumin as well as coated in honey and sprinkled with walnuts. I make minestrone with beans and bacon–or use pumpkin in delicate pureed soups with pears and cardamom. Its flavor is subtle, but it's surprisingly assertive.
Yet, if I had to pick my favorite way to eat pumpkin, it would be harbuzova kasha, Ukrainian pumpkin pudding. It can be made with either rice or millet. While kasha technically means "porridge," I can't bring myself to use that stodgy word for a dish that's comforting and yet elegant. It can be made as sweet as you like, but I like mine with very little sugar to allow the flavor of pumpkin to stand out.
In Ukraine, harbuzova kasha is usually eaten for breakfast, with a generous dab of butter and a drizzle of honey.
Try harbuzova kasha with rice and almond milk for a Lenten variation that tastes anything but austere. The pairing of rice, pumpkin and almonds is sumptuous.
Pumpkin Rice (or Millet) Pudding (Harbuzova Kasha)
Serves 6
1/3 cup round grain rice or millet
1 L (4 c) milk
1/2 lb (2 cups) pumpkin cut into medium cubes
salt, sugar to taste
butter to garnish
If using rice:
Wash rice until water runs clear and let it for soak for 15-30 min.
Cover rice with 1 cup of water. Add a generous pinch of salt and bring to a simmer. Leave the lid ajar and cook until the water is almost absorbed. Add pumpkin cubes, 3 cups of milk and bring to a gentle simmer. Cook for 15-20 minutes, until the rice is soft and the pumpkin is falling apart. Add the rest of the milk towards the end of the cooking time. Add salt and sugar to taste.
Please note that different types of rice absorb different amounts of liquid, so you might need more or less milk to obtain the desired texture. Use my proportions as a guideline, but adjust it to your taste. Also, the pudding will thicken as it cools, so if you like it runny and soft, add more milk.
A dab of butter at the end is a fine thing.
If using millet:
Wash millet and cover it with 1 cup of water. Add a generous pinch of salt and bring to a simmer. Leave the lid ajar and cook until the water is almost absorbed. Add 3 cups of milk and cook for 10 min on medium heat. Stir from time to time. Add pumpkin, the rest of the milk and for cook for 20 minutes more. Keep stirring to prevent milk from scorching. Adjust salt and add sugar to taste. If the pudding thickens too quickly, reduce the heat and add more milk.
Serve with a dab of butter. Enjoy!

Photography by Bois de Jasmin