This year marks 350 years since the death of Rembrandt (1606-1669), and many museums around the world are hosting exhibitions, lectures and other events dedicated to the master of Dutch baroque. For our art & scent series, I've selected one of my favorite paintings by Rembrandt, Bathsheba at Her Bath. It depicts the moment when Bathsheba receives a letter from King David, summoning her. Most other paintings cast Bathsheba as seductress and temptress, but Rembrandt portrays her as a woman facing a difficult moral dilemma, torn between loyalty to her husband and her obligation to obey the royal order.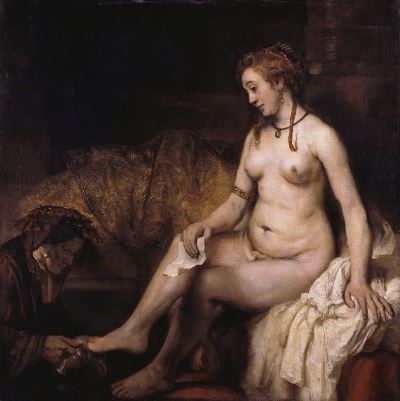 Like in other paintings by Rembrandt, the play of light and shadows create a powerful dramatic effect. It's baroque at its most dazzling and alluring.
So, what fragrance would you use to capture the mood of this painting? If none exists, please feel free to fantasize and invent your own.